The Nutcracker Gets Spicy
My lovely friend Kat of the Hartford Advocate (check out the write-up she did, which includes my photo, on the Aviation cocktail at Millwright's!) never fails to hook me up with the most wonderful opportunities. She lived up to that reputation when she offered to give me her tickets to a performance (three took place this past weekend) of CONNetic Dance Company's The Nutcracker Suite & Spicy at the Aetna Theatre at The Wadsworth Atheneum in Hartford, CT.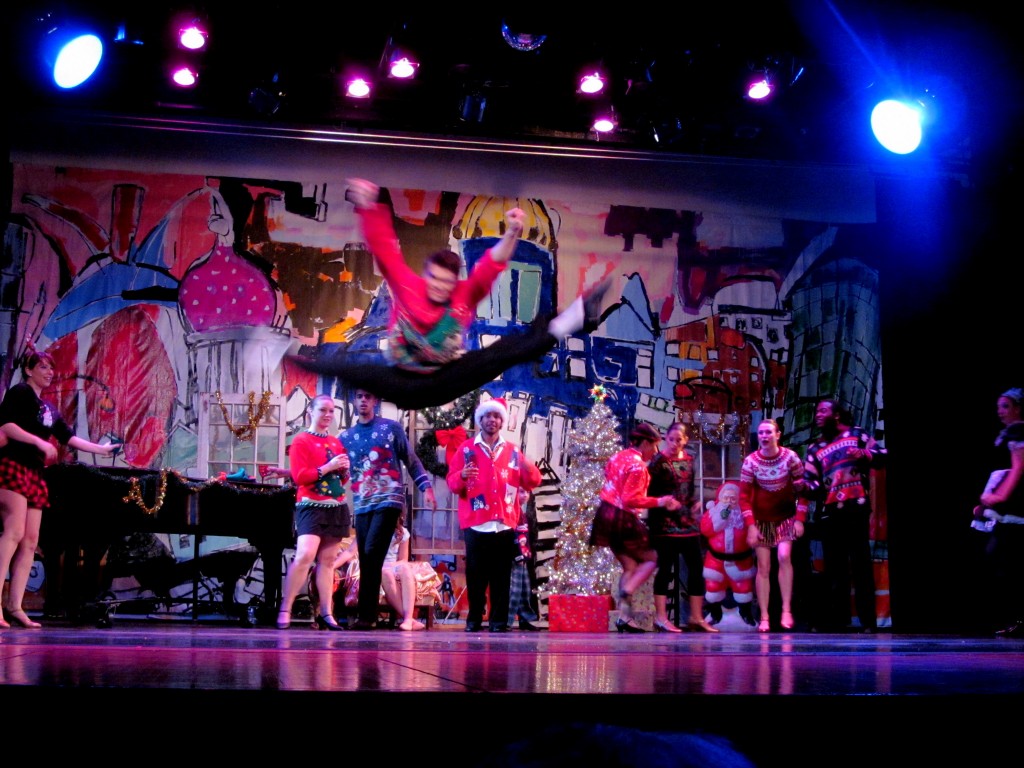 Last December I went to see a traditional take on The Nutcracker at UConn's Jorgensen Center, and while I enjoyed it, I can honestly say that I found my attention drifting at times. NOT SO during this version! I was entertained the entire time by the eclectic mix of classic and contemporary dance and music.
The story is the traditional Nutcracker tale you are used to – Clarice's mysterious uncle gives her a magical nutcracker, and in her dreams he comes to life and leads her through a magical world of sugar plum fairies, candy canes, and more.
Kat is friends with the co-founder/director and choreographer of CONNetic , Carolyn Paine. She was the generous (and now I know, extremely talented) lady who provided the tickets for the Nutcracker giveaway I did on my Facebook page last week!
I had been to the Aetna Theatre once before and loved its cozy, intimate vibe. Every seat is a good seat – especially when you luck out like my friend Kim and I did. We got second row viewing!
Before the Sunday matinee (the show I attended), an Ugly Sweater Christmas Party with sing-along carols took place. A trio of local musicians, Ladyhips, provided some very good covers of classics like "Little Drummer Boy", "So This Is Christmas", and a lot more. The lead vocalist sounded incredible and I the bass (played by Sean Rubin) added a unique twist! You can hear what they sound like on their website.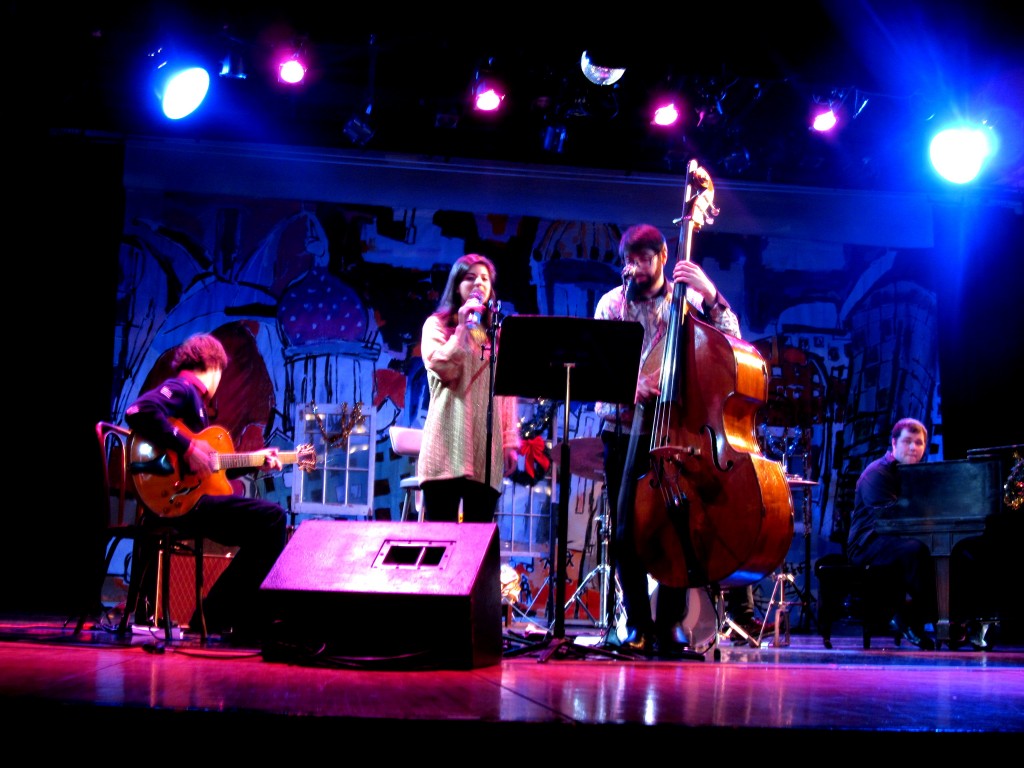 Alas, Kim and I didn't have ugly sweaters to wear, but plenty of others did and the cast members made sure to get a pic with the participants.
Yes, that is a dog you see in the above photo's upper left. A very talented local doggie named Lucie made several appearances in the show, including one in which she wore a pink tutu (I die).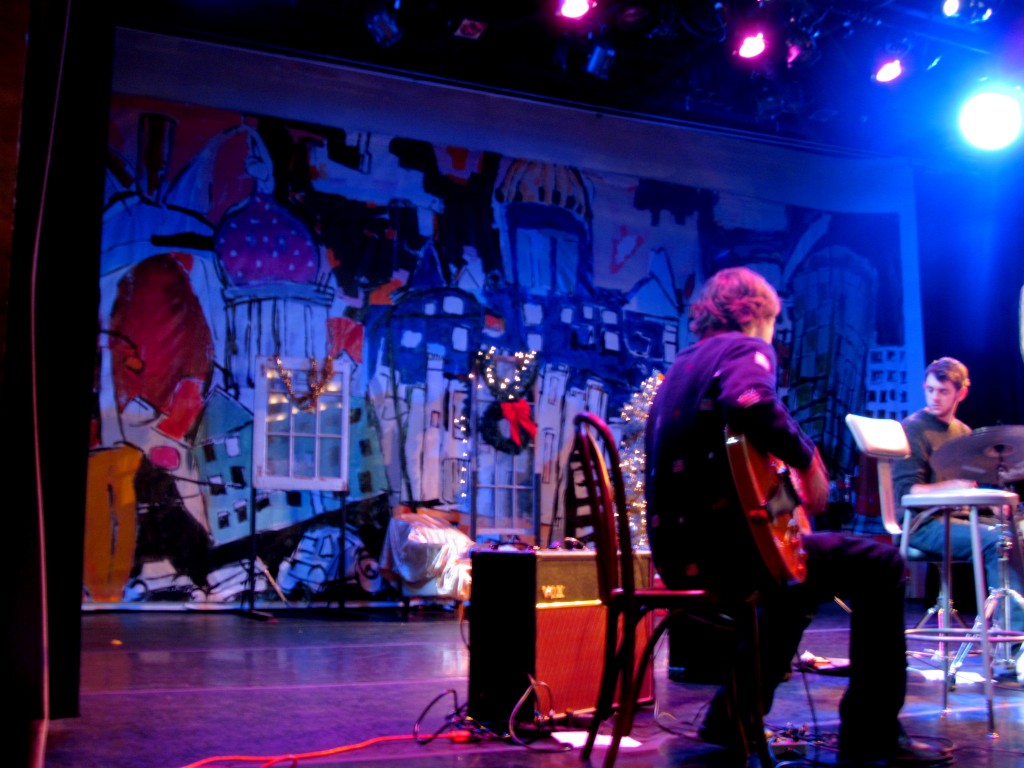 During and after the carols I noticed the beautifully painted backdrop for the first act, which depicted Hartford landmarks and was painted by Ethan Boisvert.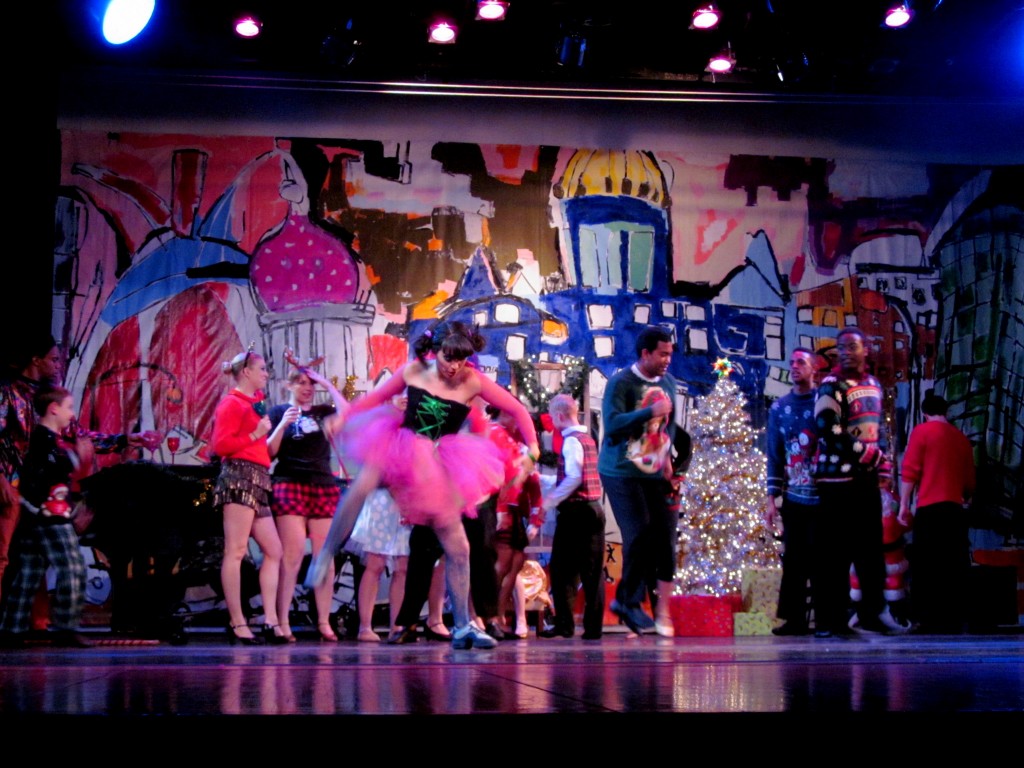 The sassy costumes (Carolyn had a hand in designing those too) perfectly blended tradition and twist. Or as the show is titled, Suite and Spicy!
I believe my favorite dance of the entire show was The Sugar Rum AKA Dance of the Sugar Plum (don't you love it?), which incorporated the stability ball. How's that for a Fitfluential twist?!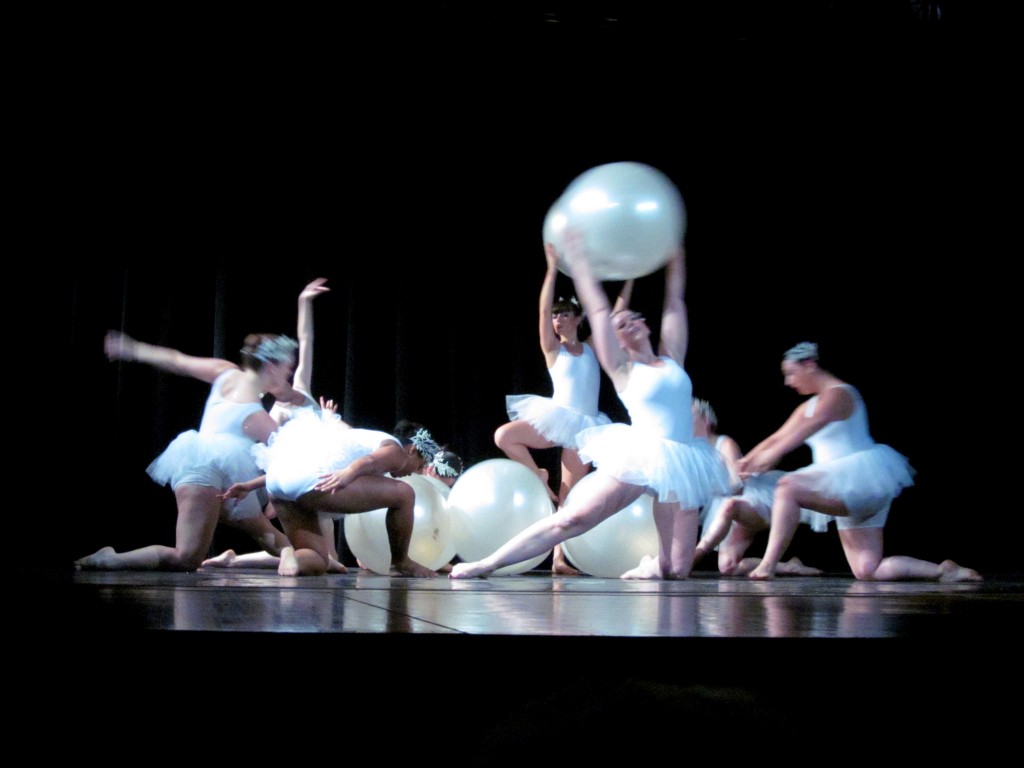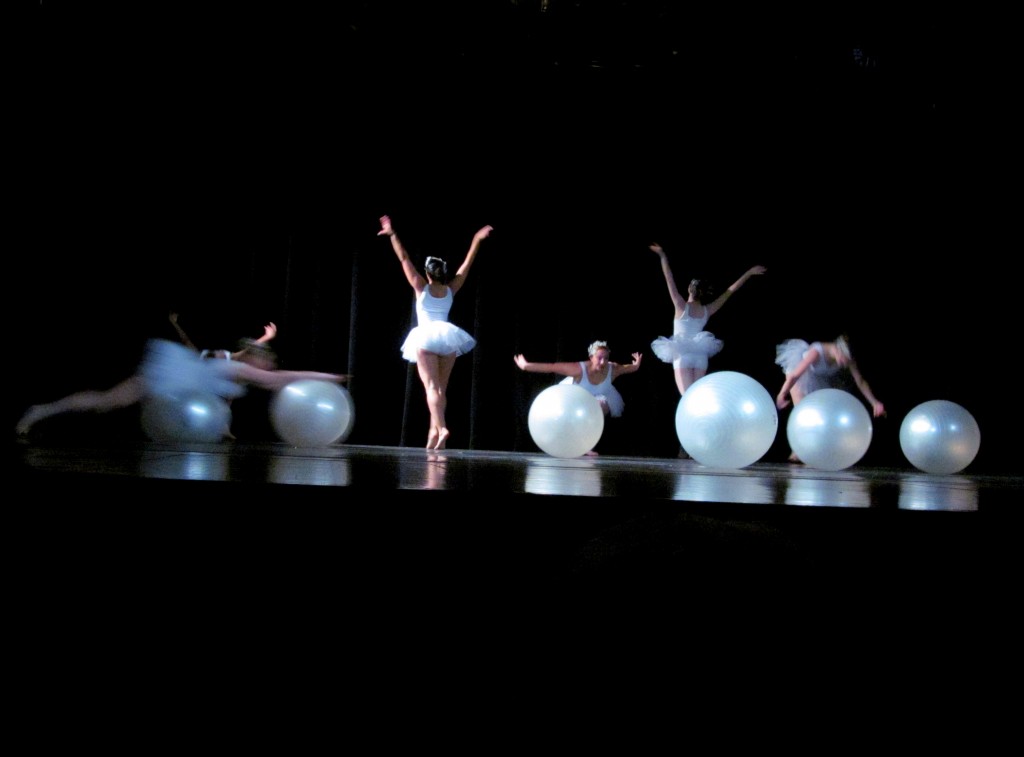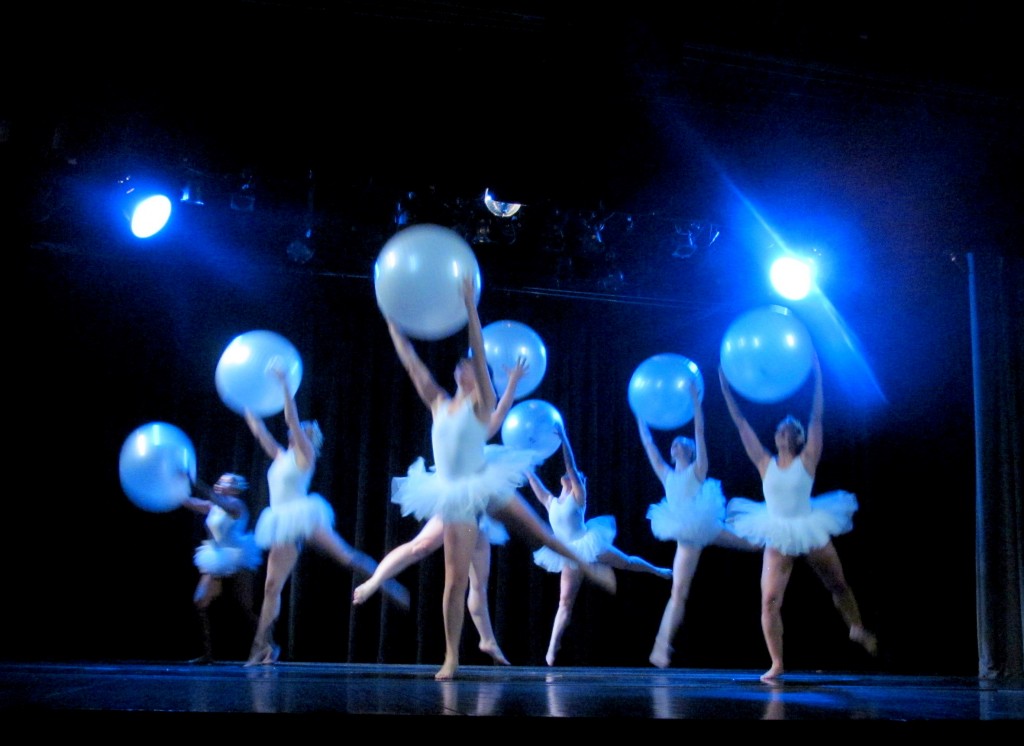 Each dance in the second act's series, the Club of Sweet Temptation, was the perfect length and the costumes, choreography, and music formed clear themes. I completely adored the Arabian Temptation, which again featured Amy Merli. Talk about speaking through dance! Her duet with Norman Campbell was definitely the Spicy part of Suite & Spicy.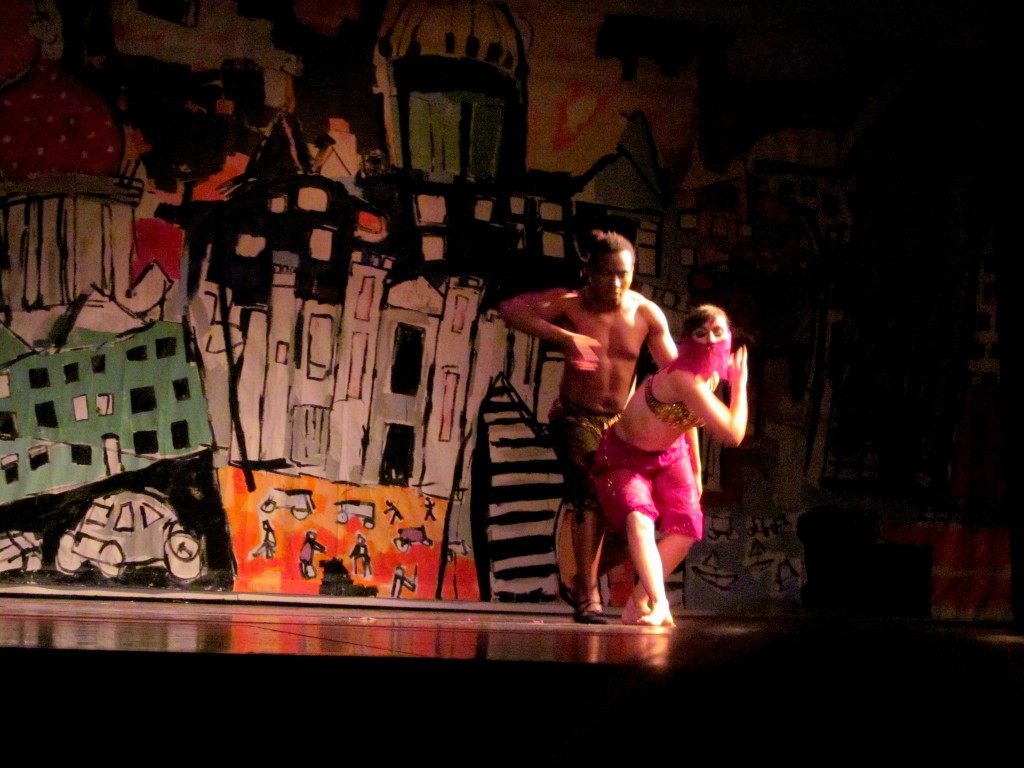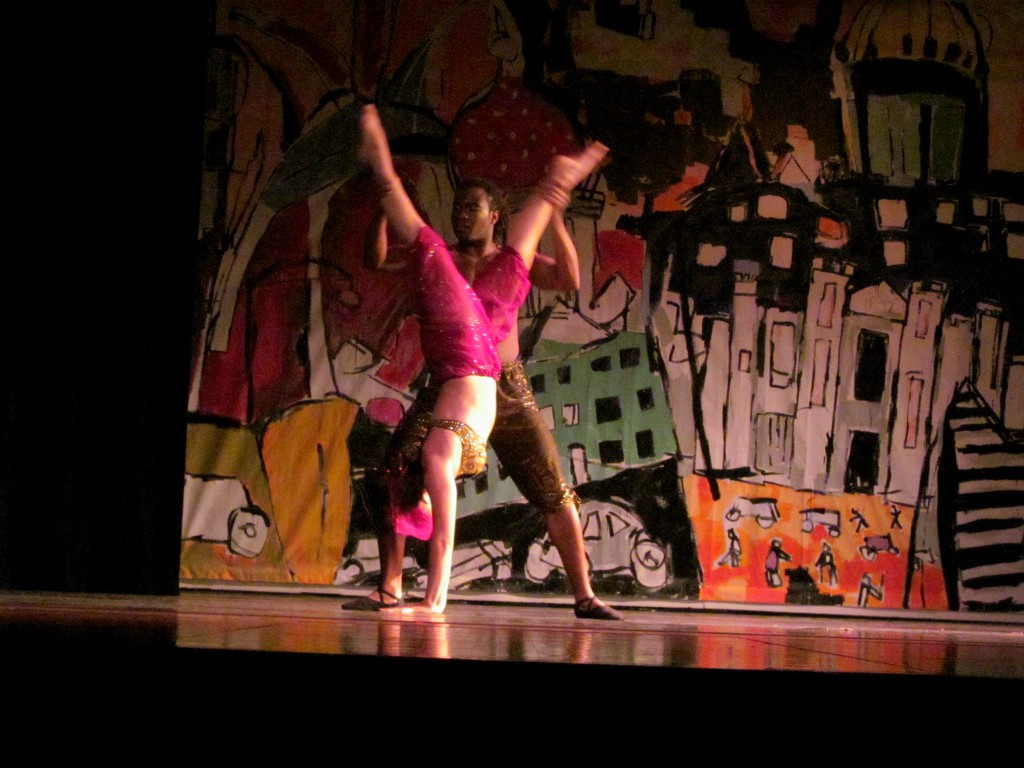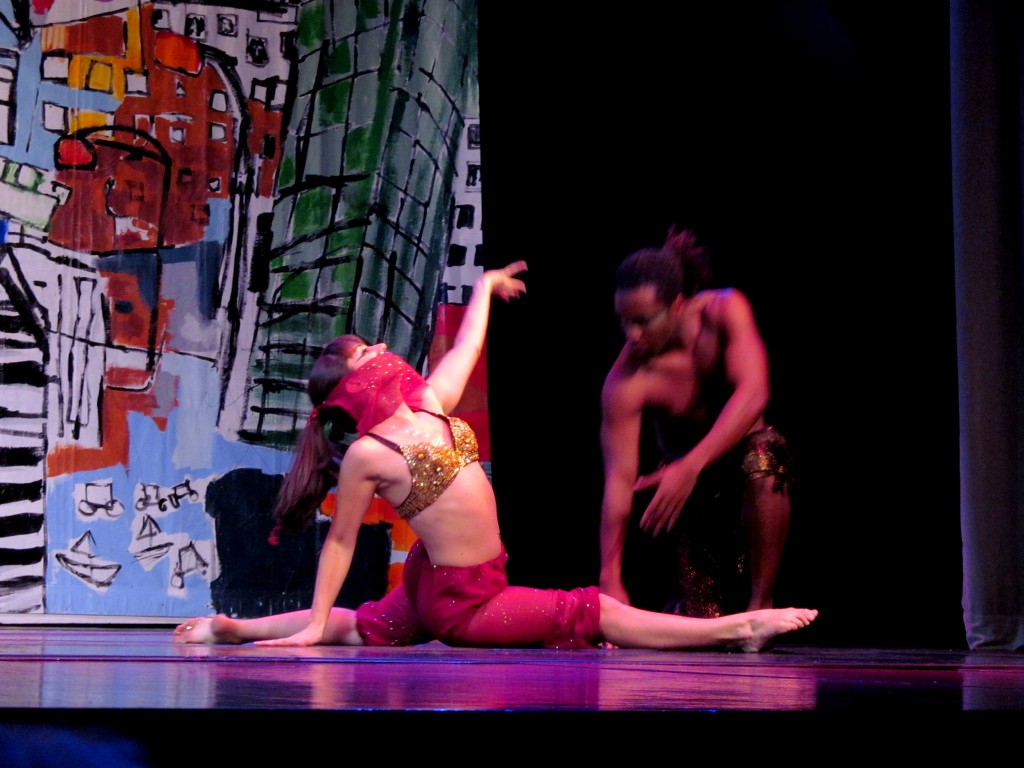 Other highlights for me? The Florettes and their Rockette-style high-kicks, plus the French Martinis (with a Lucie in her pink tutu!)
Overall I adored The Nutcracker Suite & Spicy and am still in awe of the talent and hard work CONNetic Dance put into these three performances (Friday, Saturday, Sunday). It must have been hard for them to go on stage in the wake of the Newtown shooting, but we could all have used some cheering up and positive vibes this past weekend, and that's what they set out to do. I'm happy to report that you succeeded, guys.
After all, what puts a bigger smile on a girl's face than Santa?!
So thank you Kat and Carolyn for making it possible for me, Kim, a reader, and her guest to attend The Nutcracker Suite & Spicy! I've uncovered yet another CT gem – the CONNetic Dance Company. Just another fabulous opportunity brought to me by this blog that I am so grateful to have started!
Have you ever seen a performance of The Nutcracker?
Have you gotten any pictures with Santa this year? There's still time!