Friday Flights at Esca!
Two of my foodie friends have started their own food blogs about their cooking creations! Devan has guest blogged for me before and she just started Devours by Devan Victoria. And Molly, my long-time best friend and neighbor, just started The Bite is Write. Make sure you read their blogs for drool-worthy foodgasmic photos and recipe ideas!
This past Friday night my mom and I hit up the Hartford Advocate Best of Hartford Readers' Poll voting party at Esca Restaurant & Wine Bar in Middletown, CT. As part of the shindig, happy hour was extended until 8pm in the bar area. Interestingly enough, the bartender had no idea! However she was really nice about giving us the happy hour pricing on my mom's $5 glass of Quattro Mani Montepulciano d'Abruzzo (2008). What a sizable glass!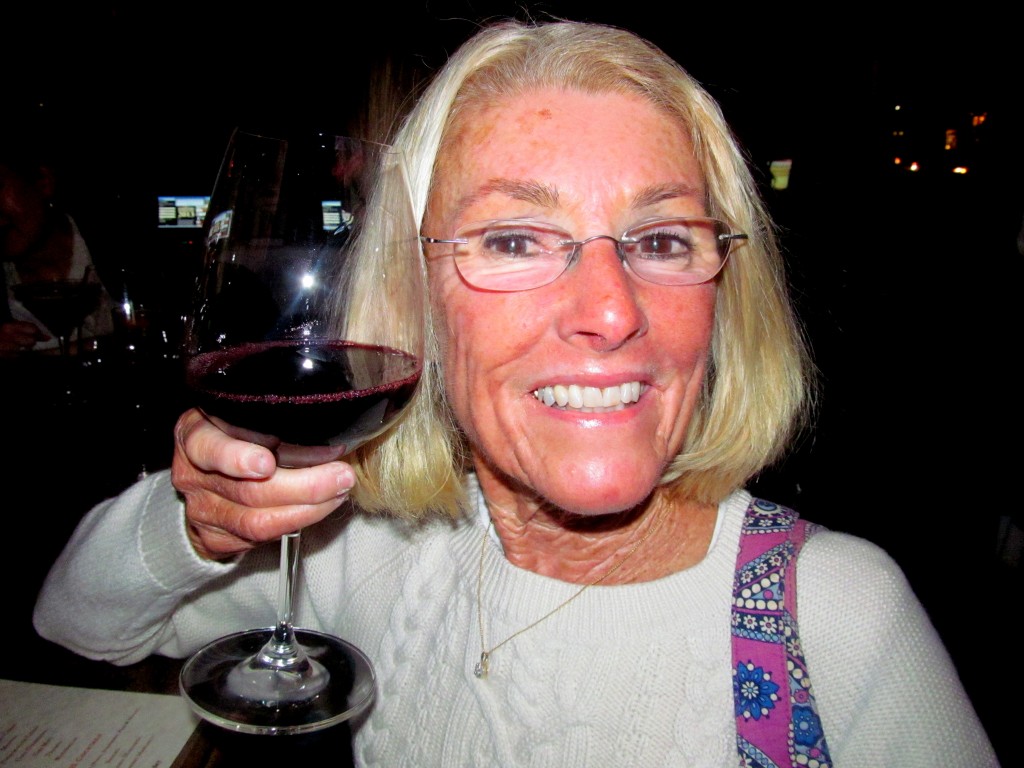 Unfortunately Kat wasn't feeling well and couldn't make it but my mom and I still stopped by the Readers' Poll voting booth (set up in the bar area) to say hi. We were then seated at a table for two with a lovely view.
Esca is a wino's paradise. Not only do they offer a nice variety of already-designed wine flights, they also offer a really cool pick-your-own flight option. For just $10.50, patrons can pick any three wines by the glass, no matter their prices! I chose three reds (lightest to darkest): an Aglianico, Peachy Canyon Zinfandel (Paso Robles, 2007), and Turnbull Wines Super Napa. I really liked all three but predictably my favorite was the most robust, the Super Napa!
It did take quite awhile to get my wine flight out to me, but my mom and I did not mind too much because we were enjoying each other's company and the conversation. The pace of our service picked right back up for the remainder of the evening.
Groans could definitely be heard from both of us as we took our first bites of Esca's crunchy, Focaccia-style herbed bread. The garlic and other Italian toppings paired so interestingly with each of my wines too and made tasting them all the more fun. We definitely ended up asking for a bread basket refill. The bread by itself was so flavorful in fact that we didn't notice the EVOO on the table (see photo above) until after our dinner was over!
As I mentioned in Friday's post, Esca's dinner menu looked so amazing that I had no idea what to get. My mom was having the same trouble, but she and I finally decided on choices that would enable us to try as much as possible. We ended up sharing a little bit of everything anyway, so it worked out perfectly. My mom selected roasted baby beets with toasted hazelnuts, goat cheese, micro greens, and white truffle oil. I didn't get a picture of them but the portion was extremely generous and I think I ended up enjoying them more than she did. I couldn't get over how well the beets paired with the toasty nuts and salty goat cheese.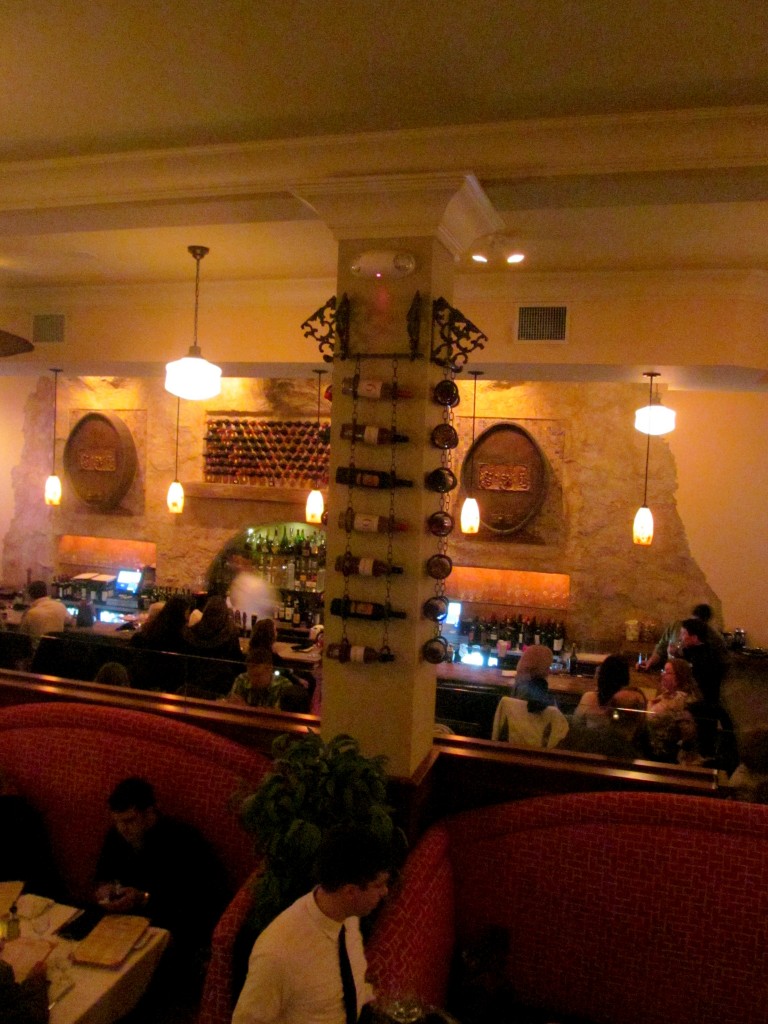 She also ordered the yellowfin tuna tartar with butternut squash, citrus, cinnamon/nutmeg crema, and crispy tostados. The tuna was melt-in-your-mouth marvelous and the cinnamon and nutmeg flavors were such an interesting addition to a dish that would normally just incorporate citrus flavoring. I happily stole most of the tostados.
Obviously the Brussels sprout hash caught my eye immediately. I asked the waiter to describe the side dish for me and was sold the moment I heard "quartered Brussels sprouts with pancetta". I was worried hash would mean something involving potatoes and plain bacon, but I can't say enough good things about Esca's version. The side was heavy on the Brussels, light on the pancetta, and my mom and I left not a bite standing. I don't like to repeat orders at restaurants (I am always ready to try something new), but I'd totally repeat-order these.
I was able to sub in the Brussels for only a small upcharge because I did not want the risotto ball that came with my entree choice: Chilean sea bass topped with crispy leeks, chopped asparagus, and lump crabmeat. Unfortunately there was a bit of confusion when I asked the waiter if I could get the lemon crema sauce on the side. He agreed no problem, but I didn't realize the crabmeat and asparagus already came IN the sauce. First my meal came out without the sauce on the side, so I sent it back and it came out promptly, but with a mixture of sauce, crab, and asparagus on the side. That's when the server informed me that the crab and asparagus came already in the sauce. I honestly would not have ordered the dish if I'd known that was the case because what attracted me to it was being able to have the fresh asparagus and crab sans-sauce as part of my entree. I politely told him this, and he agreed that it was a misunderstanding on his part and asked the chef to prepare some separate asparagus and crabmeat plus a side of just the sauce. This all came back out quite rapidly considering the situation and the staff was extremely polite about all of it. I do realize that my modifications make me a pain in the ass at restaurants so I had no problem waiting that extra time and really appreciate all the extra effort Esca put into making sure I had my ideal meal. I definitely would've just ordered a different entree instead of making them go through all that pain if I had known the crab and asparagus came in the sauce, but now I know for the future.
The crispy leeks and asparagus had such a nice crunchy contrasting texture alongside the soft sea bass and crabmeat! That lemon sauce also was incredible, thankfully not too lemon-y (not the biggest fan of that flavor) and you can bet I dipped the tuna tartar's tostados in there! I ate the sauce with my meal, but I prefer to ask for creamy sauces on the side because it's my experience that restaurants use too much for my taste and I can't experience the seafood and veggie flavors in their own glory. And yes, I will admit to you, I associate eating creamy sauce with anxiety and still have disordered eating thoughts about it. Still there was a time I would not have even touched it and would have ordered the entree completely sans sauce, so I look at asking for it on the side as a step in the right direction.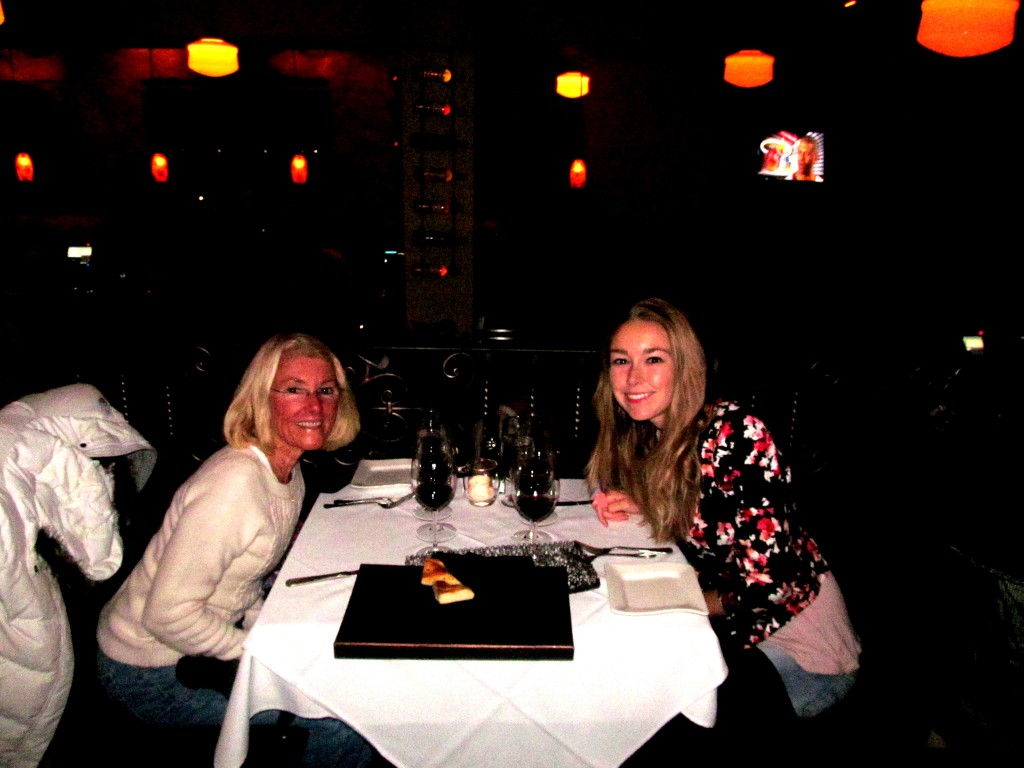 My mom ended up getting her first ever wine flight after I convinced her to go for the pick-your-own! She loved one of the wines, Alexander Valley Cabernet Sauvignon, so much that she ordered a glass of it for us to share. I have to agree with her taste in this particular Cab – I totally loved it but alas, could not finish my portion.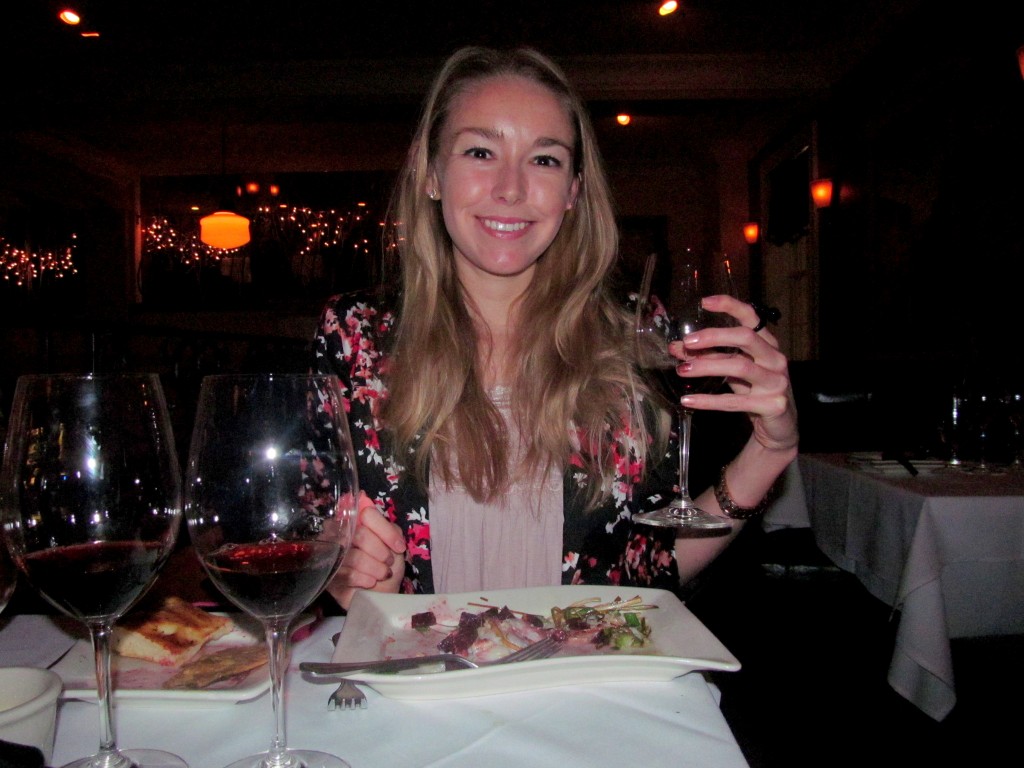 That's because I took advantage of a situation I am not normally in…the situation of coming across a restaurant with a tawny port flight! True to my old-man-drink tastes I adore ports and don't often see even one on a menu, let alone three. I tried 5-Year Ramos Pintos, 10-Year Croft, and 20-Year Taylor-Fladgate (all from Portugal). Maybe it was all in my head but I definitely liked the oldest port best! The chance to taste three ports made the evening feel all the more special.
We went home with warm wine fuzzies, happy and full bellies, and great memories. The perfect start to a weekend I swore I'd enjoy to its fullest – and I did indeed!
Esca provided me a $50 gift card to use on my meal, but all opinions contained in this post are my own.
Are you a fan of wine flights?
When you modify a dish at a restaurant, is it because you really don't like the way it comes, because you have anxiety about it, or a mixture of both?
Which of our eats and/or drinks look best to you?