For Love of Fairfield
I've already showed Kaitlin (of For Love of Carrots) my turf, and the time came this past weekend for her to show me hers – Fairfield County! I visited her from Saturday evening to Sunday afternoon and she showed me a great time. Then again, I knew she would since our tastes are so similar! Prime example number one – we both wore black tops, black shoes, jeans, and statement necklaces to dinner.
Saturday Night
She brought me to a true hole-in-the-wall (or plaza) with amazing food and drinks – Bodega Taco Bar. Everyone else in Fairfield knew that too because we waited a mighty long time for a table in the tiny place, but the meal and margs ended up being well worth the wait.
I had to go with the most unique margarita on the fabulous drink menu and am so glad I didn't let the word "jalapeno" scare me away because it was perfectly spiced and subtle. Fabulous menus = indecision anxiety and we both totally "suffered" from it while choosing our second drinks once we were seated. Our waiter (I wish I remembered his name!) was super helpful though and recommended some winners!
Clearly Kaitlin loved her choice, the Pomarita (Milagro Silver, pomegranate, agave, lime juice). I suggested she get salt on the rim and we both agreed it cut down on the pomegranate's sweetness and the lime juice also gave the marg a nice, tart finish.
I could not for the life of me choose what to order off the fabulous menu but Kaitlin had told me this place had the best Brussels sprouts ever so they were a given. I chose two other sides – smashed roasted beets and petacones (fried green plantains – so I could take advantage of the 3 sides for $10 deal. I also ordered the ceviche (which was forgotten about but brought out eventually with extra petacones, score!) for some protein.
My Brussels were just as Kaitlin promised – heavenly, thanks to their gloriously burnt status. The beets tasted incredible, I am on such a beet kick lately, and I loved that the petacones were not greasy-fried. In fact it seemed as if they'd been baked because there was no grease or fat dripping off them, which was refreshing since that meant I could get more of their natural flavor!
Note the giant jug of water in the photo above…love a restaurant that lets me pour my own water so I don't have to keep bugging the waiter since I'm so water-needy.
Our meal was fabulous and before the restaurant, Kaitlin also took us by Bed Bath & Beyond so I could purchase the above reusable red solo cup wine and shot glasses. After tweeting/pinning a martini glass version I saw on Lisa's blog last week, Kaitlin promised me she'd show me where I could get something similar and she delivered!
We stopped by another restaurant after dinner to hang out with Kaitlin's boyfriend and some other friends, but both of us felt our inner grandma coming out and were back at her place and in bed by 11pm. Good thing too because we had a 9:30am (AFTER time change, oof) barre workout planned – which I will recap in full later this week, along with my Ellie review!
Sunday Funday
After the barre class we took our burning thighs a few doors down to Las Vetas Lounge, a cafe Kaitlin knew I'd enjoy, for coffee. I took a zillion pictures in there which I'll share in their own post because you've GOT to see how cute this place was, but for now I'll just tease and say my coffee in a fun Disneyland mug (none of the mugs match, just one charming part of Las Vetas) was downright tasty and the only reason I didn't finish it is because I got too hungry for brunch to stay there a moment longer!
Yup, check out those little sneak peeks of adorableness in these photos' backgrounds. You know you're excited to see more pictures later.
We walked next door to Catch a Healthy Habit Cafe for brunch. I've been dying to try this place since I first heard about it from Heather's Gabby Bernstein book signing recap, and Kaitlin's had no healthy living blogger friends nearby to go with her, so she was equally excited to finally give this raw/vegan/gluten-free cafe a shot. Of wheatgrass?
What an awesome cafe! Finding these kinds of places in CT makes me so happy and gives me faith that one day, unique natural food eateries like this will not be so rare.
I couldn't for the life of me decide what to order but finally selected the pizza + side salad special, because pizza is my favorite food so why not sample a raw/vegan/gluten-free version?! I made an excellent choice. The crust was nice and thin and so very hearty, and the vegan "cheese" base combined with a tomato-pesto sauce blew me away. The dressing that came with the side salad also had me oohing and ahhing…I don't know what their house dressing is but wish I'd asked!
Kaitlin chose the nut, seed, & veggie burger on onion bread with lettuce, pickles, and BBQ sauce. She isn't a fan of ranch and ordered their vegan version on the side but I definitely poured some on my pizza after sampling a bit with my fork – I LOVE ranch! Kaitlin liked her food but the portion looked a bit small to us.
As we paid at the counter after our meals, the staff member who helped us (and put up with all my menu questions) asked if we were first-time visitors and, when said yes, asked if we liked vanilla or chocolate. Hmmm…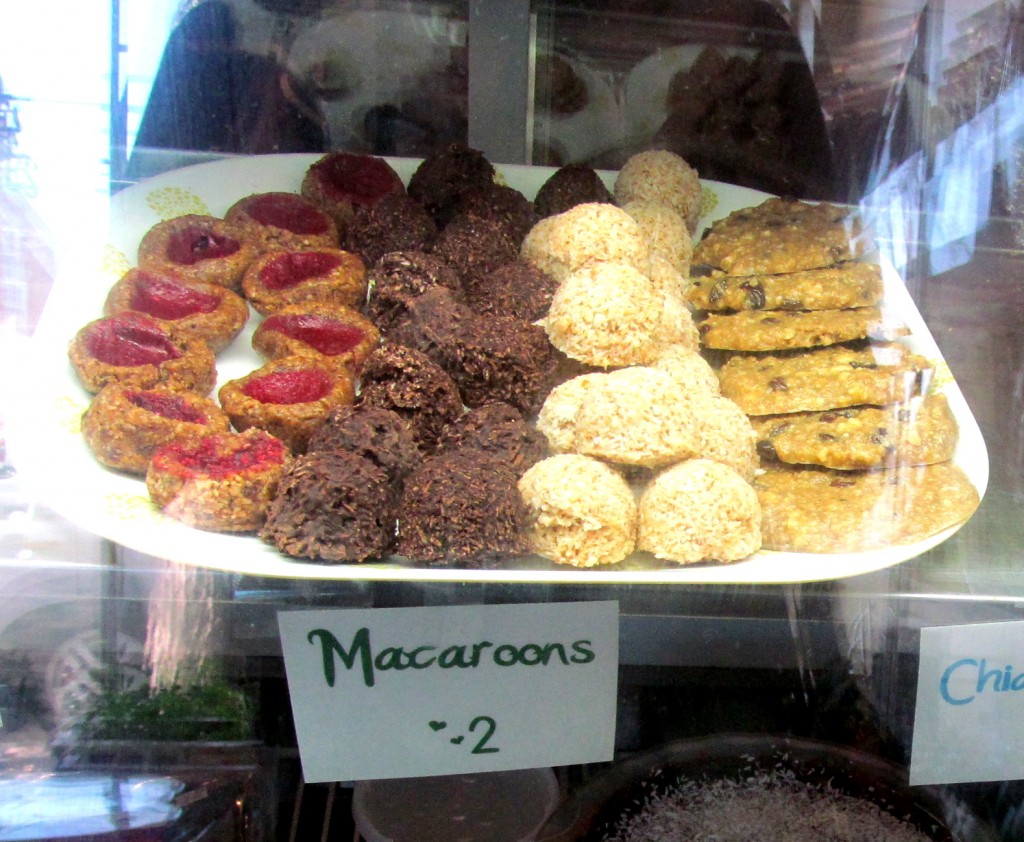 We both excitedly answered, "Chocolate!" and were rewarded with a free raw/vegan/gluten-free chocolate coconut macaroon! Holy crap. This little guy BLEW me away and despite its small size, totally satisfied my post-brunch sweet tooth with BIG rich flavor!
After brunch, Kaitlin drove us to Westport to do some outdoor shopping in the cute town center! I'd never been before and am really loving all the 203-exploring I've been doing lately. Objective number one was to visit David's Tea since I'd never been to one before so that's the first thing we did, cheesy photo and all.
I made out (too) well at LOFT and Urban Outfitters in their sale sections, but will be sharing my purchases this coming Fashion Friday so again I'm going to keep you in suspense. You know it's a fun weekend when you plan to recap it in about four posts total!
After I decided I should probably stop spending the paycheck I'd gotten just two days prior, we headed back to Kaitlin's so I could hit the road and she and her boyfriend could take their fur baby for a walk. I felt so excited to meet the famous Brady and he was a fun pup – Kaitlin says he has me fooled! He's quite well-versed in photo taking!
I owe Kaitlin many thanks for showing me such a great time in Fairfield. Love continuing to visit the different parts of CT. Same state, different worlds, I'm telling you! Have you done much exploring of your state? So would you rather toast with margs or green juice? I'll say margs, I won't lie. Have you ever sampled raw cuisine?