Being OK With Marvelous
My giveaway for a $25 credit to healthy-living discount shopping site HealthyChic ends tomorrow night at 11:59 PM EST. Make sure to enter and if you don't win, you can still sign up and use a discount code on your first order!
This weekend was really out of my box – like last weekend in Boston. I pshawed sleep, homework, and my usual kill-me Sunday morning spin class in favor of all sorts of marvelous. And I enjoyed myself while doing so. And that SCARES me.
Some people who read this post may understand exactly where I'm coming from. On the other end of the spectrum, some may think I'm a spoiled brat who will always find something to complain about no matter how good my life gets. I can see both perspectives but what it all comes down to is what feels safe to me and realizing that the safe option is not always the option I WANT. And that does not make me an irresponsible, reckless person. It makes me a normal 24 year old!
Marvelous is…heading to New Haven, CT with my good friend/blog namer Rachel (after doing homework and working out in the morning, I must remember this) for my fourth Taste of New Haven food tour! Owner and tour guide (and historian/author) Colin Caplan (pictured above) delivered an amazing experience as usual and I will be doing a full blog post as soon I have time. The tour was the very first of the latest and greatest route, On 9.
Marvelous is…somehow ending up after the tour with in the not-even-done-yet Madden's Gastropub with Colin, another tour guide Eric, and more tour-goers. Madden's owner himself Nate showed me around and I plan to return to do a full write-up for the blog once they open! Nate and his family could not have been nicer or more welcoming and I am so excited to have the chance to see a restaurant at both its pre-starting point and upon completion (which I'll see when I come back for a full meal). It's going to give my blog post a great twist and Colin may even provide me some historical content since the building is legendary in New Haven! I got such a warm vibe from Nate and know that often translates into a wonderful restaurant experience – good news for Madden's!
Marvelous is…deciding to (instead of going straight home from New Haven to make my normal bed time) drive to Middletown to meet up with the wonderful Signature David of Onyx Spirits, along with his friend, at a restaurant I've been DYING DYING DYING to visit for some time now.
I also ordered a shot-size of the Cinnamon Toast Krust – Onyx Moonshine, milk, and cinnamon toast crunch! I think there was vanilla vodka in there too. LIFE CHANGING DRINK. Certainly not light and healthy but I practiced my moderation and ordered the small size so I could still enjoy.
The owner/bartender even poured us samples of the bourbon that was in my apple cocktail, and a super-fancy Sam Adams 10th Anniversary beer called Utopias. It had been aged for so long it essentially tasted like whiskey. Another life-changing moment (of many) at Krust.
With much imbibing comes a craving (which comes from a need) for carbs! Good thing Krust was still serving pizza after midnight (who am I?!) – BRUSSELS SPROUTS PIZZA to be exact. With pancetta, garlic, roasted EVOO, sea salt, fresh mozz, and Parmesan cheese. Just when I thought my life couldn't change again.
As I sat at the bar eating my pizza at a college-age hour, laughing with my friends, and taking the silliest of photos, I couldn't decide whether to feel proud of myself or scared to death. Because not only was I staying up late to eat pizza and consume enough adult beverages to already give me that dehydrated-you'll-be-hungover-tomorrow feeling, I was enjoying it. I was out of my box and not itching to jump back into it. No one was making me do this. I was just acting like a 24 year old because I WANTED to be.
And my mind kept pointing out to me that I'd gone to Boston the weekend prior and stayed out late that Saturday night too. Two Saturdays in a row?! my ego said said to me. This is clearly becoming a habit! It will add up to no weekend productivity, gained weight from alcohol and cocktails and skipped workouts.
But really, aren't random nights like this that don't go according to plan the very best? Aren't silly photos with friends – or even people you don't know – taken at 1am a part of life? Shouldn't life consist of a little bit of everything? I think that I am finally starting to accept that and enjoy life outside my box and as soon as I sense that happening, I panic. My ego tries to force me to be a grandma, as I so often call myself.
I have to actively remind myself that it's okay to want to stay out late every now and then and my body and mind will naturally balance those nights with nights I enjoy being in. Last night I was asleep by 11pm and it was oh-so-glorious. I also had a fabulous spinach loaded salad for dinner. I was in bed reading and coloring with my NPR by 10pm!
Marvelous is…still making it to a Lululemon-sponsored bootcamp in West Hartford with my Twitter-now-real-life-girlfriends 😉 Olivia, Jill, and Kaleigh. OK, not marvelous that I woke up at 7am as I so often do after drinking. Five hours of sleep does not a marvelous workout make. Usually on Sunday mornings I do a kick-my-butt spin class that leaves me beyond worn-out for the rest of the day. But my marvelous friends and the marvelous cause the event supported – To Write Love On Her Arms – kept my mind focused on what really mattered and not as much on the fact that the workout didn't feel "hard enough" to me.
Lo and behold, I woke up this morning after the "not hard enough" workout with super-sore glutes. I'm really feelin' it thanks to the heels I'm wearing today. While a workout may not feel super-intense in the moment, if it's new to you, it will certainly shock your body and be plenty!
Marvelous is…spending more time with Olivia in West Hartford, first getting French press coffees at J Rene Coffee Roasters and then amazing fresh-brewed loose-leaf iced teas at The Green Teahouse! It was her first time at both places and I love that I got to be the one to show her their magic!
I got the same Banana Split & Monkey's Chocolate combo I had with my foodie pen pal Michelle. Not as good as it was then but Olivia's Coconut Spring green tea was fabulous.
So after the workout and our coffee date I was supposed to study. But the weather was marvelous. And I wanted to spend time with the marvelous people in my life.
Hence, I drove to Kat's house to visit her and her three-week-old girl Penelope. We didn't stay put for long though. We took Penelope on her first hike (it may have lasted 15 minutes but that's fine) at the gorgeous McLean Game Refuge in Granby, CT.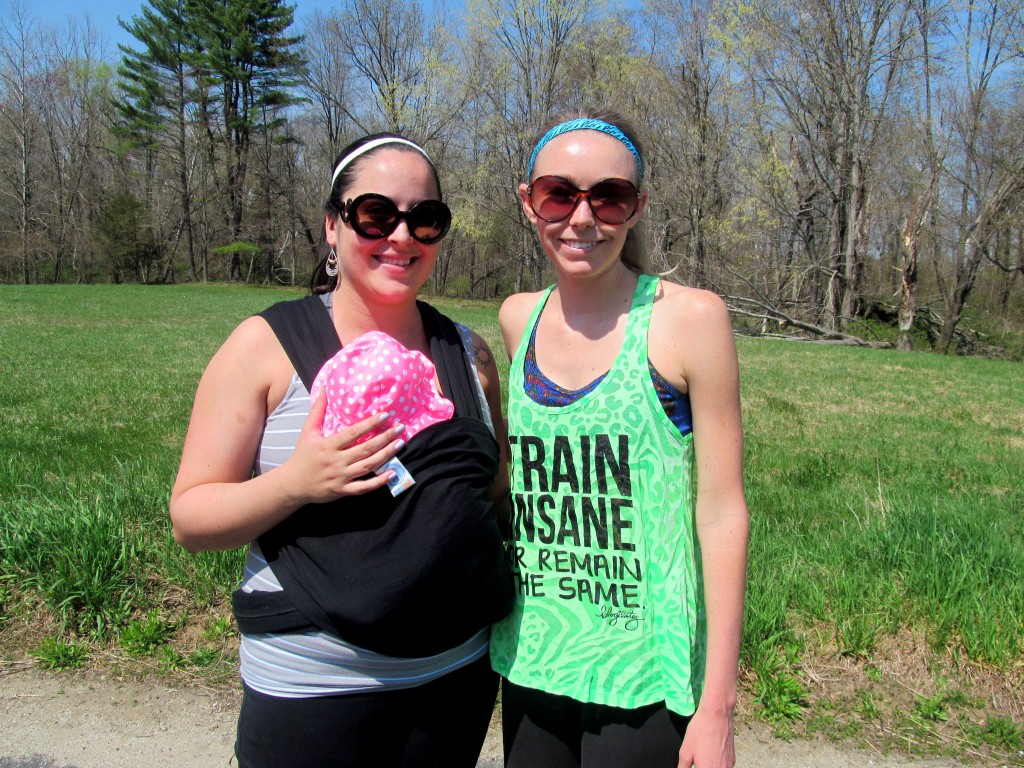 We followed our walk with a trip to one of Connecticut's newest vineyards, Lost Acres in Granby. When Kat suggested the vineyard for a tasting, my ego screamed at me. You're not doing the homework you should be doing because you want to go drink WINE?! After what you DID last night?! I felt nervous that I was having such a lovely Sunday Funday because I felt like I didn't deserve to be doing so.
My ego's voice was quieted not only by the two marvelous people I was with but also the beauty of Lost Acres. We walked in to find a gorgeous open space with rustic wooden accents and a live jazz band. The patio got plenty of sun and played host to an amazing view of the vines.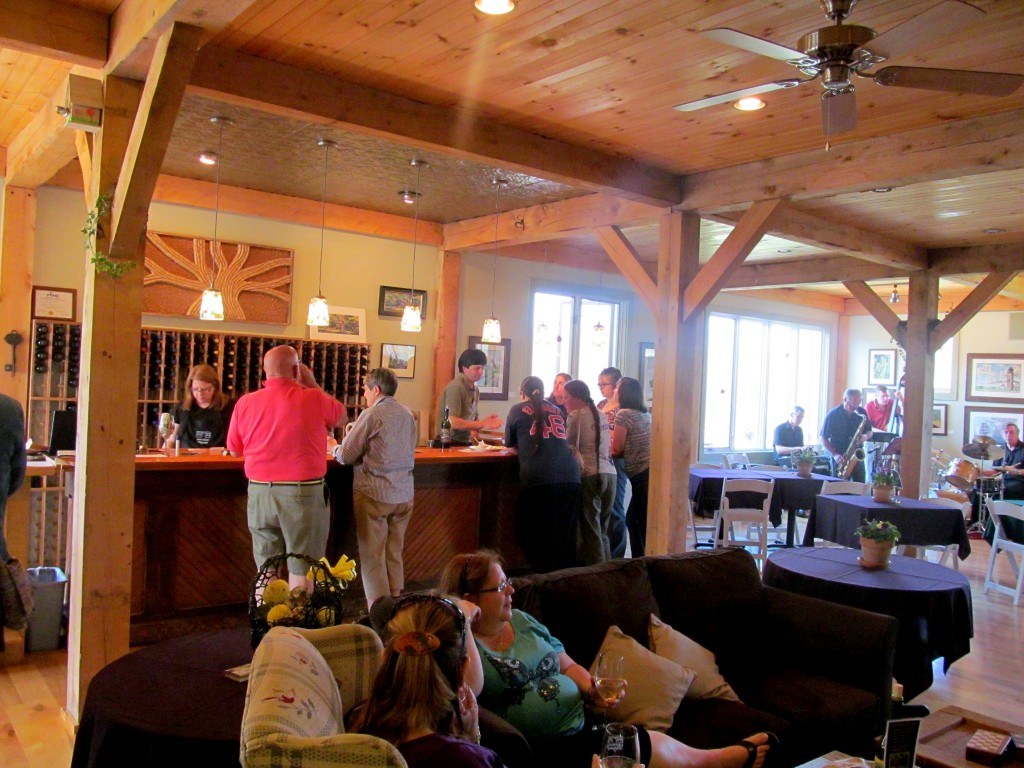 We both purchased some of the wine (of course) and I even nibbled on a bit of an antipasto plate Kat ordered to pair with her tasting, but I didn't have much of it because that just felt like all too much with the guilt I was feeling. I decided to wait til I got home to have dinner. I hope this weekend I'll be more relaxed – yes this weekend. Lost Acres has wireless and I plan to go back there with Kat on Sunday afternoon to drink wine on the patio and blog on our laptops.
Marvelous is…parents who offer in any way they can to help me in any way they can to de-stress once I got home from the vineyard, sat down to plan out my homework for the evening and week, and realized my capstone project is due May 7…not May 11. The entire day of doing no homework slapped me in the face at that moment and I almost lost it. Thanks to some supportive tweets and huge hugs, I took some deep breaths and made a game plan. This is my last semester – my last week practically – before I get my MBA. I've come this far and I know I'll make it and get my diploma. It's just a matter of fighting the spring's senioritis-intensifying power and my ego.
Marvelous is…taking a day off of work tomorrow to go to NYC with my dear blend Kaitlin to VISIT THE ELVIS DURAN SHOW!!! Yes, we are taking a tour of the studios and I cannot WAIT. We are also having lunch at Chobani SoHo after – hopefully with Chobani Community Coordinator Amy Keefe – and I even will have the chance to follow that up with a Physique57 trip, which is becoming my NYC visit staple. I don't hate it!
So I wasn't very productive this weekend. But I had fun. I lived. And I enjoyed every moment. I can't let that scare me. I can't let myself FEAR happiness. That has ego written all over it. I deserve to have fun. I deserve to live. I deserve to enjoy.
Has enjoying an activity or situation you feel you "shouldn't" be doing ever scared you?
What was the most marvelous part of your weekend?