Chobani and Physique 57 in NYC – Again!
During my August NYC trip for BlogHer '12, I had two very important "firsts" – my first Physique 57 class (followed by a second a day later, holy addiction) and my first trip to then-new Chobani SoHo. I knew I wanted to experience both again during my NYC day-trip last week to tour the Elvis Duran Show, but would I be able to fit both in one afternoon? OBVIOUSLY.
Chobani SoHo
Kaitlin was super-excited for her first Chobani SoHo trip since she is a fellow Chobani fanatic! We arrived at the store after doing some fabulous shopping near the Elvis Duran studios (everything was grouped nice and close together) and found a sweet employee posted-up outside handing out samples of the PB&J creation (creamy PB, Concord grape jelly, sliced red grapes, peanuts, plain Cho).
We passed because we were waiting for Chobani Community Coordinator Amy Keefe to arrive! She saw me tweet about our plans to have a Chobani lunch, and offered to join us so we could chat – and eat – all things Greek yogurt.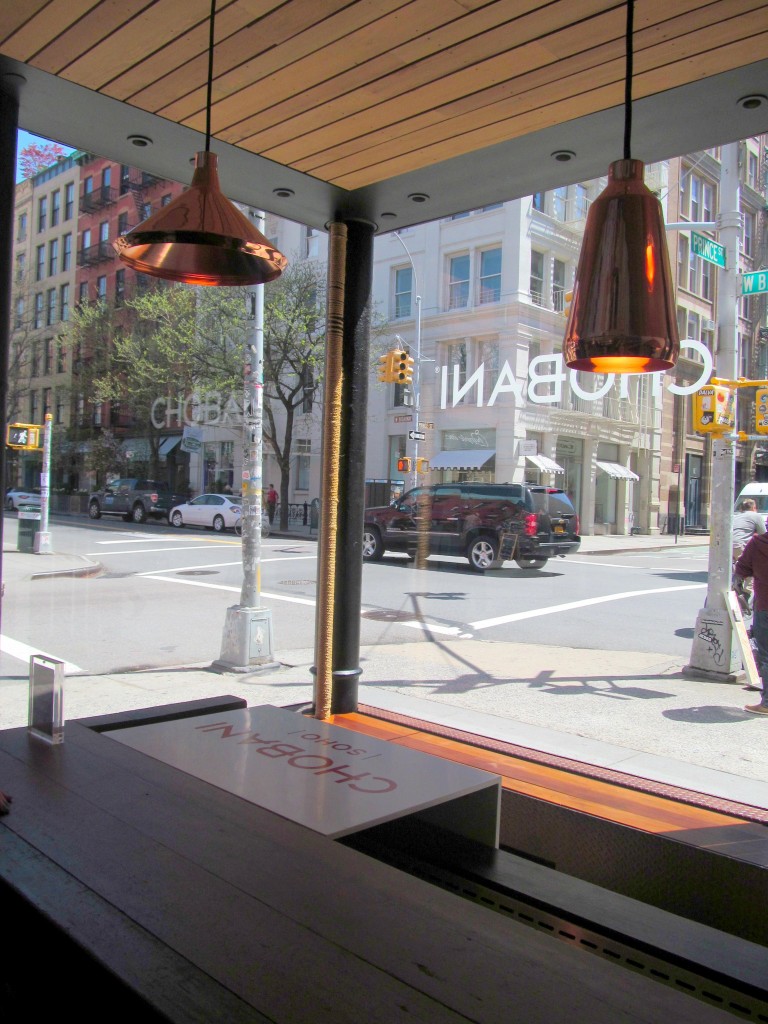 I desperately plugged in my dying iPhone while Kaitlin poked around. I adore the store's look, which hadn't changed a bit since August.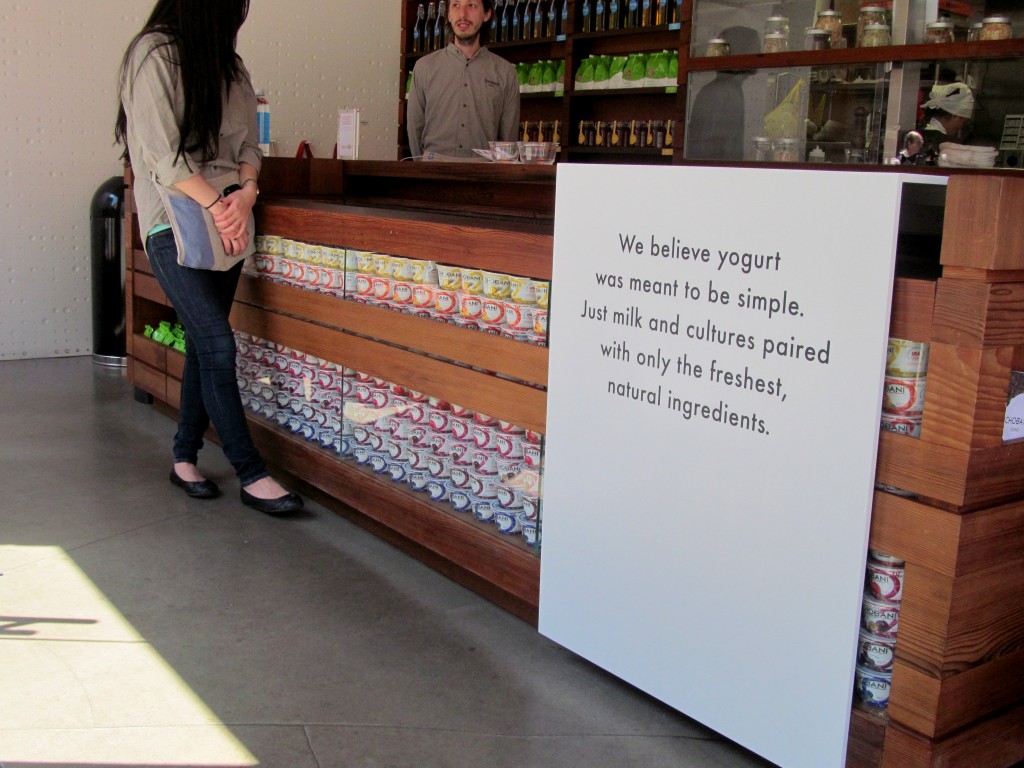 Amy arrived looking super adorable in a mint top. Another blonde was joining the fun!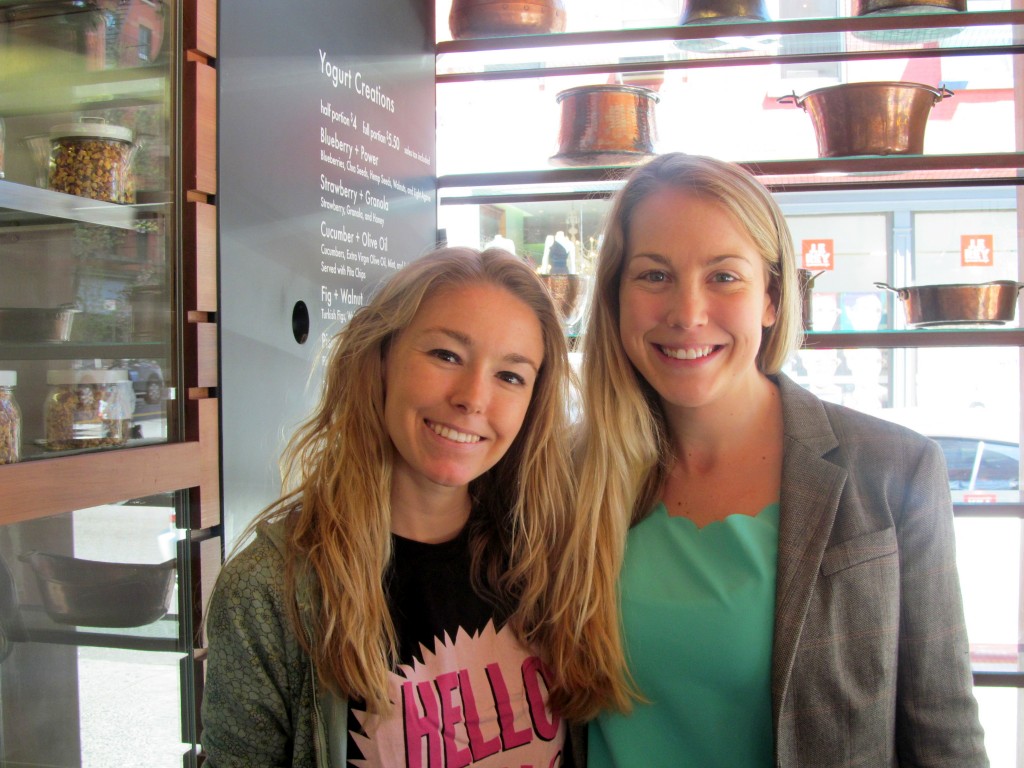 She graciously offered us whatever we wanted off the menu, which is composed of already-designed "creations". Chobani SoHo is not a self-serve or build-your-own yogurt bar. Though the super-customizing topping-lover in me kinda wishes it was, I have never met a Chobani creation I didn't like!
Kaitlin and I decided to share one creation I'd already had and adored (Pistachio + Chocolate), plus one that was new to both of us because it was a seasonal special – Grapefruit + Mint. That's one new Chobani SoHo feature that the store wasn't rockin' in August…two seasonal specials. We happened to be there for the last day of the current two!
The second special – Smoked Salmon + Dill with everything bagel chips – was so amazing and dream-worthy that Kaitlin and I each ordered our own. We knew no sharing would go down.
Kaitlin and I had selected the perfect mix of a savory and sweet creations! I was surprised to hear that not many Chobani SoHo visitors "get" the smoked salmon creation, but to me it seems an obvious choice – very New York bagel & lox! I guess that's just my foodie point of view though! It tasted incredible and the everything bagel chips were a dynamite companion.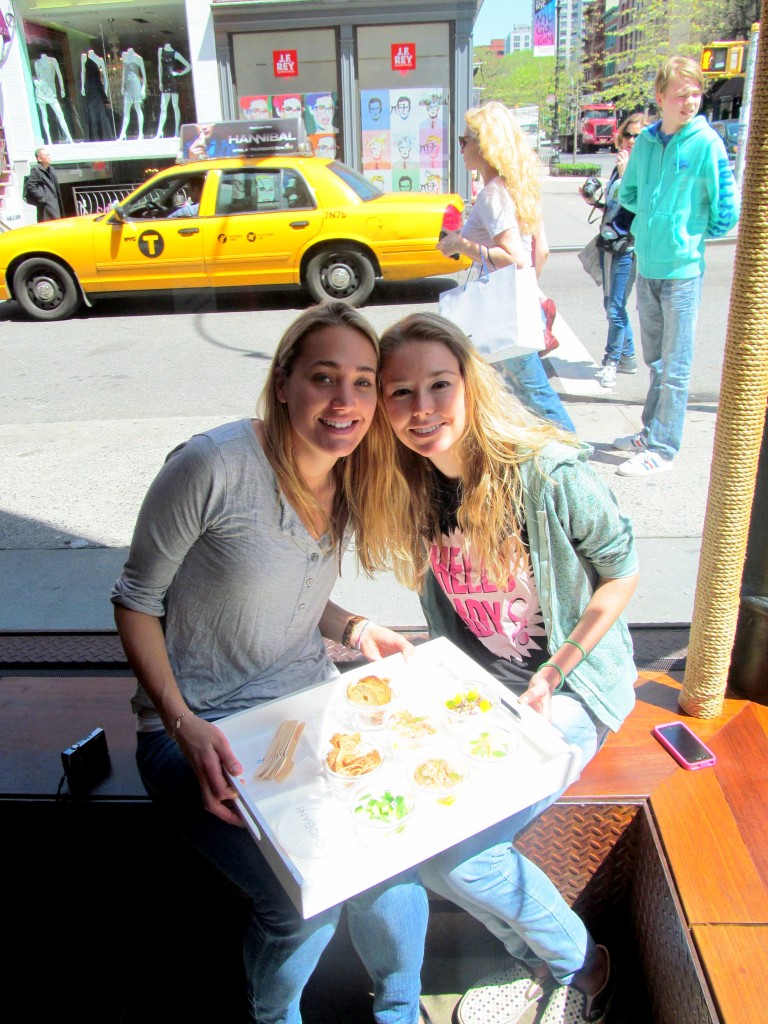 We don't mess around so no drop of Cho was left standing. The Grapefruit + Mint, while refreshing and SUPER easy to recreate at home, was still second place to the unique Pistachio + Dark Chocolate in my eyes (slash taste-buds). The pistachios and other nuts used in Chobani SoHo creations are even sold in the store.
Amy pointed out a subtle store nuance near the ceiling that I NEVER would have noticed – the evil eye!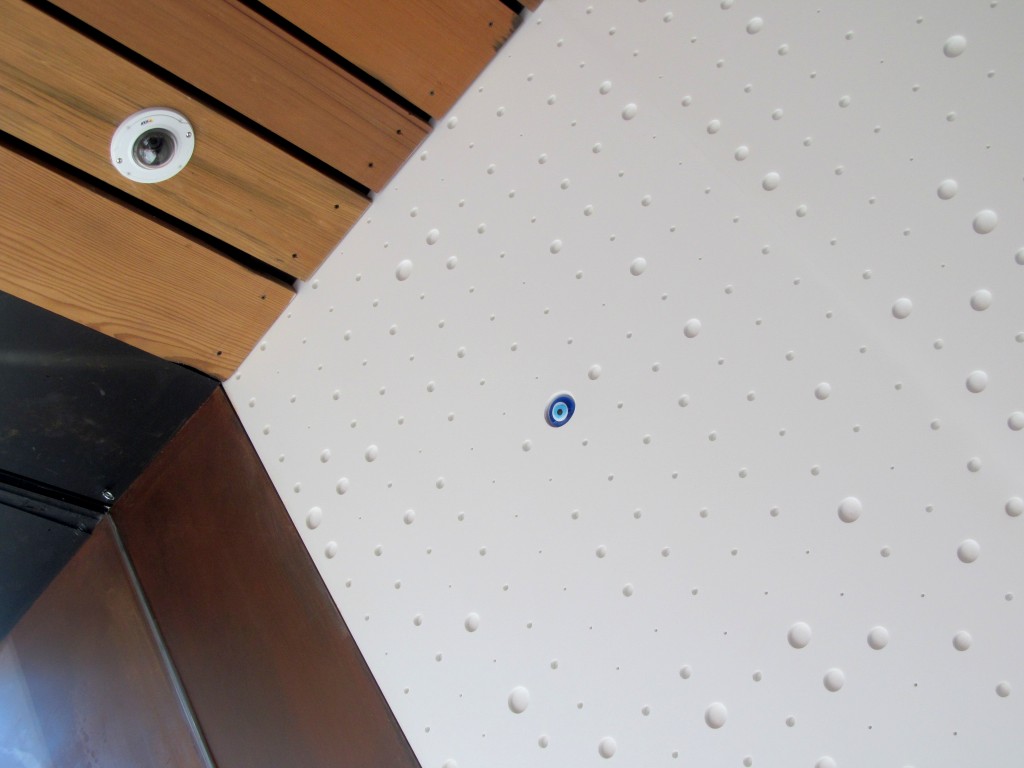 She continued to spoil us and offered a tour of the nearby NYC Chobani offices – newly renovated! Our second fabulous tour of the day! I want to hire their decorator.
Obviously Chobani isn't going to mess around with its break room. It's stocked with plenty of the product as well as chalkboard walls for employees to use when letting out steam.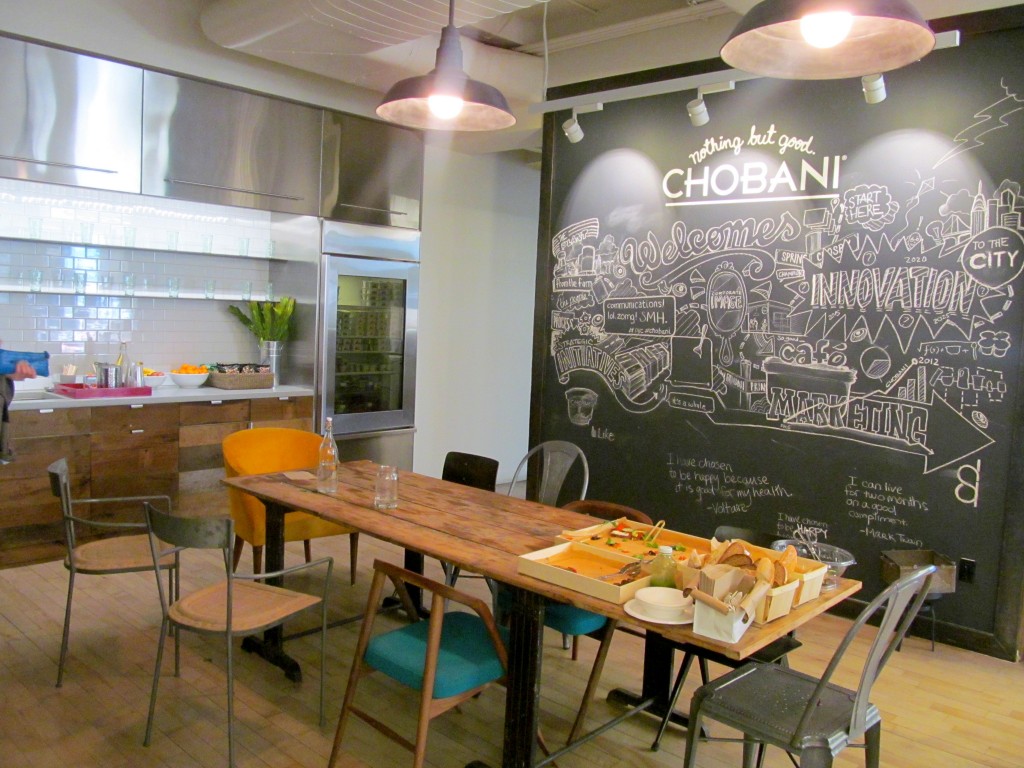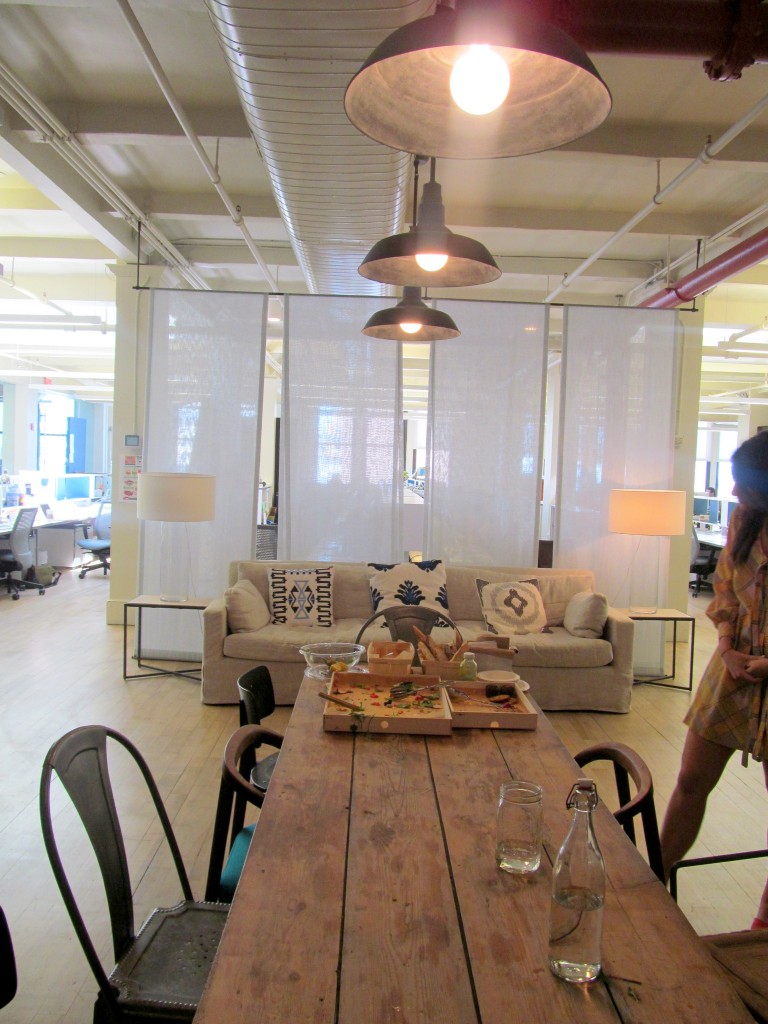 Kaitlin planned to take the train back home within the next hour I jealously watched as she raided the fridge! But Amy has promised me samples of the new Chobani Flips and the Fig with Orange Zest Bites (only Bite flavor I've yet to try), which will arrive on my front step on 5/15. Thanks Amy!
Kaitlin had to take the train back home for a babysitting gig, but I stayed in the city to milk the trip for all it was worth by shopping and doing my favorite barre workout!
Physique 57
Natasha AKA social media guru for Physique 57 was kind enough to let me use a class credit I had that expired at the end of 2012. I've visited two of their NYC studios and was glad I'd be in the area of my favorite of those two, on Spring Street. The facilities (lobby, locker room, bathrooms, studios) are just beautiful – and again, I really needed to charge my iPhone 😛
Physique 57 is a barre-style workout that starts with a cardio and light-arm-weight warm-up, followed by barre and floor work, and ended with a tough core series. Tools utilized during the workout include dumbbells, a resistance band, a ball (evil thing), and mats. While it may not be "outright cardio", the heart rate certainly gets up there thanks to the ridiculous burning sensation the lower body feels during the entire class. OUCH (in a good way). You can read more about my thoughts on the workout in general in my post from August!
I lucked out because I happened to choose the 2:30pm class taught by Jess, a super-talented instructor who has appeared in Dance Spirit Magazine! While I have to say my favorite instructor is still co-founder Tanya Becker (I mean, how can it not be!), Jess did a fantastic job motivating me and coming to each student to correct her form, which I always appreciate because I'd rather do a move with correct form than blindly do it incorrectly every day!
Natasha is being a gem and offering you all a discount code to use on Physique 57's online workouts! Enter code CAITplusP57 (nice code Natasha!) for 20% off of one download – the code will remain active until 5/14. Each download is 48-hours of access, or one can choose the monthly subscription option – unlimited access for 31 days. For more info on the streaming program and pricing, check out the Get Started page.
Video Access Instructions:
Click any of the videos and click WATCH NOW.

A new screen will pop up for you to register. Enter an email address and a password.

Click "Enter promo code" on the next screen and enter your access code: 

CAITplusP57

Once you enter your code you can play any of the videos. Enjoy!
Have you ever visited Chobani SoHo? Would you like to?
Have you ever had the chance to visit the offices of a company you like?
Have you tried Physique 57 or any other barre workouts? What do you think?