La Boca Middletown's New Menu
My giveaway for a free 30-minute massage by Kellie of Brilliant Options Wellness (Plantsville, CT) ends tonight at 11:59PM EST! Get those entries in!
Patrick of La Boca Mexican Restaurant & Cantina – located on Main Street in Downtown Middletown, CT – contacted me recently to find out if I'd be interested in coming in for dinner so that I could check out the new dinner menu, which was recently updated to include more unique dishes with a "Mexican fusion" vibe. I've actually been wanting to try La Boca for awhile – my interest in Middletown's restaurant scene never dies – so I accepted Patrick's invite and brought the perfect company…my parents and sister!
I've been to both "fancy" and "chill" Mexican restaurants, and I honestly prefer the latter because I feel like a laid-back vibe just fits best with the cuisine. Thankfully La Boca is a really chill place – anyone would feel welcome!
We arrived for dinner at about 6:45PM and I noticed immediately that La Boca's tables were occupied by diners of all kinds – from couples on dates to  families with small children. The waiters and waitresses were running back and forth but seemed to be having a good time. I felt ready to get the party started!
Our waitress immediately earned a zillion bonus points by bringing us chips during her first visit to our table. Not too salty – despite my self-proclaimed salt addiction, I prefer Mexican restaurant chips less salty, probably so I can eat more of them – and a fabulously chunky salsa with a perfect amount of kick!
We started with a round of beverages! La Boca offers a specialty Onyx Moonshine cocktail for the Moonshine on Main Cocktail Crawl, but I took a look at the recipe and it seemed the drink wouldn't be simplistic enough for me. So I customized, and the bartender was nice enough accommodate – I ordered Onyx Moonshine, a splash of lemonade, and a splash of soda water served up.
The only problem? Its delicious smoothness meant it went down way too quickly. Good problem to have!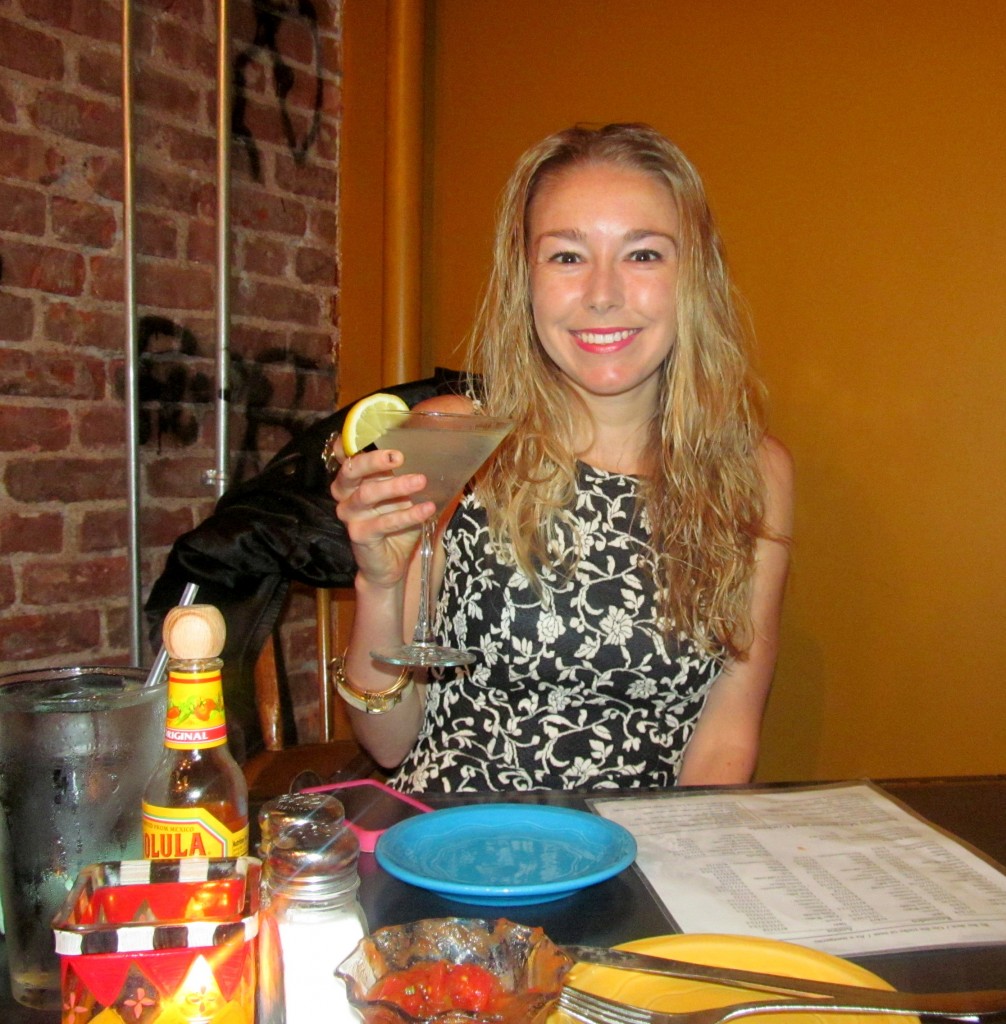 Mom was bummed out because she only looked at one side of the beer menu placed on the table, so she saw just the bottled options before ordering! She liked her Modelo but was sad when she realized she'd missed a chance to order a Dogfish Head on draft.
I continued my trend of being every waiter's nightmare and asked questions about some of the appetizers; the waitress was very friendly and answered my questions as well as my mom's. She even gave my mom the OK to turn the mahi-mahi tacos into a mahi entree with two veggie sides.
I ended up forgoing the two appetizers in favor of a seafood entree that called my name from the first moment I menu-stalked on La Boca's website…the baja coconut-crusted salmon, with sides of fiesta veggies and black beans. I am big on having plenty of healthier sides options at restaurants, and La Boca totally delivers with options like those I chose along with corn tortillas, yuca fries, and sweet potato fries.
I usually expect veggies from a Mexican place to be flavorless and/or swimming in grease, but my mom and I couldn't believe how flavorful they were – and without an excessive amount of butter or oil. My mom and I are black bean freaks and adored La Boca's. The fact that I could taste zero coconut in my salmon's crust did bum me out a bit, but it was still very well cooked and crust is crust – I just love a crunchy exterior!
As our food was being placed in front of us we went for round two on the drinks – but this time I had to get more into the Mexican-restaurant vibe and decided to order off the extensive tequila menu!
I knew from a tequila class I attended at Bartaco that I am most interested in anejos, which are the most aged variety of tequila of the three types listed above (blanco, reposado, anejo). I asked our waitress to recommend one and though she was not sure, she checked with the bartender for me, who recommend Partida. A+ recommendation – I ordered some neat just to sip with my meal, and really enjoyed it.
My mom did get her beloved draft beer in the end, though not the Dogfish Head she wanted (it had just sold out). She went with a classic Dos Equis – I yelled at her a bit for going so standard while at a Mexican restaurant with a good draft beer menu, but she is not as out of the box as me and wanted her classic Mexican beer!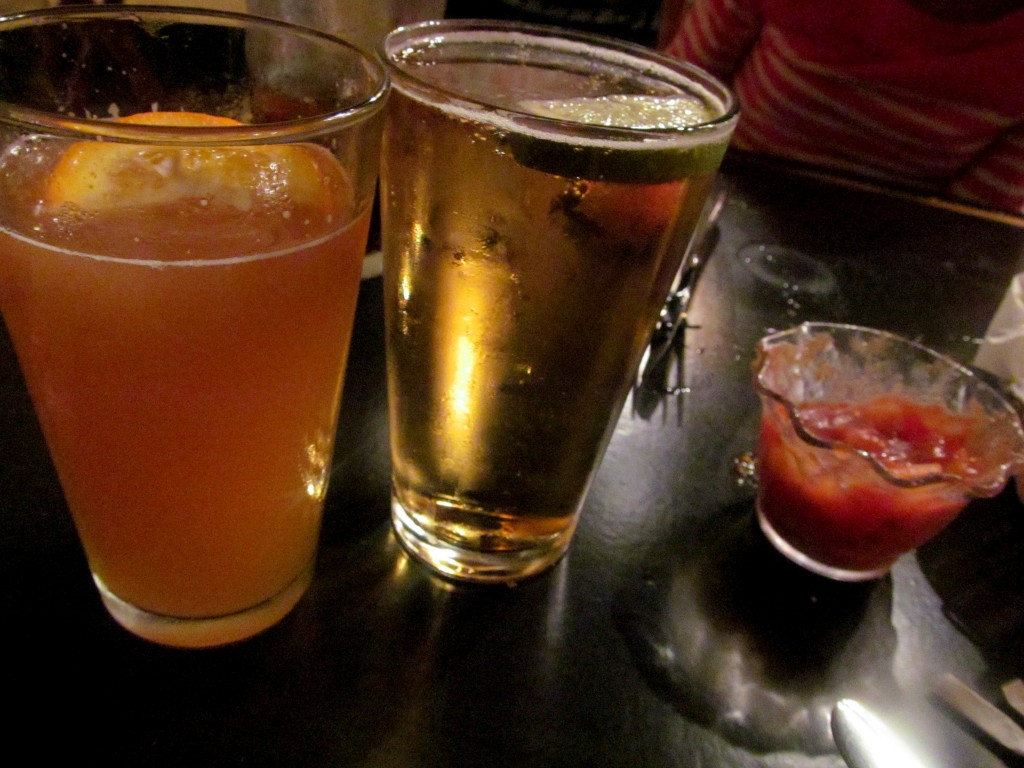 I didn't get to sample any of my dad's entree since he had a bad cold, but he got the chipotle shrimp enchiladas (pan-seared shrimp, onions, garlic, and chipotle cream sauce topped with queso fresco and cilantro) with rice and beans. He gave the sauce, rice, and beans rave reviews. The shrimp looked a little wimpy to me and he said they were pretty good, but I think the star of the dish was the sauce. Of course thanks to all the previously consumed chips there was no way he could finish it!
Hannah had a big craving for ground beef but La Boca only serves braised beef (which I totally prefer, but to each her own!) so she went with her backup, chicken. My mom and I are sure glad she did because up until that night, I'd never found a Mexican place that could do braised chicken as well as Loco Perro in East Hampton, CT. Now I've found a place that is on-par – my mom already is dreaming of the braised chicken entree she will order upon our return to La Boca!
She selected the simple yet delightful enchiladas suizas (braised chicken, queso, tomatillo cream sauce) with black beans and rice. I'm proud of Hannah for being adventurous with the tomatillo sauce but unfortunately she didn't like it. Good news for me! She scraped it off and I devoured it, along with a lot of her meal…she was full from the chips and rice/beans, so my mom and I kinda-sorta-definitely attacked her plate. And for that reason I could only finish half my salmon and half my veggies! There are few restaurants where I order chicken dishes because it's usually just nothing special but I would for sure get braised chicken next time I visit La Boca.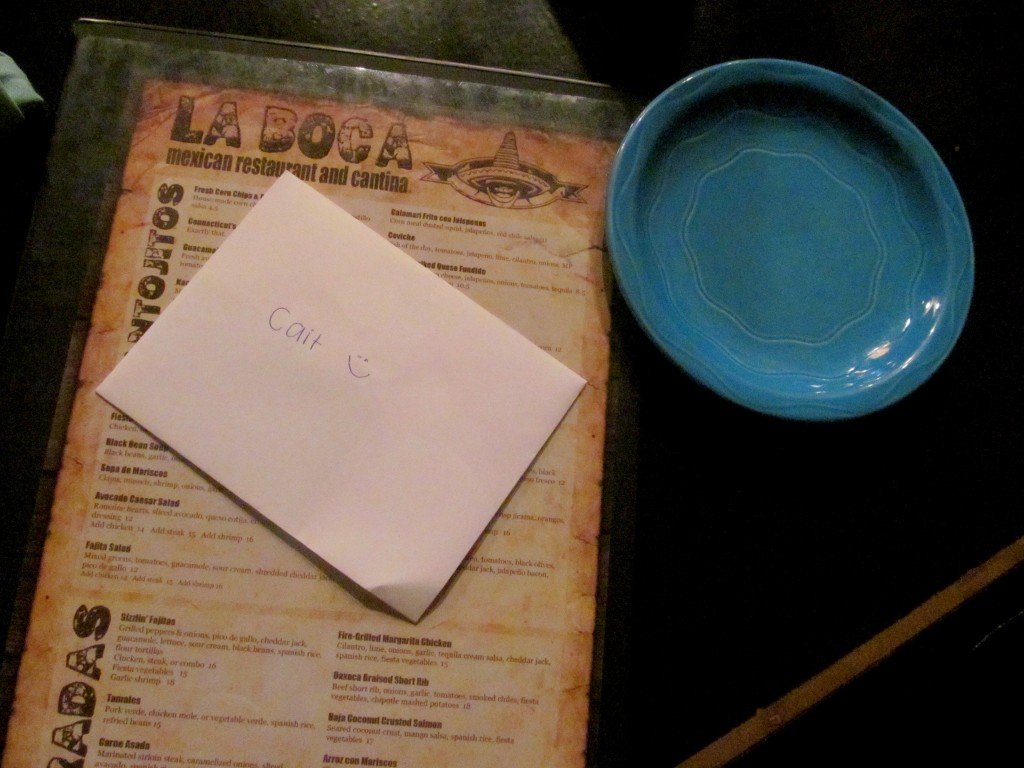 We had lots of leftovers (yet I was still noshing on those great chips) that were boxed up promptly. Patrick really outdid himself because I was given the above gift card to pay for just my entree and one appetizer, but we found out at the end of the meal that La Boca would be taking care of my entire family's dinner! What a shock – thank you Patrick! We had certainly already had positive reviews of our experience, but that was not a bad surprise at all 😉
I noticed how fun the waitresses' black La Boca tank tops were – because they were in the style of a Jack Daniels label! Obviously this whiskey girl had to have one of her own! For just $15, why not? Can't wait to rock it at the gym!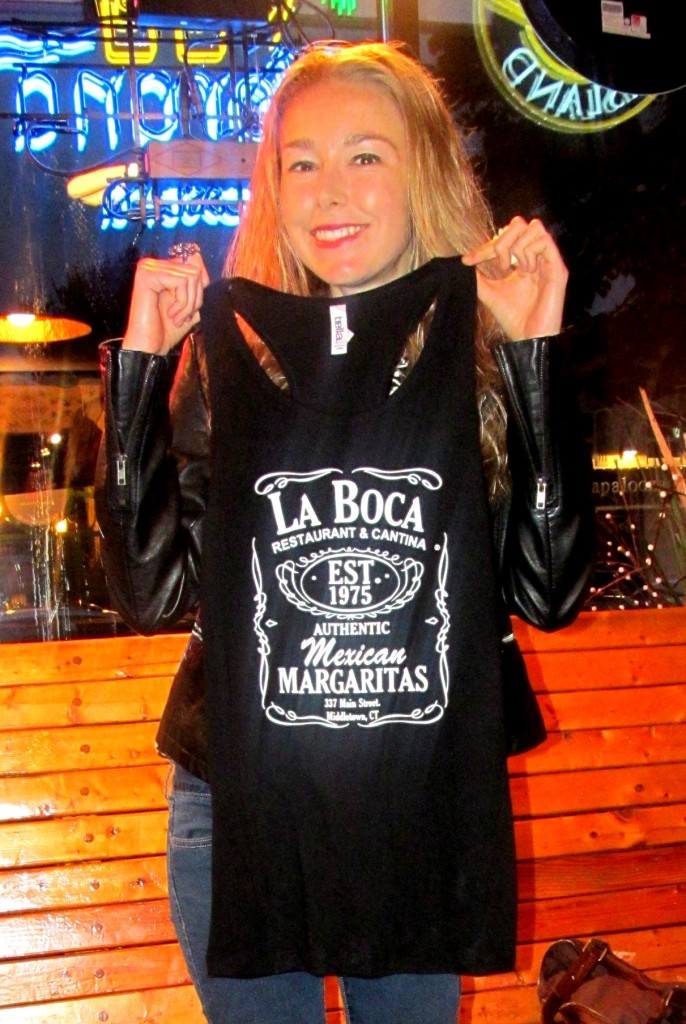 Some other cool facts about La Boca:
Outdoor seating is available!

If a patron fills out a customer feedback survey with the check, he or she will receive a token for either a free fried ice cream and free sangria! You know what that means right? I have a token for a free sangria that I surely will be enjoying in above mentioned outdoor seating.
The restaurant is known in town for having great live entertainment and events like Monday Night Flights (I want to do that!), Tuesday Trivia, and Wednesday Kids Eat Free Day.
The Tequila Club offers deals and exclusives for a $20 annual fee. The more tequilas you try, the more deals you get!
I had a great evening and would surely recommend La Boca if you are ever in downtown Middletown. Despite the fact that our meal was comped, I genuinely enjoyed La Boca and my whole family did as well. We plan to go back for sure – you know it's a good sign when my mom is already plotting the entree to be consumed during her next visit! And next time, she WILL get her Dogfish Head on draft!
Thank you to Patrick and the rest of La Boca's staff for having me and my family into your restaurant! We received our meal free of charge, but all opinions are genuine and my own. 
What's your favorite drink and/or entree to order at a Mexican restaurant?
What is your favorite Mexican side?
Are you a chip addict like myself?