Good Bean Winner and Guest Post
Happy Memorial Day everyone! I'm enjoying my day off of work – and remembering the reason we have this holiday in the first place. People who fight for our country are braver than I can describe with mere words. After all, actions DO speak louder than words; soldiers' selfless actions are the greatest gift our country could ever ask for.
Giveaway Winner
Thanks to those who entered the giveaway for three prize packs from The Good Bean! Our winners are Danielle of It's a Harleyyy Life, Lacey of Life Hands You Limes, and Jessica! Congrats ladies – I will be contacting you about getting your prize pack of three dried Chickpea Snacks and two Fruit & No-Nut Bars. Remember if you didn't win and want to order The Good Bean products online, you can do so through Amazon and get free shipping on your order of $25 or more.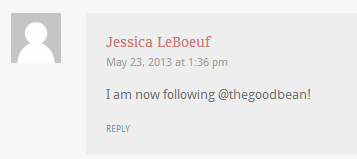 Guest Post
Today I have a guest post up on the blog of one of my favorite blends, Lisa of Lisa Lately! I'm talking about some of my favorite food/fitness/fashion related products. Check it out if you have a chance!
Enjoy what's left of your long weekend, friends!