I Bestow Upon You a Giveaway!
I received a March Bestowed box for free to review. This is not a compensated post and all opinions about the service are my own.
Oh my goodness, I loved loved LOOOOOVED reading your "Hey, It's OK!" contributions in the comments of yesterday's post! Keep 'em coming and I encourage EVERYONE to do a post in that format or any format telling the healthy living blog world just how many stereotypes you break. And heck, I might even do a post soon on the stereotypes I embrace, because there sure are plenty of those too. Brussels sprouts, anyone?
I'm sure you've seen reviews/giveaways of Bestowed, a subscription service in which a box of fun, nutritious food finds are delivered monthly to your door. Even if you've read other opinions, I hope you're still interested in reading mine, especially since I am offering a giveaway!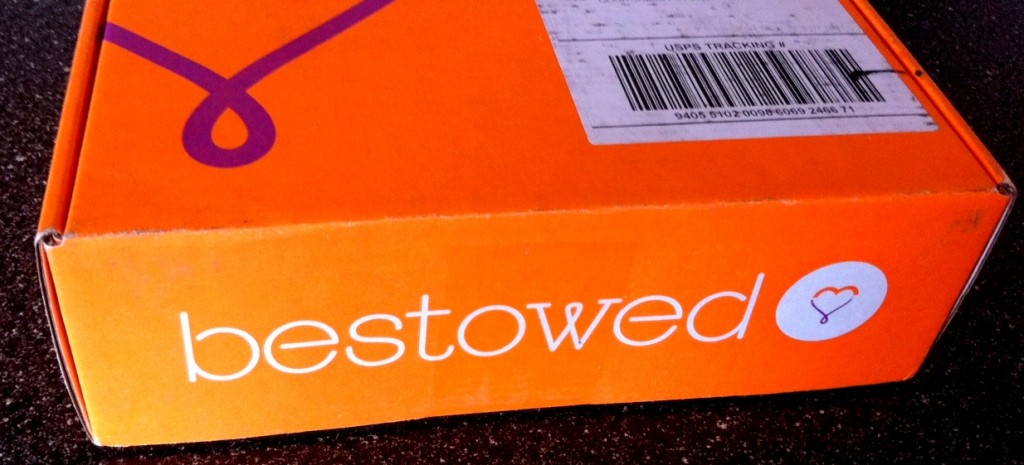 This is the third monthly food subscription box I've tried – I've also reviewed Knoshbox and Love With Food. Though Love With Food was cheapest ($10 vs the monthly Bestowed price of $19), the products in the Bestowed box are definitely of higher quality, so the price point makes sense. I opened my box and was excited to see familiar brands I've always wanted to try, like Artisana.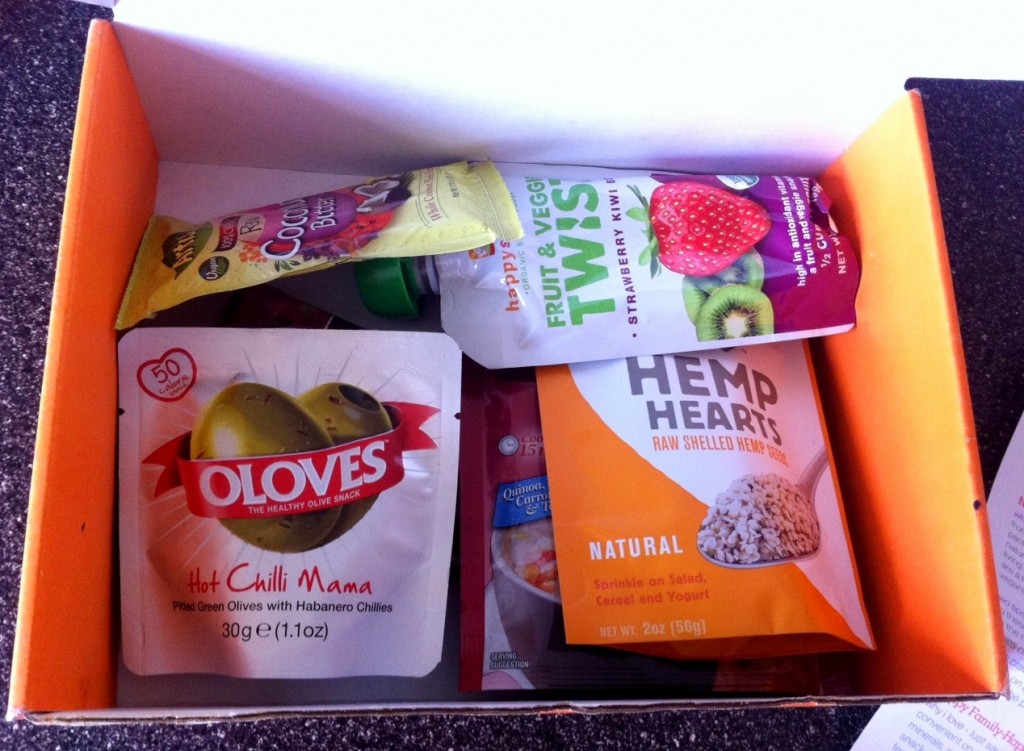 Shipping is included in the monthly Bestowed price, and buying an annual membership ($209) will save you a bit of money. The box always arrives on the 15th of the month so one knows when to expect new snacks. Heather Bauer, a nutritionist and author, is the founder and picks the snacks that go in each box. A nifty sheet is also included in the box to explain what each product is, why Heather picked it, and tips for how to use it (helpful for food I was unfamiliar with, like the hemp hearts).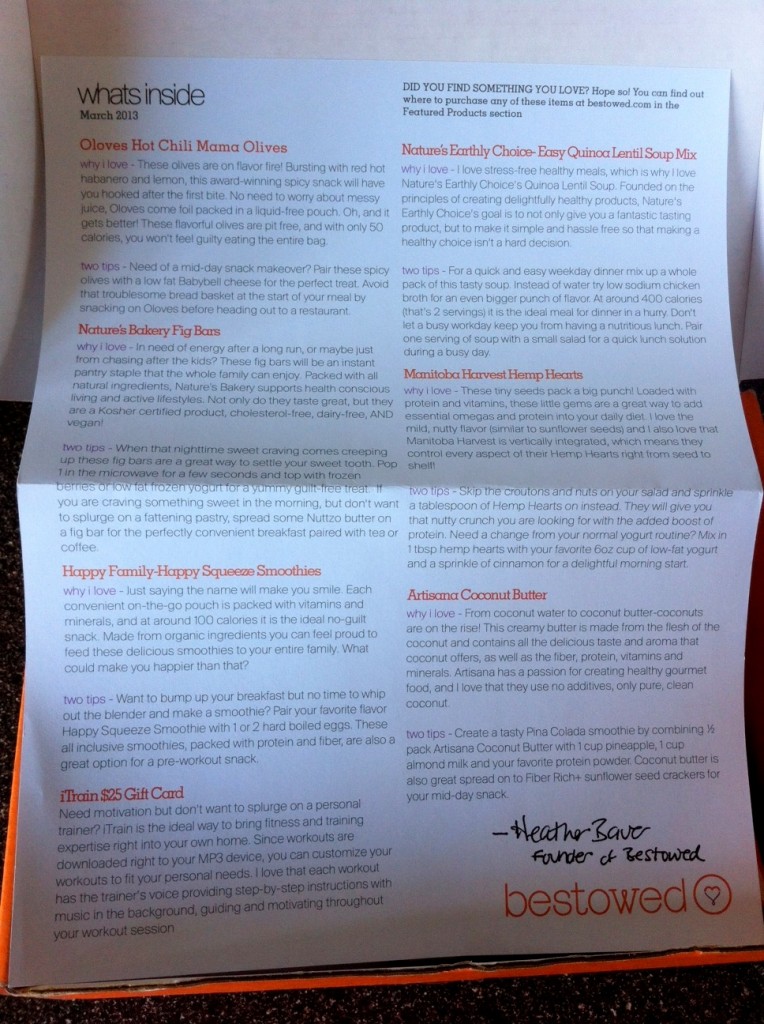 Here's what was in my box and my thoughts on each item (some I haven't used yet or don't plan to use):
Oloves Hot Chili Mama Olives: My favorite item in my box! I used this nifty pack in one of my daily salad lunches in place of my usual kalamatas, and they had the perfect little kick. I really liked how the packaging was structured so that the olives could be packed and enjoyed as an on-the-go snack.
Nature's Bakery Fig Bars: Two bars came in the package and I used one bar on two separate nights, crumbled into my go-to chocolate pudding, as a snack to enjoy in bed while I read. I liked these bars but they were a bit sweet for my taste. I certainly wasn't picturing a Fig Newton look-alike when I read the term "Fig Bar" on the wrapper but essentially that's what was inside, two healthier Fig Newtons.
Happy Family-Happy Squeeze Smoothie: I took one look at this and knew I'd never use it. I plan to give it to Kelly when I see her this weekend 😉 for her little man.
iTrain $25 Gift Card: iTrain features workouts that can be downloaded onto any mp3 player. I didn't really see a need (personally) for this and didn't feel like going online to figure it out so I never used the gift card. And now I can't find it.
Nature's Earthly Choice Easy Quinoa Lentil Soup Mix: Haven't used this yet but am excited to do so. I want to make the soup and add some more meat and veggies for extra protein. And by that I mean my mom will make it.
Manitoba Harvest Hemp Hearts: Definitely most curious about these guys though I haven't tried them yet. According to the info sheet in the box, hemp hearts contain protein and essential omegas. Heather's tip suggests sprinkling them on top of a salad. You know me – that's likely where they will end up!
Artisana Coconut Butter: I've never had coconut butter (I know, with how obsessed the blog world has gotten with it, that's probably a surprise) or anything by Artisana (a long-time blog world love) so I'm super excited to try this! I'm not sure how I want to use it though. Has anyone ever tried it on a banana?
Of course all monthly subscription services come with risk of getting items I don't end up using at all, like the squeeze smoothie or iTrain gift card in my case. But I also got items I knew I'd love, like the olives, or new items I'm still excited to try, like the hemp hearts and coconut butter. As a blogger I often receive snack samples so it doesn't make sense for me to sign up for a monthly food box subscription, but for foodies who aren't flooded with snacks on the reg, I think Bestowed would be a fun monthly treat! Plus, you can cancel anytime so if after a couple of months you need to take "time off" or just aren't satisfied, it's easy to stop paying.
It would be nice to find a food subscription box with less risk, that asks each customer to fill out a survey with food preferences, like Birchbox does for its beauty boxes.. No one wants to open a box and find he or she has no use for half its contents. For example, as someone with no kids, it's less likely I'd have use for the squeeze smoothie. But Heather seems to pick a nice mix in each box from reviews I've seen of different months' boxes, and surely someone with a family would find at least one person in the house to want each snack!
Every product in each Bestowed box can be found on the Bestowed website, and has a page with information, a photo, and where to buy more of it. Bestowed may not be as cheap as Love With Food or as full of local whole foods as Knoshbox, but I'd call it right in the middle in terms of quality and price point, and a fun way for foodies to try new foods and brands.
Now let's bestow upon you that giveaway…and promo code!
Bestowed is offering readers $5 off their first box – just enter promo code 5OFFBESTOWED01 at checkout.
And give my giveaway a shot too – one reader will in a free box! The contest is open to continental US participants only and will end this Sunday 6/2/13 at 11:59PM EST. You must leave a separate comment for each entry method or multiples won't count:
Tell me in a comment which item in my box you'd have been most excited about. (mandatory)

Follow @CaitPlusAte on Twitter and comment here saying you did.
Follow @Bstowed on Twitter and comment here saying you did.
Tweet "I entered to win a @Bstowed box from @CaitPlusAte! http://caitplusate.com/?p=9247" and comment here with the link to the tweet.
Good luck and remember if you don't win, you can still use the promo code!!!