Resting Up For A Plank Challenge!
Oh what a weekend! Summer 2013 continued to deliver with fun activities like…
Another unplanned activity this weekend – or lack thereof? A rest day on Sunday. My mom informed me on Saturday night that the next morning's departure for the beach would occur at 9:30am. My usual Sunday morning 9am spin class would not happen, and I knew if I wanted to work out before the beach, I'd have to set an alarm. I already do that five days a week and I learned of the early departure at about 11pm. Setting an alarm to work out sounded GOD AWFUL.
So, I didn't. I told myself I could work out after the beach if I wanted to. And you know what? I didn't want to. So I took a thirty minute walk on the beach (during which I took the above lovely photo) and then when I got home, I showered, did my laundry, and worked on blog stuff while hanging with my sister. It was great!
I felt unsure about it. I debated all day. I'm still thinking about it. But I also tried to ENJOY the rest. Truth be told, I had not taken a day off from the gym in over two weeks. So in the big scheme of things, I know this rest day won't hurt me, and will actually probably help. I'm pretty proud of myself for letting myself be human and take a day off from the gym when I just wasn't feeling it. I'm thankful for support I got from others too.
Now today I am rested and more ready than ever to hit the gym – and it's a good thing, because today is my second-ever TRX session! My trainer Marcy Williams was so excited about the guest post I did for Kaitlin, about my first experience doing TRX at Healthtrax, that she offered me a free second session to say thank you. And I say you're welcome – and yes, I'm so in! I've already asked her if we can do a mix of cardio and strength so I'm ready to get hit from all angles. I hope tonight's workout makes me as sore as the one last time did!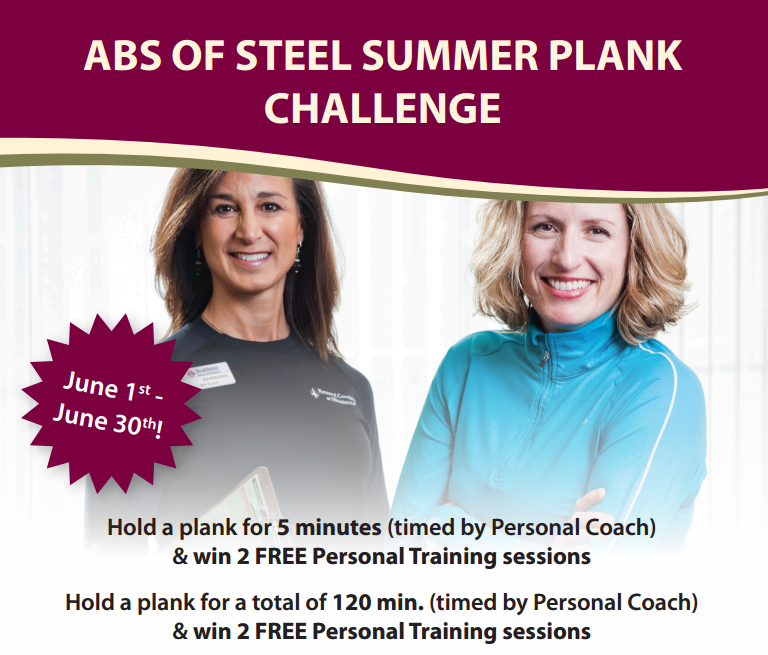 But before our session begins, Marcy is going to time me in a plank so that I can complete the above Abs of Steel challenge! In honor of summer, Healthtrax is offering two free personal training sessions to anyone who can hold a plank for either five minutes straight or plank for a cumulative time of two hours. I met my five minute plank goal back in April and haven't gone for it again since then, though I have continued planking like a champ almost each day. I know I'll be able to do it again today – especially since two MORE free TRX sessions are on the line! Wish me luck! I'll be sure to report on whether I hit the five minute mark. Er, WHEN I hit it. BECAUSE I WILL!
Do you have trouble taking rest days? How often do you take them? Do you have a certain day you like to rest most?
Do you ever attend personal training sessions? Does your gym ever host fitness challenges?