Chef's Tasting at Pond House Grille
My guest and I received a complimentary chef's tasting for the purpose of writing this post. Beverages were not included. All thoughts and opinions about the experience are my own.
I've dined at Pond House Grille several times before, and enjoyed each experience. But they recently re-did their menu and I've been anxious to sample Chef Jordan Stein's creative dishes for awhile now. Thankfully, Pond House invited me and a guest to come in and do just that via a special chef's tasting, complete with an explanation of each dish by Jordan himself.
I asked Jill to join me because she is a fellow foodie who will try anything (after all, we have shared worms and scorpions in the past). I knew she'd appreciate this opportunity as much as I did!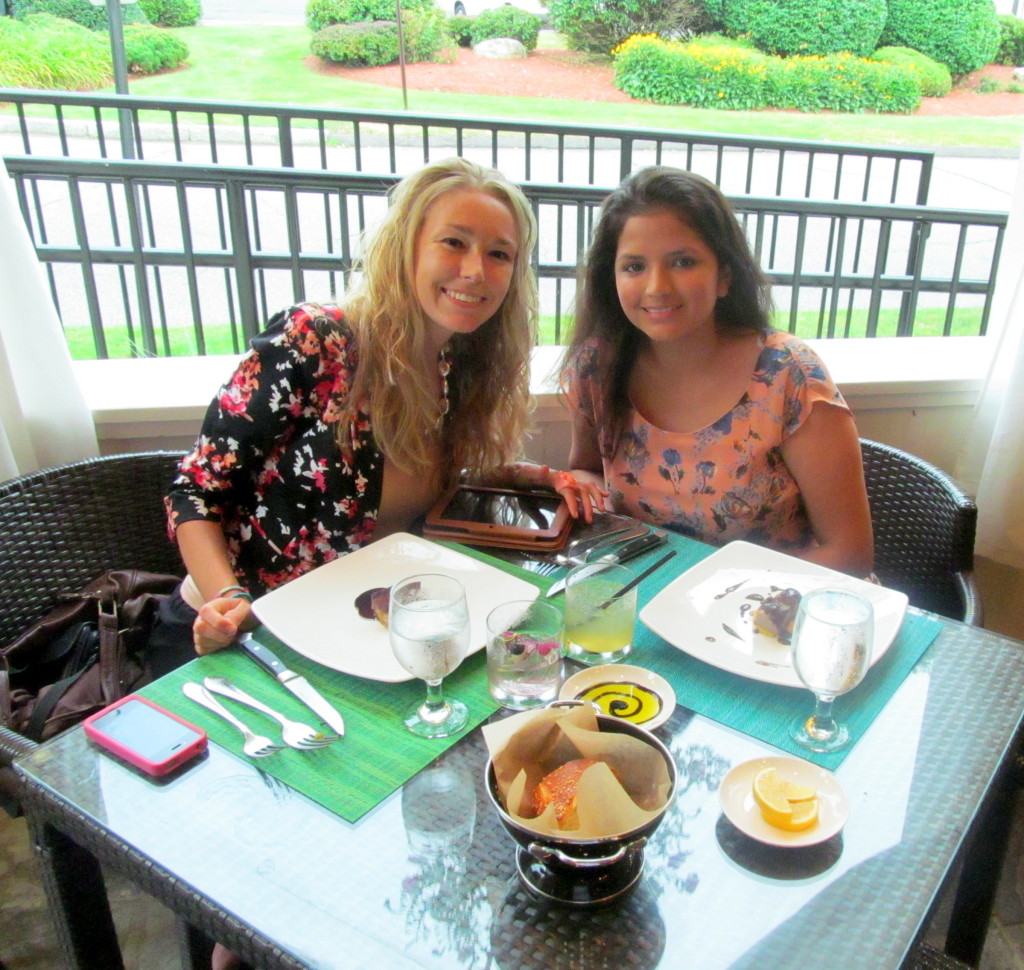 I arrived to find a table was all set for us, but it was a mild summer evening and I requested we be moved outside. Thankfully plenty of patio seats were available and it wasn't a problem!
While I waited for Jill, I played with the touch-screen menus our waitress Amanda had placed on the table for me to play with. We weren't going to be ordering food off the menu, but I did need to choose a cocktail!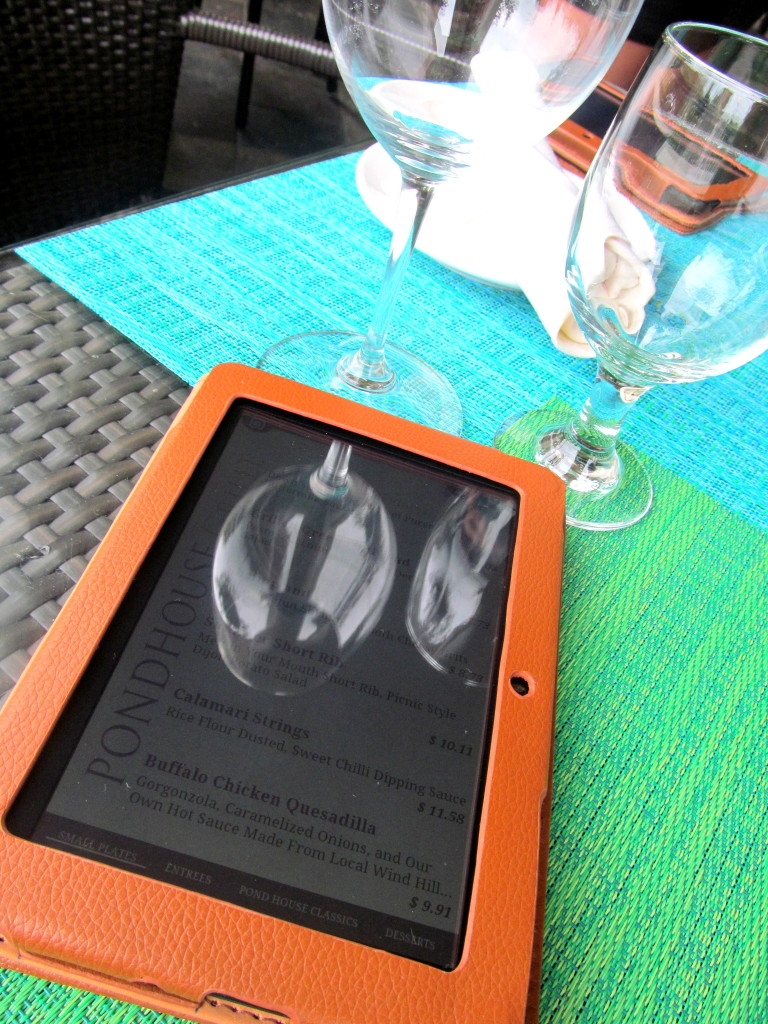 Tapping each menu item brought up a photo, which was nice because I often find myself asking waiters to describe a dish for me since the menu description doesn't always do it justice.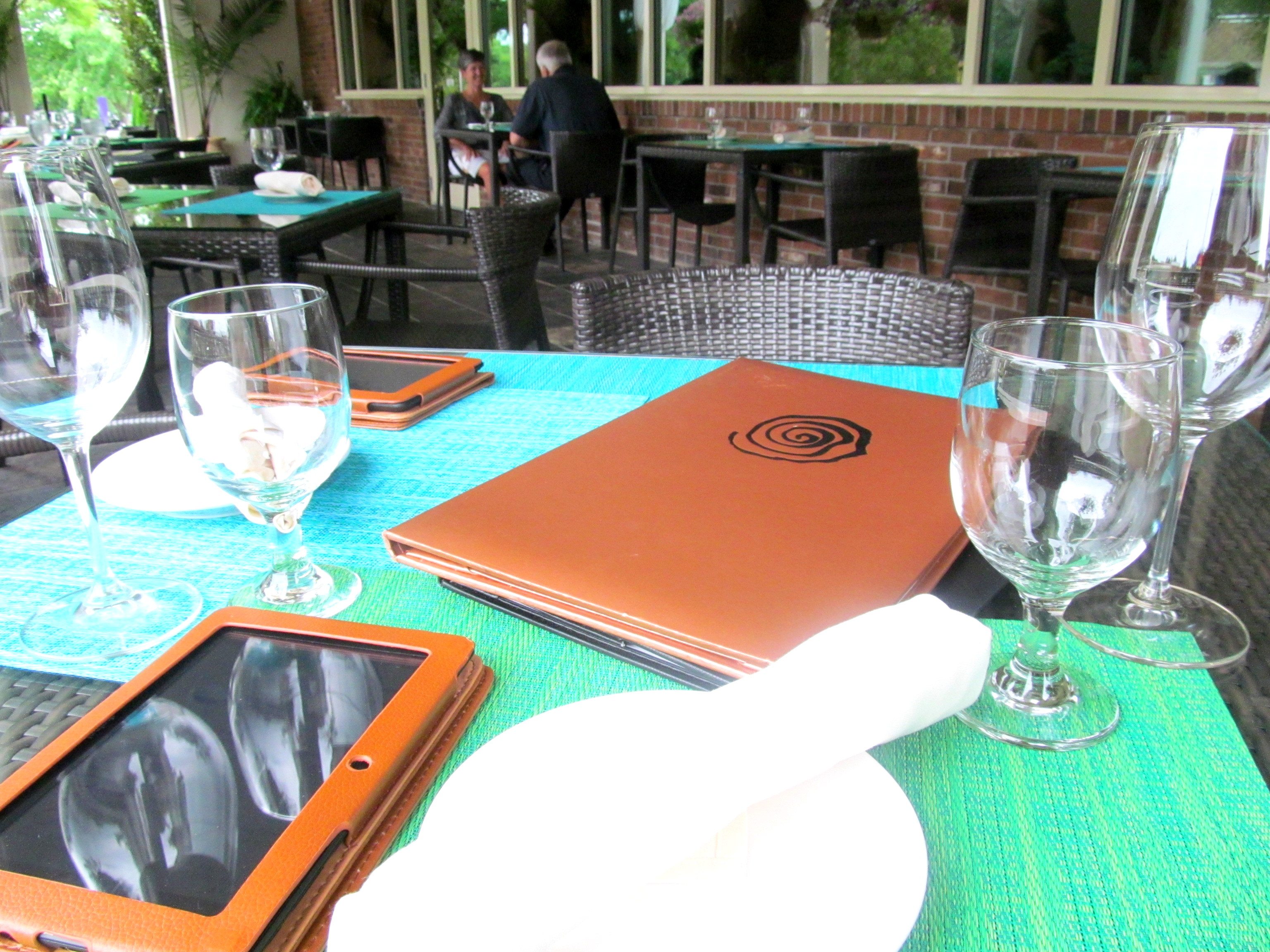 Amanda gave me a run-down on the cocktail specials, and a couple sounded good to me! She offered to bring me some samples – well okay! I was later told by bartender Mike (who was a contestant at the Farm to Shaker cocktail contest that I judged) that Pond House loooooves samples. Patrons, take note!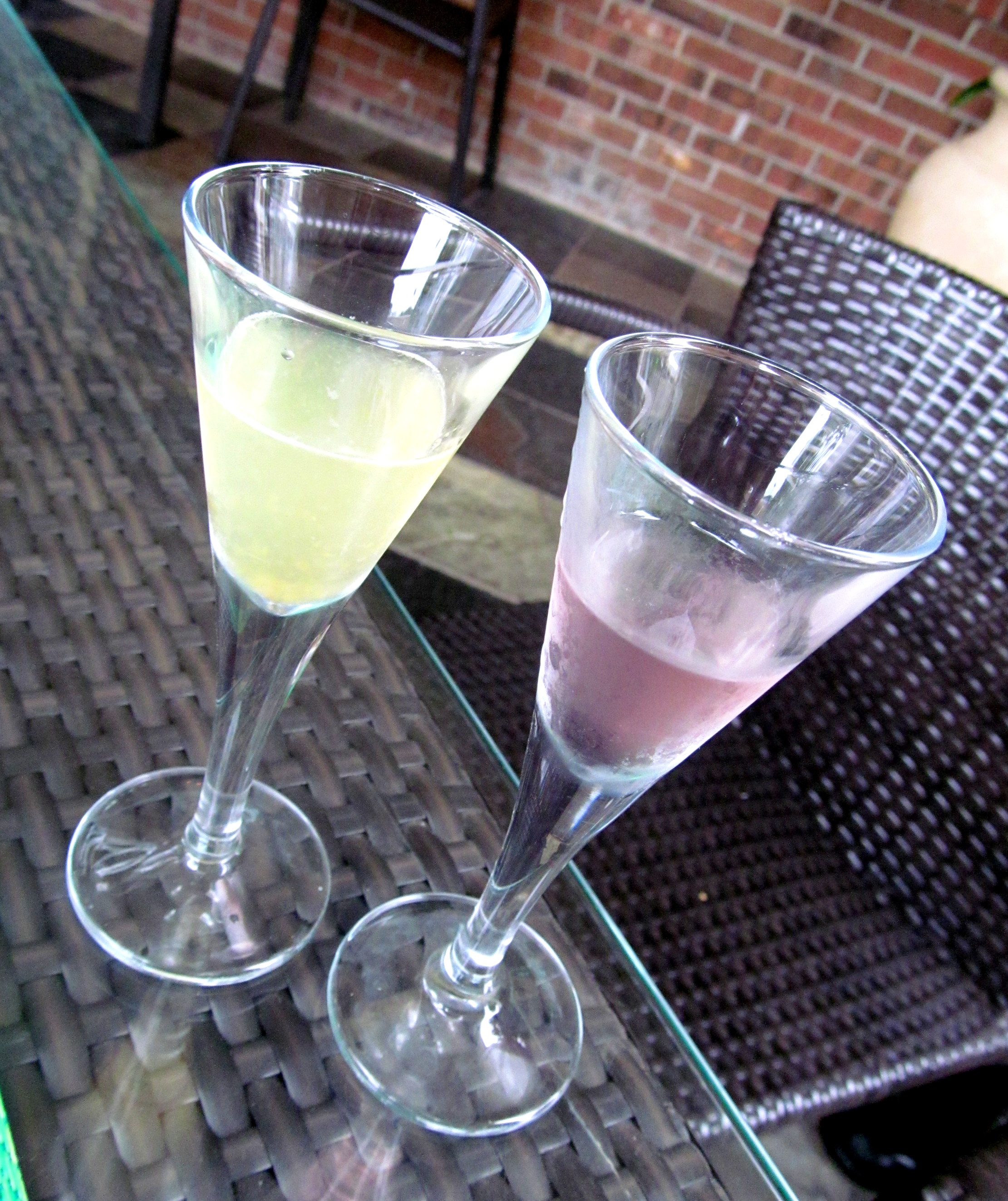 But of course I had to be a pain in the ass and not order either of the martinis I sampled. Instead I went with my gut instinct – the Tahitian Manhattan (Breckenridge Bourbon, Burlesque Bitters, Breckenridge Liquor rinse). I'm super glad I did because this drink was PERFECT for me. Strong yet smooth, with a slight vanilla finish.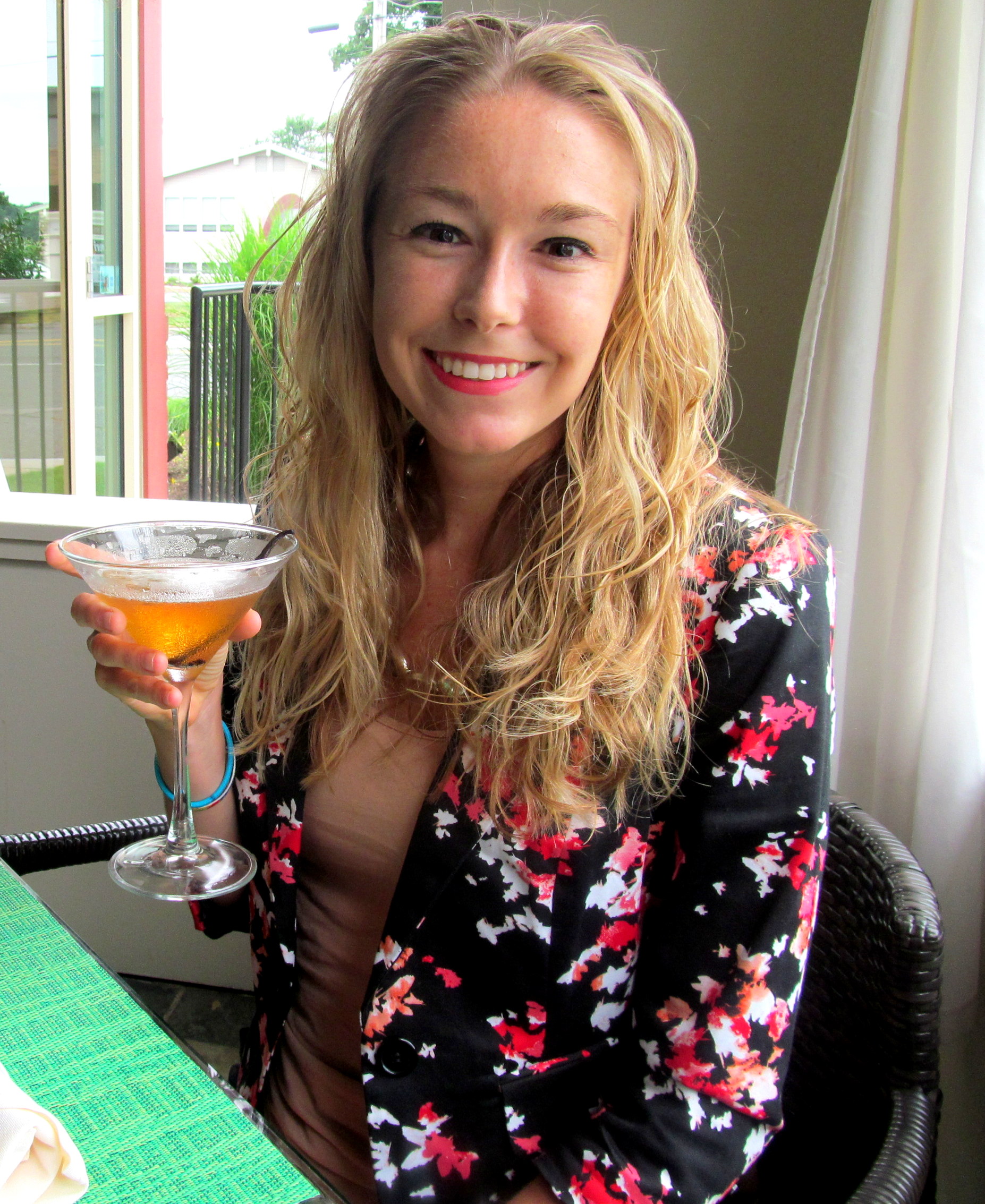 Jill arrived and ordered the Wild Orchid – Van Gogh Vanilla Vodka, Bitter Truth Violet, white cran, and fresh muddled limes. The purple drink had us both skeptical at first that it'd be too sweet, but it actually tasted FANTASTIC! Not too much white cran at all and the limes added a subtle zing.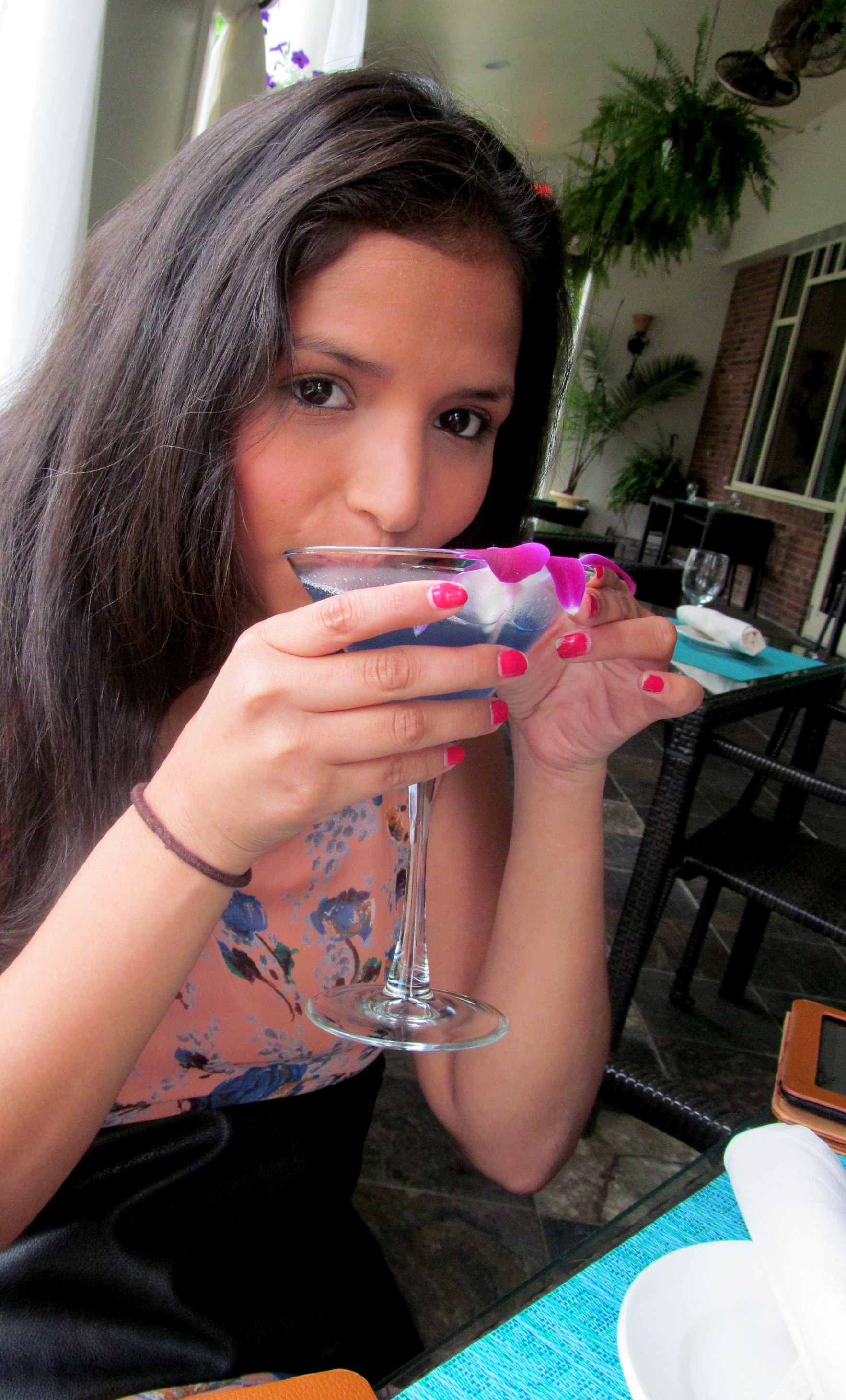 Amanda informed us that the flower was edible so we immediately started chowing down. Yes, we're weirdos. It tasted like crunchy nothing though!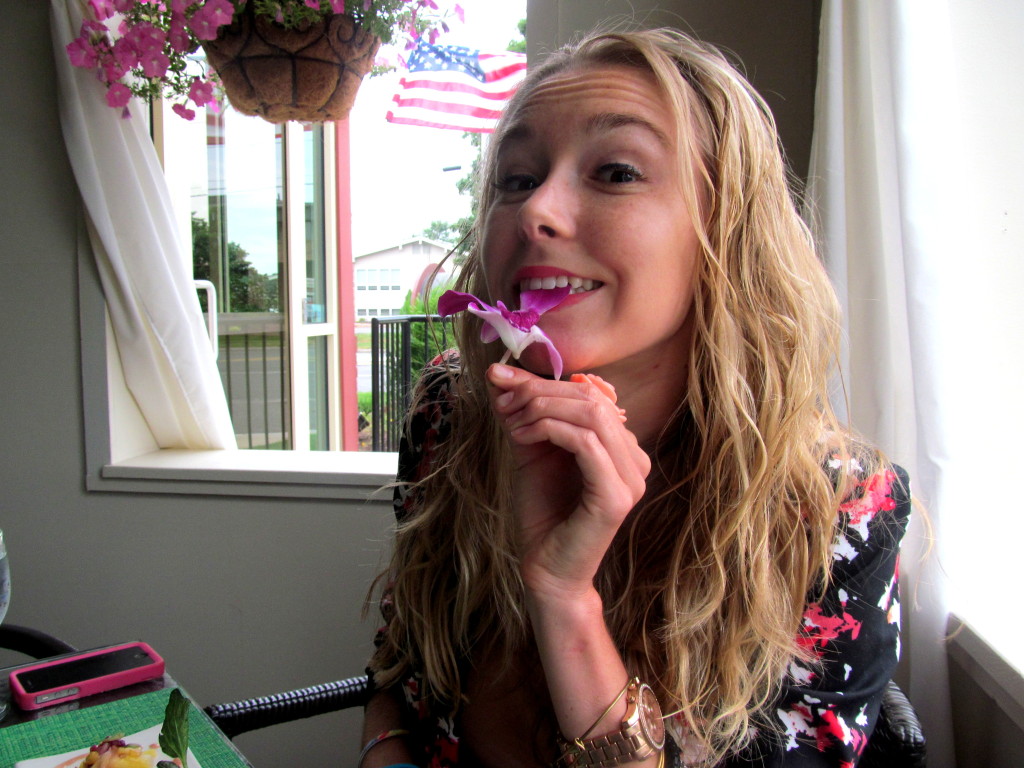 The moment the first course was set on the table I knew this meal would be unforgettable! Chef Jordan seems to put as much focus on presentation as taste, yet manages to do both very well.
That cheese tasted absolutely INCREDIBLE especially with the peaches and pumpkin seeds! The red watercress was pretty good but a little bit dry. I adored the shishito pepper that bound the "bouquet" together at its base. I've been in love with this "surprise" pepper since first sampling them at Max Amore!
Amanda also brought out some tasty white bread with olive oil and balsamic vinegar displaying the signature Pond House rose! Pond House Grille is related to Pond House Cafe, located in West Hartford's Elizabeth Park. The park doubles as America's oldest rose garden and a rose has always been this restaurant group's logo. Pond House Cafe came along first (I love their brunch) and Pond House Grille is a recent addition.
Our second course was definitely the most creative of the evening! Chef Jordan brought us a tribute to beets, which he called a very underrated veggie. I certainly agree! I only started enjoying beets about a year ago but have been loving them lately.
Such a unique, lovely plated tribute! The beet ice cream tasted wonderful; beets have that natural sweetness to them that makes them a good ice cream flavor. I also loved the pairing of the grapes with the greens. I like that both the beet itself and its greens were incorporated into this plate. Bravo, Chef Jordan!
Originally Jill and I had planned to stop at one cocktail, but with a creative menu like Pond House's, we had to sample more. She ordered the Bourbon Bash (mint, lemon, Rowan's Creek Bourbon, simple syrup) and I ordered blueberry-and-strawberry infused Onyx Moonshine on the rocks. The infusion actually came in a cocktail special, but Onyx is so smooth I knew it'd be (dangerously) easy to drink straight. Jill's drink was yummy too…not too sweet, and completely refreshing. I loved the crushed ice.
The above third course certainly made me grateful that Amanda refilled our bread basket, because the bread turned into scarpetta as soon as I saw that delectable dipping material at the bottom of the bowl! All of its contents wowed us. I love that there wasn't too much pasta, and the charred corn was fabulous. The chorizo and shrimp made for a magnificent combo and I appreciated the addition of the black beans.
It's hard to see in the above photo, but that little brown tuft atop the the halibut is pork cotton!!! And yes, it tasted like pork, but I'd call the texture more bristle-like than cotton-like. The entire dish was overall absent of sauce, with the exception of the small smears you see to the right of the halibut, so the cotton really fit well with the plate's "dry" theme. I probably would have preferred a bit more of the apricot and carrot sauces with my fish, which had a nice crispy exterior but was a little bit dry on the interior. I loved the dried peas though. I've never had dried peas before and I give them two thumbs up!
We were starting to get full so Jill and I requested that we share the last two savory courses that Chef Jordan had planned. At first we wanted to stop but he REALLY wanted to share these two dishes with us, and man am I glad he did. The above short rib paired fabulously with the cornmeal cake and the mole negro sauce wowed us both. My favorite course of the evening though (and I teased it in Monday's post) was…
The lamb was cooked to perfection and I adored the caramelized fennel. I will also never turn down a potato. But the peppermint demi-glaze is what really wowed me here. I do NOT like peppermint and have never been one to opt for a mint jelly topping on my lamb. Until now, I never really "got" why people paired the two together. But Chef Jordan somehow added the perfect subtle touch of peppermint to this glaze. Not overpowering, but certainly detectable and complimented every other component of the dish sooo well. Bravo!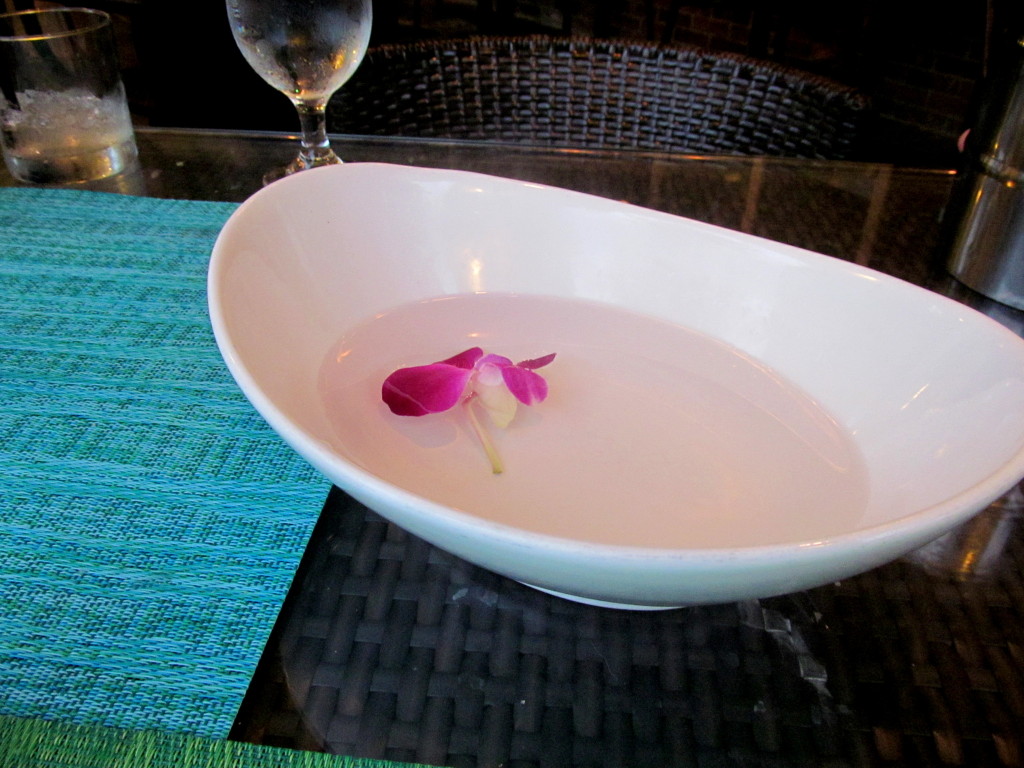 Once our (empty) plates had been cleared, Amanda placed this bowl in the center of our table and explained it was time for an aroma course! She selected a floral scent, Chef Jordan added liquid nitrogen to the bowl, and…
I was so excited and busy snapping photos that I don't actually recall if I noticed an aroma coming from the bowl, but the dry ice itself still provided plenty of a show. What a fun ending to the meal! This is my favorite picture from the evening:
Instead of a dessert course, Jill and I were lucky enough to get some samples from the bartender Mike. Told you he loved samples! He mixed us up some mini Almond Joy martinis – toasted almond infused vodka, simple syrup, cream, and a toasted cocoa coconut rim.
And since he knows I prefer a stronger drink, he also poured me a sample of the toasted-almond infused vodka all by its lonesome. I kept it company.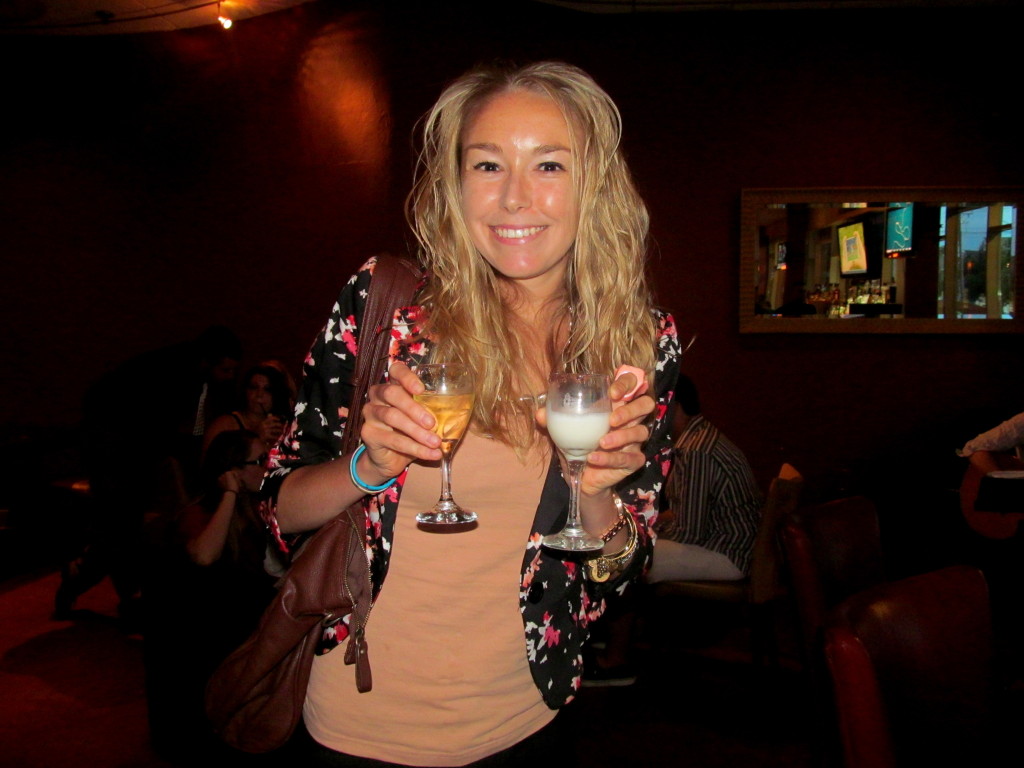 A quick warning to diners on the Pond House Grille patio…if you wear shorts or a skirt, this might happen!
I sure hope that doesn't deter anyone from trying out Pond House Grille, though. It was a wonderful experience and Jill and I can't wait to go back. Small plate and bar bite specials (buy 1, get 1 for a penny) are even available in the par and patio areas from 4-7pm, Tuesday through SATURDAY! Pond House Grille is also BYOB ($5 corkage fee) if you can somehow pass up their cocktail list. Good luck with that.
Thank you to Chef Jordan Stein, our great waitress Amanda, amazing bartender Mike, and the rest of Pond House Grille's staff for making it an evening to remember for me and Jill!
Which course looks best to you? Which drink?
Have you ever dined at a restaurant with tablet menus and/or an aroma course?