My New Nuttzo
I received a jar of Nuttzo free of charge as part of my participation in this Fitfluential campaign. This is not a compensated post and all opinions on the product are my own.
I've already participated in a Fitfluential campaign for Nuttzo, for which I reviewed the Crunchy Seven Nut & Seed Butter. I love love loooooved the stuff and was excited to be chosen once again to review another Nuttzo product!
This time around I was sent the creamy version of the Seven Nut & Seed Butter. I just love the huge variety of nuts and seeds (peanuts, cashews, almonds, Brazilian nuts, sunflower seeds, flax seeds, hazelnuts) that go into this stuff. I am awful at making decisions because I just want to try EVERYTHING. So the best solution for a foodie like me is to throw said everything into one jar. Yes please!
My favorite way to eat Nuttzo, as with any nut butter, is to stir it into a banana that's been sliced, then heated, then mashed up. Yes it looks like baby food but any baby who would get to eat this combo is eating gourmet! I love that it's not too sweet because it's ideal for mixing with fruit. The saltiness of the nut butter balances out the fruit's sugars quite nicely.
The jar's "upside-down" design (the label is oriented so that one would place the jar's lid on the bottom) is ideal because flipping it over to open it does some of the mixing for you! I've barely had to stir this stuff before using it. I also love how responsive the company is on social media. Owner/founder Danielle does all her own tweets and was quick to respond with a question I asked her, posed to me by my friend Andrea: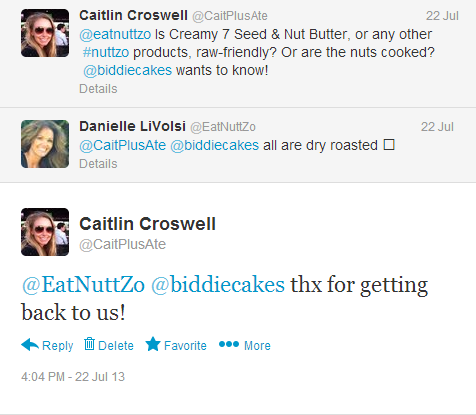 Nuttzo is also ideal for those with gluten and/or soy sensitivities, as it is free of both. I'm lucky enough not to deal with many food sensitivities at all, and as a pre workout snack this stuff worked wonders. It sat well in my stomach for even intense cardio. It also definitely kept me satisfied. Nuttzo paired with an apple has been a perfect munchie for me lately before my post-work gym sessions.
Other bloggers have raised concern over how affordable the stuff is, and I have to agree. Nuttzo's website sells the jars for $12.99 (the peanut-free versions are $19.99) and grocery stores around the country sell it too, though I've noticed that in stores it is never as cheap as $12.99. I'd recommend going through the website to buy your own jar(s), though shipping of $6.50 may even make it more expensive than the store. Basically, it's really expensive nut butter. I love the stuff but would honestly not spend $12.99 on a jar of it, because that's just not in my budget. Even if it was, I have tried other nut butters I love just as much for half (or even more than half) the price. But if someone wants to spring for it and give it a try, you certainly will be paying for a delicious, healthy, high-quality product!
You can find other Fitfluential Ambassadors around the blogosphere reviewing Nuttzo, so check out the posts from lovely ladies like Paige, Brittany, Linz, and Lindsay!
What's your favorite way to use nut butter?
What's the most you'd pay for a jar of nut butter?