Planking with Puma's Formlite and Compression
The following post is sponsored by Fitfluential LLC, on behalf of PUMA.
I had the chance to participate in my first PUMA campaign, and was spoiled with workout gear and new sneakers. Because that's just what I need, right?!
I received the Formlite XT Ultra Fluo Women's Training Shoes, Performance Bodywear Tech ACTV Long Tights, and Ribbed Performance Tank Top. Let's start with the shoes, which are an awesome "highlighter" coral color. They are extremely lightweight (as their name suggests) thanks to the inclusion of cutouts on much of the surface area. While I'm not sure I'd pay the $70 they retail for, I definitely am highly satisfied with their performance and would recommend the shoes. I tried them out during both Group Power and Group Step. The minimalist design (the outsole was feather-inspired) is not ideal for side-to-side plyometric movements, but I really liked wearing them for weight lifting because of how easily the shoe bent when I was lunging or in a push-up/plank position.
The tank is your standard moisture-wicking fabric workout tank. It didn't stand out to me as particularly special, but is also not too highly priced ($18). I did sweaty cardio in the top a few times and my sweaty moisture was definitely wicked. Of course I love anything pink! In terms of appearance, I didn't quite like the way it fit around my abdomen, but that also could be me being too critical.
Finally, the long tights. I have never experienced a physical need for compression gear during cardio, especially since I'm not a runner, so I didn't notice whether or not the compression technology of the tights impacted my performance. However, the athletic tape lining the interior's strategic portions definitely kept the tights in place. No riding up or down – they stayed firmly put where I wanted them! However, given that the inner thigh seam's stitching started coming undone after wearing the tights for the first time (an hour-long spin class), I wouldn't say they are worth the $100 price tag. For a cheaper price I would recommend them, and they probably make more sense performance-wise for a runner (which I certainly am not).
As part of this campaign I've also completed a pinning-ready workout, so that you can tuck it in you back pocket (or Pinterest account) and have it ready to go next time you want a great burn for both your abs AND arms. I threw downward dogs in here because I realize that a bunch of plank-employing exercises in a row can certainly do a number on the body and you may need to rest in between clusters of moves. However if you don't feel the need to rest, feel free to skip the downward dogs! And if you only have time for one circuit and not all three, that's fine too. This workout is for you guys so do it however you wish!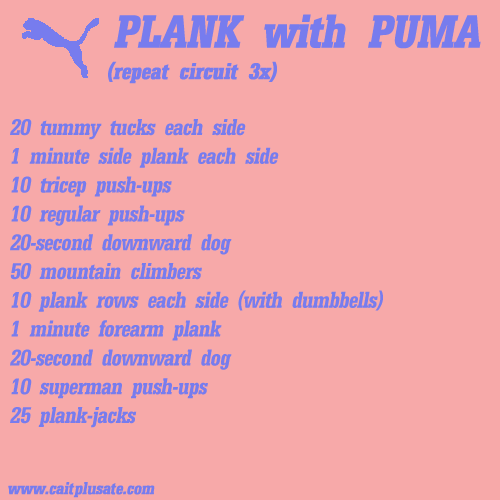 Here are some videos to demo some of the moves mentioned above, in case you aren't sure what they are:
Be sure to tag me @CaitPlusAte, and @PUMA, on Twitter and/or Instagram if you try the workout, and use the hashtag #pumafitness! Let me know what you think!
Do you wear any PUMA gear?
Do you use compression gear of any kind? How about minimalist-design sneakers?