UConn Football Fame
This past Saturday evening may have been my first ever UConn football game, despite having been an undergrad at the school for four years and completing my degree 2.5 years ago, but I've gotta say I think I really did it up right. If I had to go and wait that long to attend a game at East Hartford's Rentschler Field (not on campus), I definitely waited until I have all the ingredients for an amazing experience.
I was invited to the game by Mike, a certified Beachbody Coach and yet another friend my blog has brought me! He's been a season ticket holder since the stadium opened ten years ago and has FRONT ROW SEATS!
Despite a very long wait to fork over too much money for parking, the walk to Mike's tailgate in the Blue Lot (for donating alumni) went by very quickly thanks to plenty of people watching. It took some time for me to figure out his location but there were plenty of sights to see. I love scoping out other peoples' tailgate food and drinks!
Situations like tailgates often make me nervous about how I will handle myself around the food and drinks (you may recall my rough time during my last visit to Tennessee for a football game). I resolved as I cracked open my Maine Beer Company Mo Pale Ale that I'd listen to my body and allow myself to enjoy in healthy moderation. Though I did encounter guilty thoughts throughout the evening and the next day, I can confidently say that I handled myself well and did not miss out on anything!
It seemed like everyone went to this game (it was sold out, even though extra bleachers were brought in!) including friends I hadn't seen in awhile who were visiting from out of town! Firstly I found my friend Kristen, who I had actually seen the night before for a special dinner (that post is coming tomorrow…) but before that I hadn't seen her since my April visit to Boston, where she lives with her boyfriend Greg. The two of them came over to Mike's tailgate to hang with me; I give her all the credit in the world for being there since she'd just come from being a bridesmaid in a wedding! I also visited her family and friends' tailgate, which blew me away. They even had a LOADED BAKED POTATO BAR and a blender!
I last saw my friend Kelly when she visited a couple of months ago and it's particularly awesome that she flew back to CT for the game because she not only went to UConn with me, but goes to Michigan NOW for law school! She was rooting for UConn, but did wear a Michigan scarf to, according to her, "explain how she knew all the fight songs". Fair enough! She is a total sports buff and therefore hated me for having front row seats but not knowing anything about either team.
Soon it was time to head into the stadium and get ready for kickoff. I could not BELIEVE our seats…front row! Behind the away bench but still, I'd rather be up close and personal!
Before kickoff we took a walk around the stadium to check out food/beer options. I found a very special someone in the food truck area!
I never ended up having more food inside the stadium though. I decided to hold out for home food post-game, but I did enjoy a New Amsterdam Coconut Vodka nip that I got inside with the help of my boots!
The food truck area featured quite a good (but expensive) selection of local/craft beers. I tried some of Mike's Stony Creek Brewery (860) IPA and plan to recommend it to my mom if I ever see it while I'm out with her! During halftime we made another stop at the beers and got two to share – City Steam Naughty Nurse and Long Trail Harvest Ale.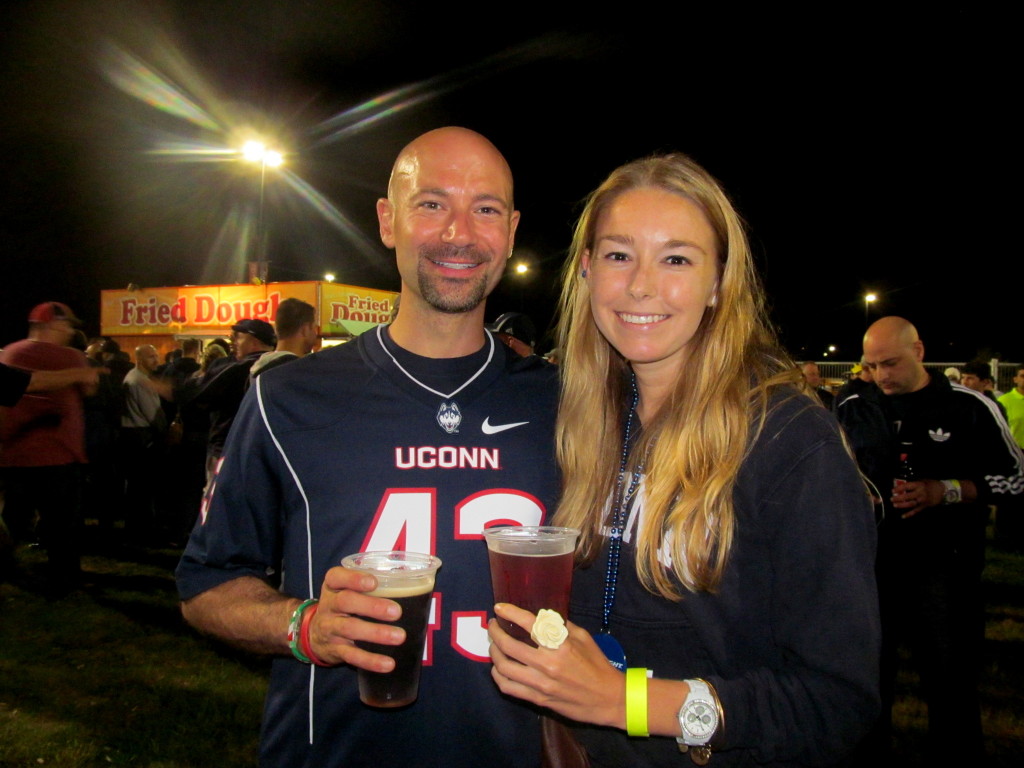 Oh yeah…the football itself! The game was actually really exciting. We were even up at halftime and the energy among the UConn fans was incredible and infectious.
Yes that is ME ON TV! My phone was dead at the time but later that night when I got home and plugged it in, it blew up with texts!
Though we didn't win in the end (kinda fell apart in the fourth quarter) I had a most excellent time and am already hoping that the next home game on Saturday 10/12 is not too early so that I can tailgate and attend another game! Man I wish I'd been going to games while still a student, but
better late than never.
Did your school have a football team? Did you go to games?
Are you a tailgating fan? When was the last time you hit up a tailgate?