Warring Whiskies Wednesday: Scotch vs Bourbon
I received complimentary admission to this event from NBMAA. All opinions are my own. 
In conjunction with the opening of the traveling Maurice Sendak exhibit at Connecticut's New Britain Museum of American Art, a grand event took place this past Friday 11/8. Or as the museum called it (to create a Where the Wild Things Are vibe) – a wild rumpus! Scotch vs Bourbon was the chance to sample high-end scotches and bourbons (for a look at the difference between bourbon and whiskey, check out this cool infographic – thanks Brittany!) along with food from two awesome area restaurants, Plan B Burger Bar and Tisane.
Flash photography is prohibited inside the museum, so I apologize in advance for any iffy lighting and image quality!
I attended the event with my friends Chris and Hong. We started with International Beverage, a table of – get ready for it – Bunnahabhain Single Malt Scotch Whiskies. Yeah, try saying that five times as fast as you can!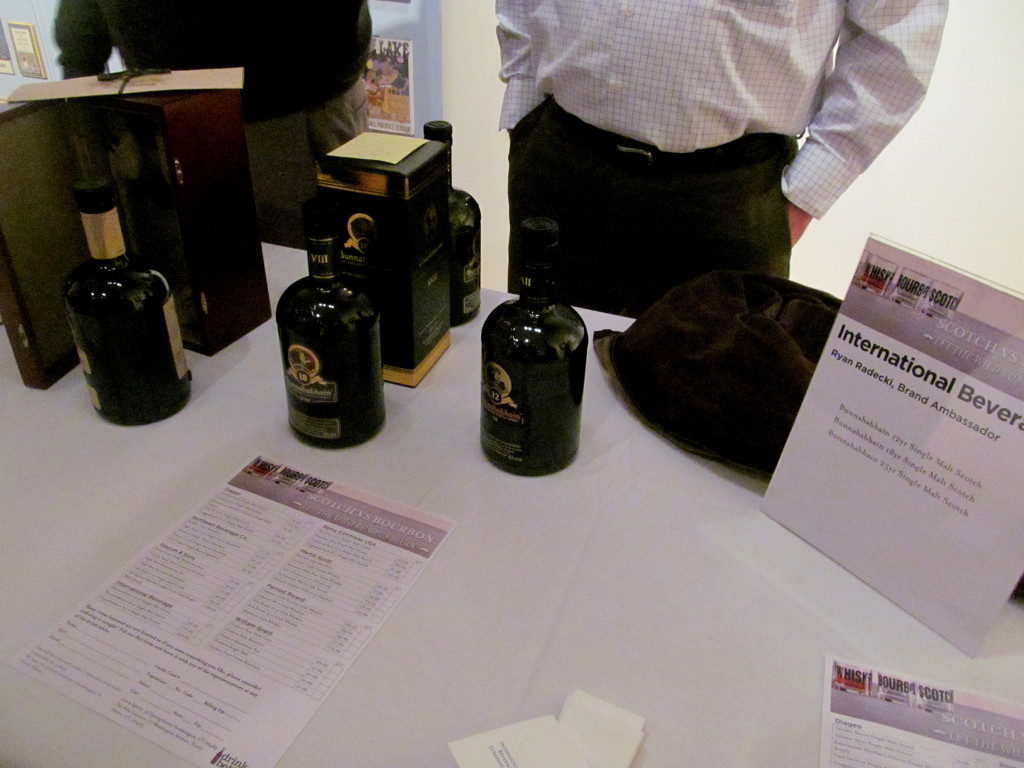 We sampled in the same (aging) order – 12 Year, then 18 Year, then 25 Year. You may be surprised to hear that not only did all three of us prefer the 18 Year over the 25 Year, but the rep agreed that was the popular opinion.
Just goes to show you age does not always equate to better taste! The 18 year was much more drinkable. One of my favorites of the whole evening.
I had a great time chatting with Heather of Northeast Beverage Co, particularly because she used to work at Barcelona West Hartford AND is a fellow Krustomer! It also doesn't hurt that she hosted the table that I'd call my overall favorite table of the night.
I tried each of these bourbons except Eagle Rare and Elmer T. Lee, which I've already had (and loved) in Manhattans at Krust and Barcelona (respectively). I really liked the lower-proof and super drinkable Buffalo Trace (also rather affordable!) and the Blanton's Single Barrel Bourbon (its cool bottle may have played a small role).
The reason I'm calling Northeast Beverage Co my favorite overall table is because I thoroughly enjoyed each of the offerings and would order every single one while out (though probably not in the same night). According to Heather the E.H. Taylor Single Barrel, the last one I sampled, was the most "special" release at the table and it tasted that way for sure.
I sampled Hudson Baby Bourbon during the Barcelona whiskey tasting I did with my dad, so I was very excited to hear that William Grant would be pouring that and the rest of the Hudson whiskies.
Per the rep's recommendation I tried the Manhattan Rye and Single Malt. While I enjoyed both, I still much prefer the Baby Bourbon.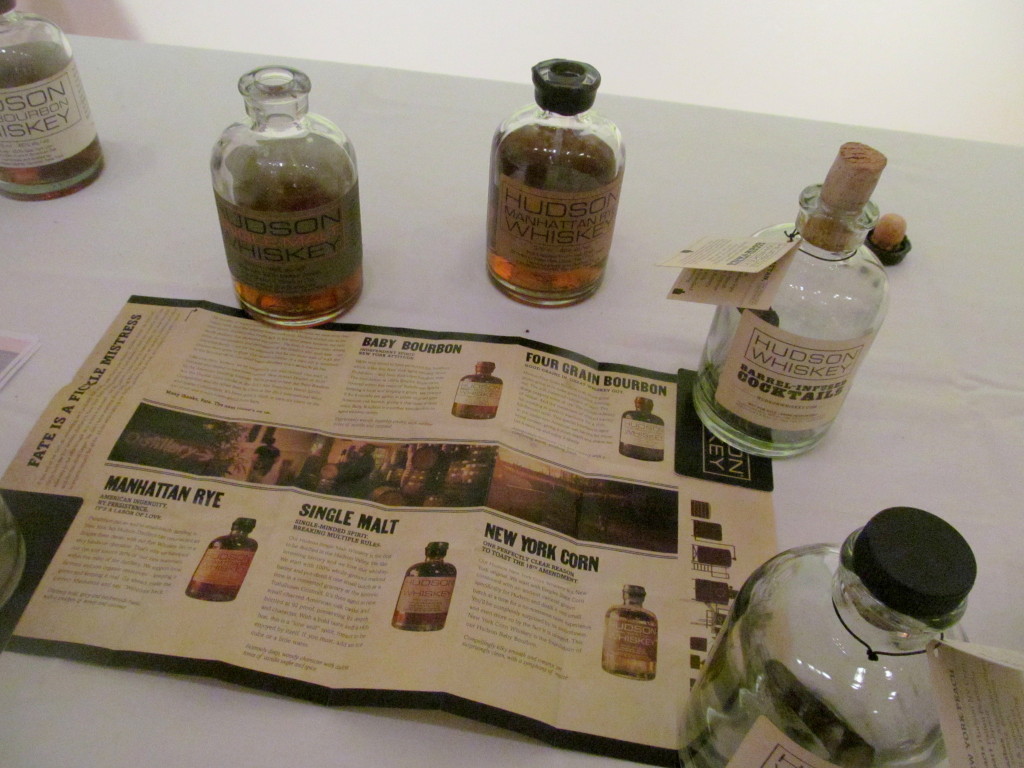 Next I tried my overall favorite of the evening – Midleton Very Rare Irish Whiskey, poured by Pernod Ricard. This is a limited release (given the name that's a duh); that fact, plus the high quality, is most certainly reflected in the $179.99 price tag. I also adored the Jameson 18 Year, which WAS my overall favorite of the evening until I tried the Midleton afterward. This is definitely NOT the Jameson I have taken shots of in college!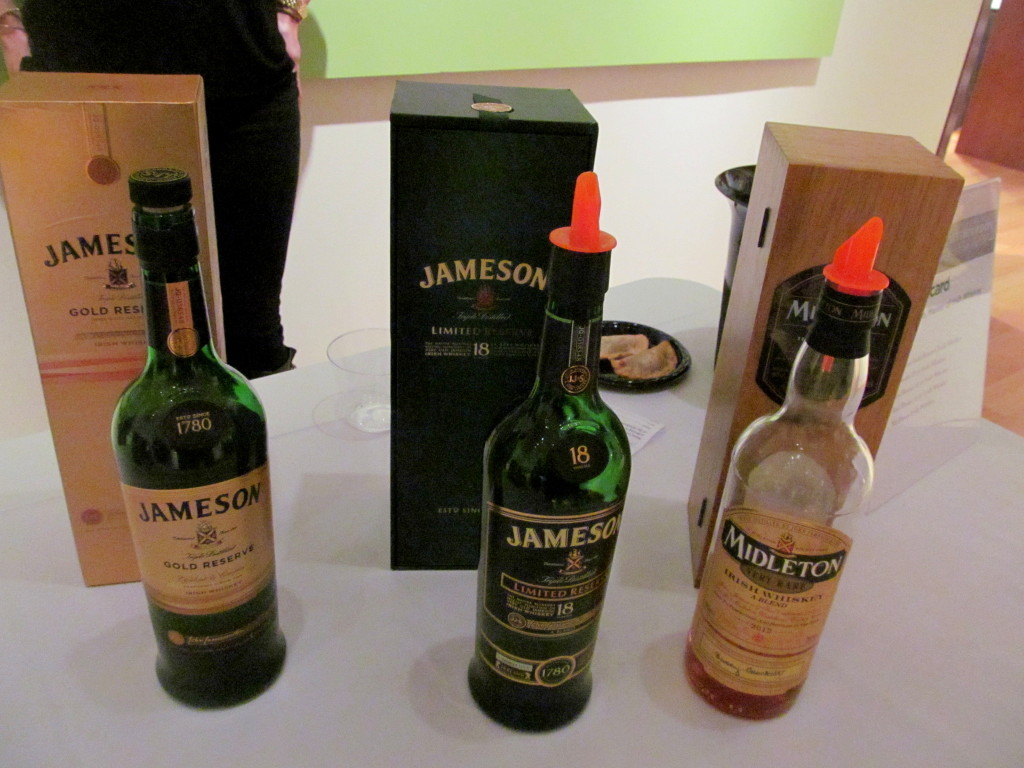 Another 18 Year, Macallan, impressed all of us thanks to the sherry oak cask aging. I know some people like to put a little water in their scotch when sipping it straight, but I think to put water in this stuff would be a sin. It was fantastic on its own…the smoothest scotch of the evening (that I tried).
The last table I'll write about is that of Slocum & Sons, a very familiar name at these types of area events. This distributor had a really nice varied table which even included a bottled cocktail, the High West Barreled Manhattan. Bottled cocktails don't usually impress me but the rep knew how to serve it correctly; he had ice on hand, poured the Manhattan over it, and gave it a little stir. It actually was a nice break from all the "harder stuff" we'd been drinking!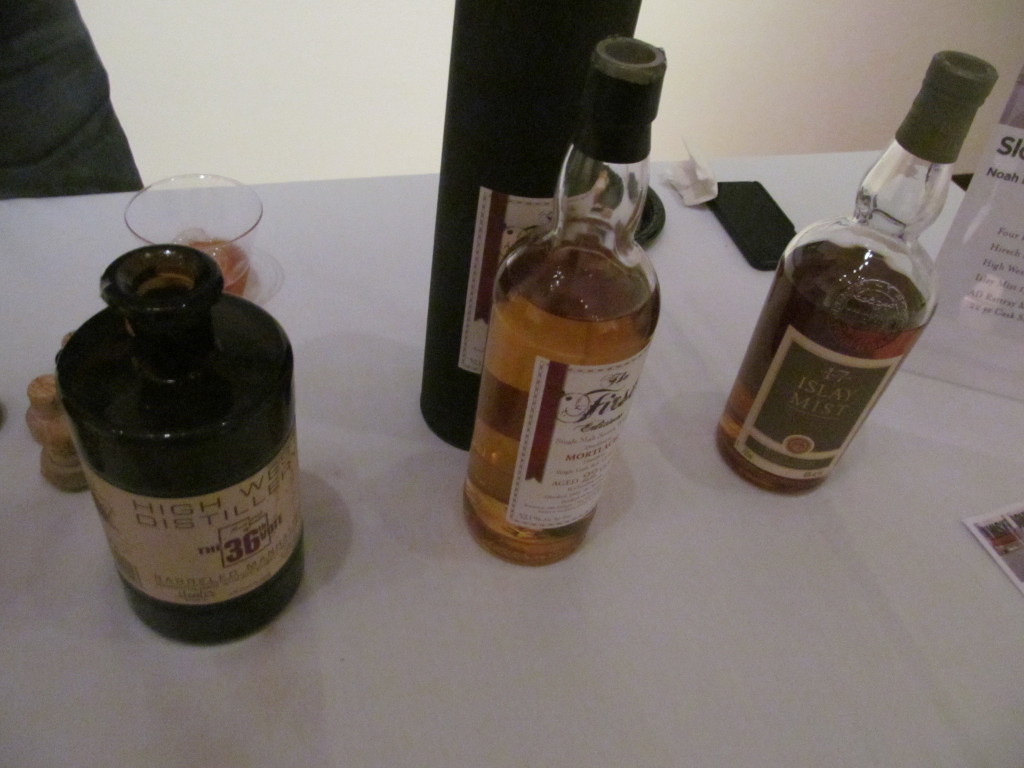 I told the rep I didn't want to sample anything I'd already had before (like the Four Roses) so he had me start with the offering most comparable to that, the High West Rendezvous Rye. He also insisted I try the Islay Mist 17 Year Single Malt Scotch since I am pretty much a scotch newbie. First I tried some alone (hello lips on fire) and then I tried some with just a drop of water in it. Much better! Now I get the whole water in scotch thing.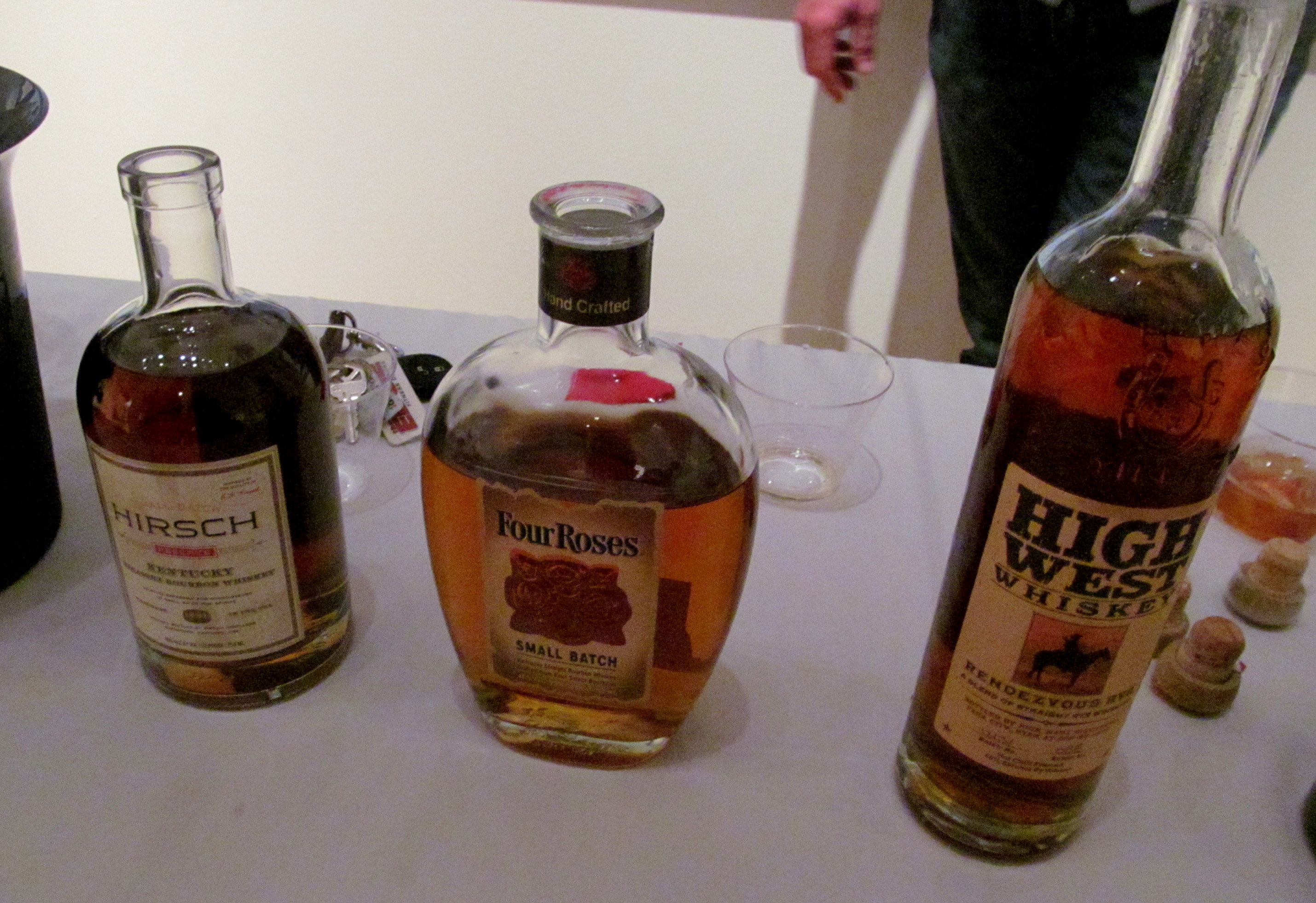 You're probably wondering how I managed to make it through this event, go out dancing to Rooftop120 after, and still wake up at 7:30am the next morning feeling super well-rested and completely not hungover. I owe it all to listening to my body, drinking TONS of water, and making sure there was food in my stomach! Thankfully the museum had an always-filled water station set up, and I also brought my own water bottle (I'm never without one). I only took one or two sips of each of my samples – I poured the rest out.
My favorite Plan B slider was the Veggie, but I loved the Cuban (pork burger, dijon mustard, cheese, pickles) and Italian Job (chicken burger, pesto, mozz, tomtao) sliders as well. And of course I had to have one of the classic burger sliders. Chris and I both didn't eat too much of the slider bread because it was boring and well…I still have my carb issues.
Alcohol never fails to spark my fried food craving and I enjoyed a few of the below snacks from Tisane, along with some of that beef/noodle box and a couple bites of General Tso's chicken (an unfried version that was quite tasty though a bit sweet for my taste).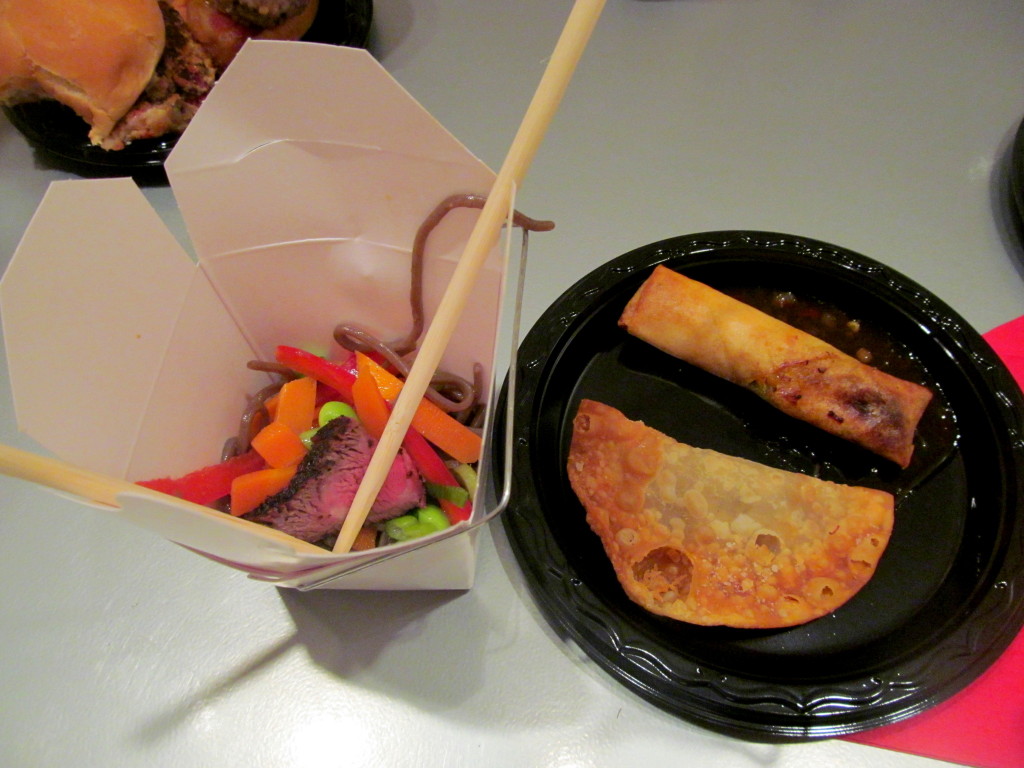 Even with bites throughout the evening, my stomach definitely started feeling the alcohol eating at it after an hour. I called it quits on tasting 30-45 minutes before we left, but there was plenty to see during that time…we were in a museum after all!
The Maurice Sendak exhibit was an awesome trip back to my childhood. I wasn't a huge fan of his books so I'm sure those who were read them religiously as kids will get more out of this exhibit. But I adore the hands-on section directed towards kids, because these are children's books that are still read to children everywhere!
I really enjoyed the chance to try such fancy bourbons and scotches that I'd never purchase for myself in a store or at a restaurant. Plus I got to expand my scotch horizons and learn more! I'm not sure when I'll do another hard liquor tasting though. It was VERY different than any wine tasting I've ever attended. Even with enough food my stomach really wasn't taking kindly to the hard alcohol. I'm glad I listened to my body and stopped drinking plenty of time ahead of driving…to Rooftop, where I got some stomach-soothing Pinot Grigio 😛
I'm very thankful to NBMAA for partnering with me and my blog to help promote the event and exhibit. There are some more great NBMAA events coming up, including Yelp's Holiday Bazaar on Saturday 12/7 at 6:30p! Entry is FREE for Yelp members, so sign up for a free account and submit your RSVP…ASAP.
Have you ever attended a tasting of only hard liquors?
Do you recognize any of these spirits? Have you tried any?
What's the best museum exhibit you've seen?