Gymdoll Fitness Apparel Giveaway!
I received a tank top free of charge from Gymdoll. All opinions are my own. This is not a sponsored post.
I've mentioned Gymdoll previously, in my HealthyChic review. But that's because I happened to choose this cute tank when I was picking out something to purchase during my try-out of the website.
This time around Gymdoll has contacted me separately to host a giveaway, and try out another tank. I was hooked by Chris's rhyming subject line in his email to me…"Cait Plus Ate + Gymdoll = GREAT". How could I say no to that?! He offered me the Skulls & Barbell Active Tank, perfectly suited for a lady like me who is passionate about her gym's Group Power class. (Even though the first time I wore it, I was taking Group Kick…oh well.)
My tank arrived promptly and wrapped in navy tissue paper. I also got a little Gymdoll logo decal (valued at $5) with my shipment (and did for the Healthychic shipment too so I don't think it's just because I'm blogging for the company). Thankfully I  knew my size (Small) from the other tank so it was a no-brainer that this one would fit fine. It was very comfortable and didn't need much re-adjusting during my Group Kick class, which definitely involves lots of jumping and side-to-side movement.
Gymdoll offers $5 flat-rate shipping. This tank was $26 and I have to be honest, I probably would not have spent that much on it. It's definitely cute but I have a hard time spending that much on a tank top when stores like TJ Maxx and Marshall's sell tanks for $10 or less! But I definitely know of some friends who would go crazy for these tanks because of the fun logos and sayings. There's even a Breast Cancer Awareness tank with a great message that can be applied to both the gym and life! 100% of the profits from this tank are donated to the National Breast Cancer Foundation.
I actually prefer some of the $24 active tees, like this fun black-and-hot-pink Skull & Barbells version! Gymdoll also stocks yoga bags.
Gymdoll is all about motivating; they call their apparel "ready-to-wear motivation". I can certainly agree with that principal. I find that a cute/fun workout outfit can seriously make me push a lot harder at the gym! Whatever works right? I swear I lifted harder during Group Power this past Monday after, during a song, the teacher complimented me on how awesome my tank was!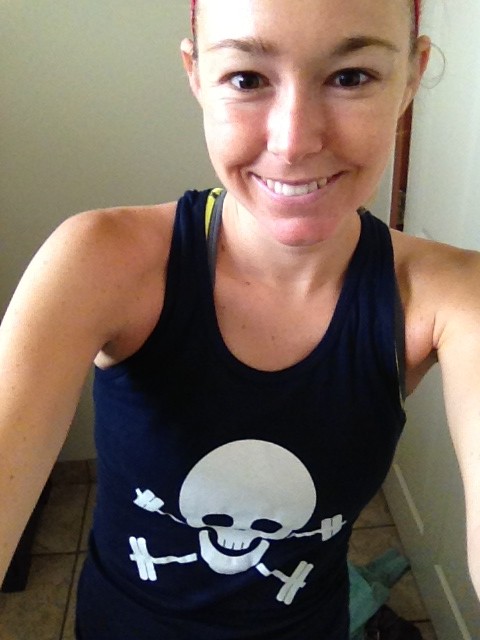 One of you will win the same Skull & Barbells Active Tank that I received! No purchase necessary – you must leave a valid email address with each entry comment. Continental US entries only please; they will be accepted until Sunday 12/1 at 11:59PM EST. Be sure to leave a separate comment for multiple entries or they won't all count! To enter you can:
Visit the Gymdoll site and comment on this post telling me which tank or tee is your favorite. (mandatory)
Follow @Gymdoll on Twitter and comment here saying you did.
Follow @CaitPlusAte on Twitter and comment here saying you did.
Tweet "I entered to win a @Gymdoll tank from @CaitPlusAte! #fitfluential #fitgear http://caitplusate.com/?p=11547" and comment here with the link to the tweet.
Good luck guys, and enjoy your Turkey Day tomorrow if you are celebrating!