MIMM: Holiday Cheer!
The winner of my giveaway for a Blue Nile Sterling Silver Branch Necklace is actually the first person who submitted any entries – Shawna! I will be contacting you to get your shipping address. Congrats to all who entered and thank you for the enthusiastic participation!
I had plans this past weekend for not one but two holiday parties. Unfortunately Saturday's snow resulted in one of them getting cancelled but I still managed to make my weekend full of plenty of marvelous holiday (and overall) cheer.
Marvelous is…visiting Kaitlin on Friday! She was kind enough to host me for the evening and showed me a wonderful time. We started with a gift exchange…she got me a set of champagne flutes and a bottle of Prosecco, not to be opened until I move out of my parents' house and get my own place 😉 my kind of motivation! The booze theme proceeded to carry on throughout the evening.
We went to Total Wine in Norwalk (which only made me more pumped for FL this month because there's one by our condo) and they were having not one but two wine tastings AND a vodka tasting. Thank you Friday night! I'm worse in liquor stores than most girls are in Target so I walked out with two bottles of late harvest dessert wines, a nip of coffee liqueur, and a really nice Cabernet to share with Kaitlin at the holiday party we planned to attend later. I also ran into a fantastic guy named Latif who overheard me asking an employee if Total Wine carried Cesca Vicent, my favorite red to order at Barcelona. We immediately bonded over our love for Cesca and Barcelona! It was classic.
Then we hit up Nola Oyster Bar in SoNo (our plans to visit Mama's Boy were foiled when they were closed for an event…drat) for happy hour. This was my kind of place because they had FRIED BRUSSELS SPROUTS on the happy hour menu! Usually happy hour food is not my thing (too heavy) so I was very impressed. They tasted absolutely incredible and lived up to Kaitlin's and Maria's glowing reviews.
Kaitlin went for a happy hour drink, the Shrinking Violet (is that a Willy Wonka reference?) which was a very cool color and contained Prosecco, violet liqueur, and lemon. I predictably selected the French Quarter – rye whiskey, cardamaro, and old fashioned bitters. It was fantastic and contained a few of my favorite drink garnish, the brandied cherry.
Our next stop was Kaitlin's fiance Jeff's co-worker holiday party. They were nice enough to let him have a +2! I walked in, said "I'm Caitlin!", and his co-workers said, "OH the fiance!!!" I had to quickly clarify that the OTHER Kaitlin was in fact the fiance, and I was just the third wheel ;-). As usual people a) asked if we are sisters (yes and our parents just thought it'd be so clever to give us the same name) and b) got a kick out of finding out that we "met on the Internet".
We hoarded our special red wine and drank it out of solo cups. It still tasted just as fancy as it did in the store.
Kaitlin the dog-lover was psyched to see two particularly furry residents of the house where the party took place.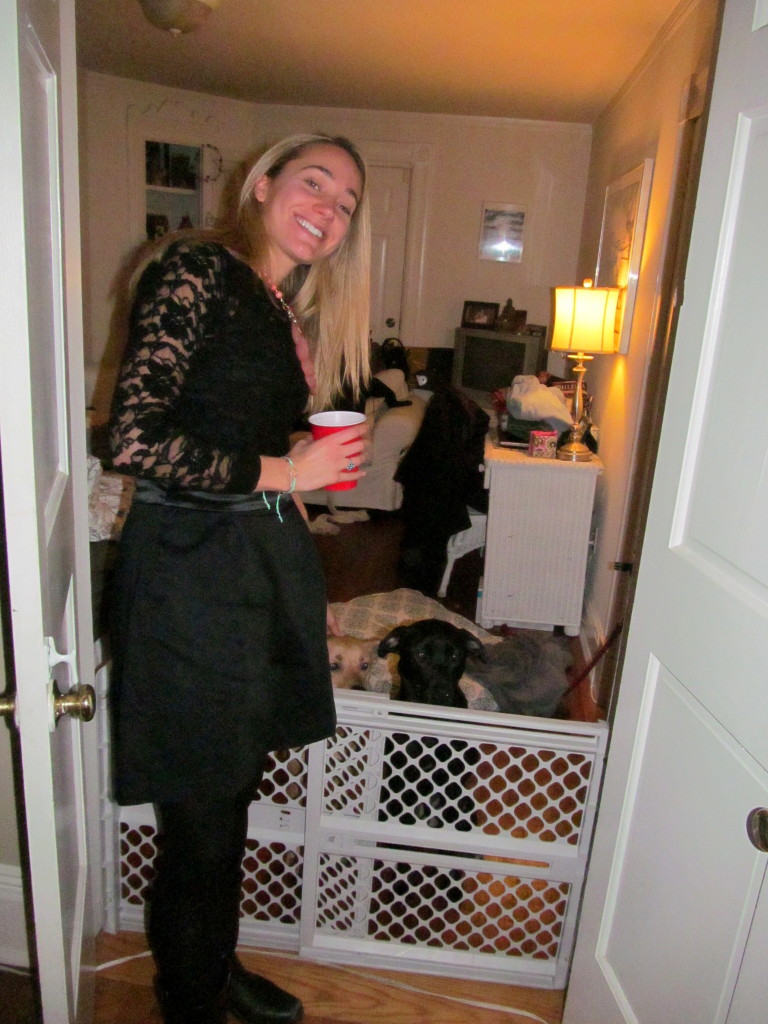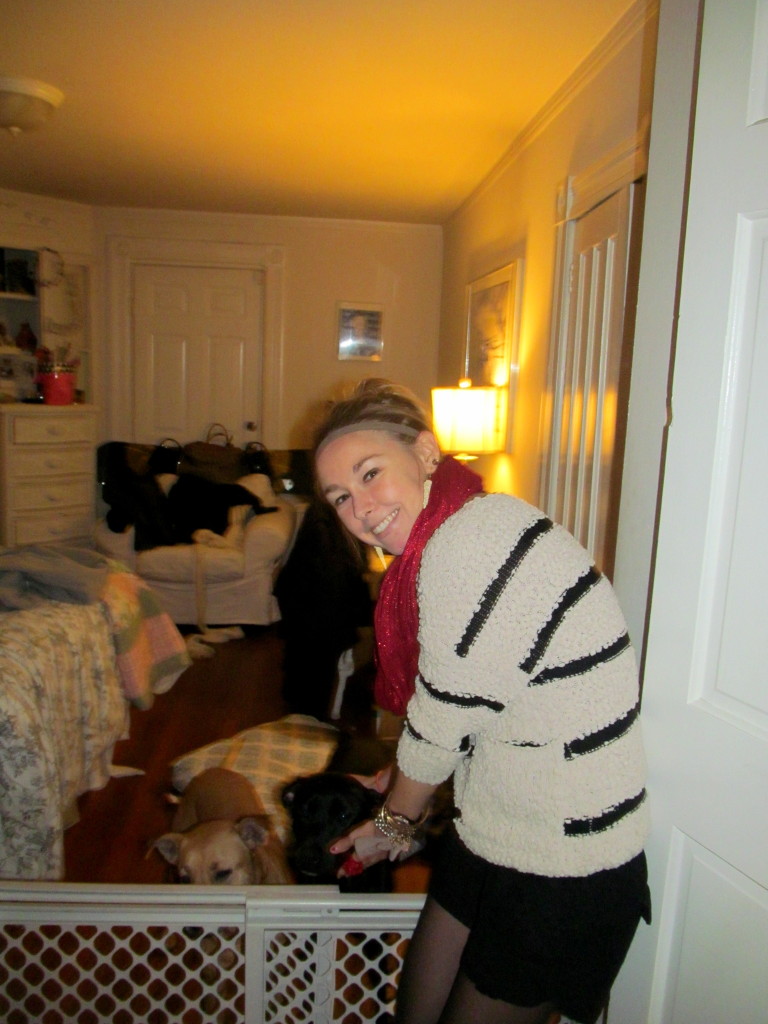 Caitlin the food-lover (yes I just went there, to third-person that is) was particularly pleased by the spinach and artichoke dip, stuffed bread, jalapeno bacon puffs, and lasagna. Plenty of "fun food" to munch on. Kaitlin also made Davida's Lentil & Sweet Potato Salad and I brought carrots and Tribe Everything Hummus so that she and I would be assured we'd be able to sneak in veggies between the other stuff.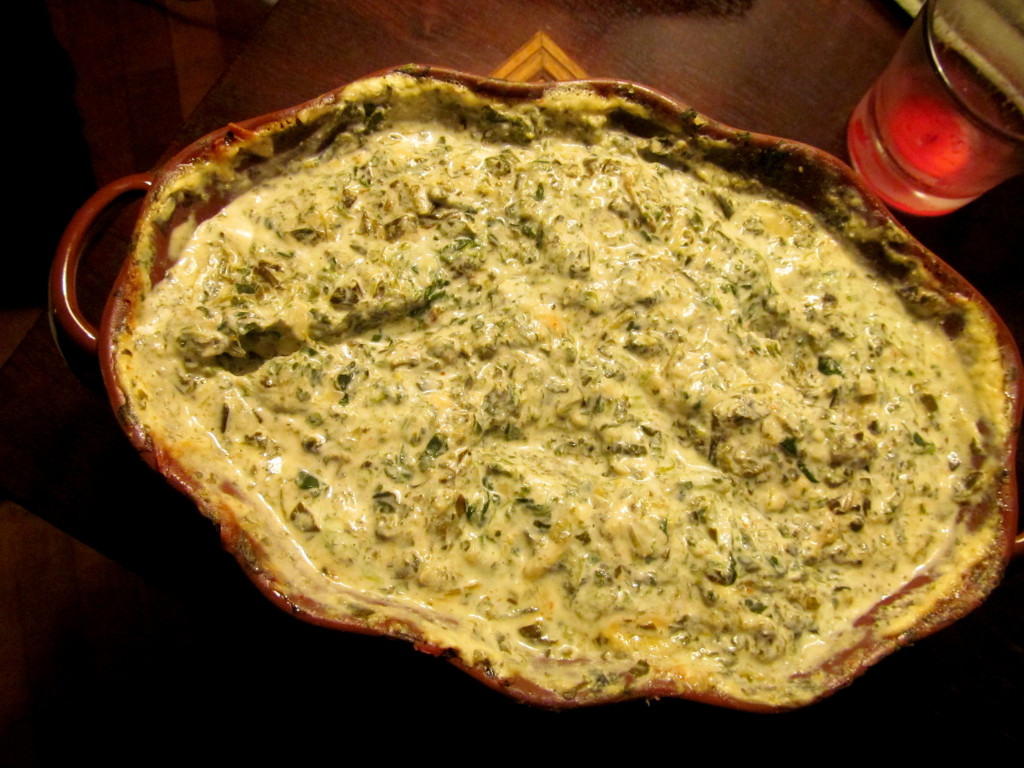 I left feeling pretty full but actually did a rather good job brushing it off; I'm proud of myself! I enjoyed all I wanted to enjoy at the party and just completely crashed when I got back to Kaitlin's. I woke up the next morning and was ready to go to ZenRide, to use a free class pass for the 8AM 45-minute ZenTensity. My gym's spin classes are an hour and that extra 15 minutes REALLY seems to drag so it was nice to be able to take a shorter but still really intense spin class, which I used to do at UConn all the time.
Marvelous is…more cooking practice, involving baby cabbages! I used this recipe as a guide and used up the leftover cranberries I'd bought from my first cooking venture. I also roasted up sweet potatoes for my snow day dinner. Speaking of which…
Marvelous is (it turned out to be)…being snowed in. My dad grilled filet and made me a fantastic Jack Daniels Manhattan. After dinner I tried a dessert wine I'd bought at Yankee Spirits forever ago (it was too sweet to pair WITH a dessert; sweet enough to be a dessert in itself) and shared my leftover J. Gilbert's coconut cake from Thanksgiving. By shared I mean he had a few bites so that I could feel better about myself when I finished the rest of it.
Marvelous is…Good Bean goodies! The Good Bean has a lovely habit of dropping surprise packages off at my door and seeing as I adore their roasted chickpea snacks, I have no problem with that. This package contained a couple of old favorites but big bags of three new flavors – Mesquite BBQ, Thai Coconut Lemongrass, and Chocolate. I haven't tried any of them yet but the Thai Coconut caught my eye first – so unique!
Marvelous is…taking Group Kick on Sunday morning. My gym had a delayed opening due to the snow but group fitness classes were still running so I made it to 10AM Group Kick, thanks to my awesome dad's efforts to dig me out and clear the driveway early. The instructor's energy and the music were both awesome, and each time I take that class I'm reminded of my karate history. It's easy for me to remember to stay low in my stance and keep my hands up in guard! I also woke up this morning with a slightly sore back and shoulders. Very nice.
Marvelous is…a Christmas hand polish change and a bright Florida pedicure. Of course I screw up my fingernails within hours but that's neither here nor there.
Marvelous is…picking Mom up from the airport. I know she's bummed to leave our FL condo and come back to snowy Connecticut. But the huge surprised smile on her face when she saw my sister and I waiting for her by the baggage claim tells me that we made the right call in joining my dad to go pick her up. She never expected a whole welcome committee!
Marvelous is…Sunday Funday dinner out with my sister and Rachel! Max Burger manager Doug was kind enough to offer us a complimentary round of drinks on Twitter if we'd come in and sample the new Banana Bread Manhattan (banana-infused bourbon, Carpano Antica, Drambuie, Bitter Truth mole bitters). Twist our arms! The drink totally lived up to my hopes that I'd love it (I figured it'd go in that direction or I'd hate it…no in-between) though I wish the bartender had heard my request to have it up. Next time I'll speak louder!
A marvelous weekend indeed. I have to admit this morning I'm feeling not so marvelous. The typical Monday post-weekend-anxiety is settling in. But I need to unsettle because I have a short week ahead, vacation coming, Christmas on the way, AND a big life decision that I am 90% sure about right now. I'll let you guys know when I get to 100%.
Tell me about the marvelous in your weekend!
Did you do anything holiday-themed?
What's your favorite thing to do while "snowed-in"?