Let's Think-Out Loud (Let's Think-Out Loud)
I hope at least one person gets that the title of this post is meant to be sung to the tune of "Let's Get Loud" by J. Lo. If you don't get it after this explanation and the below video, I have failed as a blogger.
I hope you guys are ready for some thoughts. Because I've got a few of them, and it's Thursday, which means it's time to link up with Amanda for Thinking Out Loud Thursdays!


1. I totally spaced and didn't announce the winner of my Nancy Rose Performance workout outfit giveaway in Tuesday's post. Oops! Thank you to all who entered and our winner is Hillary…I will be contacting you to arrange for receipt of your prize!
2. Best of Hartford 2014 awards nominations are out for both Hartford Magazine and Hartford Advocate. I'm honored to be nominated again in categories for both! You can vote for me for Best Blogger and Best Twitterer in Hartford Mag's awards, and Best Local Blogger, Best Local Twitter, and Best Local Instagrammer in Hartford Advocate's awards.
3. Tonight I will be attending my first Creative Cocktail Hour at Hartford's Real Art Ways. This event happens on the third Thursday of every month, and I cannot believe it is ALREADY the third Thursday of January (or 2014 for that matter). If it's anything like the Oddball, I know I'm in for a great time. But hopefully less booze.
4. Since Creative Cocktail Hour takes place after work, I set my alarm for 6:20AM and woke up for an early morning workout. However after last night's hour-long spin class I was cardio-ed out so I ended up doing 35 minutes of total body weights. I focused on upper body with abs and legs between sets. I'm having a lot of doubt about not doing any cardio…usually the mornings I work out at home I do a cardio/strength circuit video from the Tone It Up Beach Babe DVD. I've gotten better about not having to do cardio before/after I take Group Power but that class is an hour long and I use heavier weights than the 10-pound dumbbells I'm left with in my basement. I keep thinking of all of these "yeah, but…" phrases to make me feel like I didn't do enough. But I set my alarm, got up an hour earlier than I normally would, just so I could get moving this morning. So I'm going to work hard to give myself credit for that, and also pat myself on the back for not skipping breakfast, which I was tempted to do.
5. Last night's spin class involved yet another fight with the instructor over the fans. Unfortunately at the gym location I go to on weekdays, the only spin bike without a view of the clock is right by the fan. But I go for it each class because seeing the clock makes the time go by half as fast. The instructor (a sub) taught an awesome class that kicked my ass and included great music, but she also gave me A Look when I asked her if we could keep the fan on low. Halfway through class she said, "Man it's hot up here. I can't imagine how hot you guys are back there!" Passive aggressive much? Just call me out, I don't need your looks or your snide comments, lady.
6. My close friend Kim and I have gotten into the habit (okay, it's happened twice, but with my schedule that's impressive) of having dinner at one of our houses and then coloring with wine by our side on a weeknight. You guys know I love coloring to de-stress and Kim was very intrigued by this idea when I told her about it. I hope we can get together again soon for a third coloring-and-vino session. She is one of those friends who is just so relaxing, non-judgmental, and always fun to be around.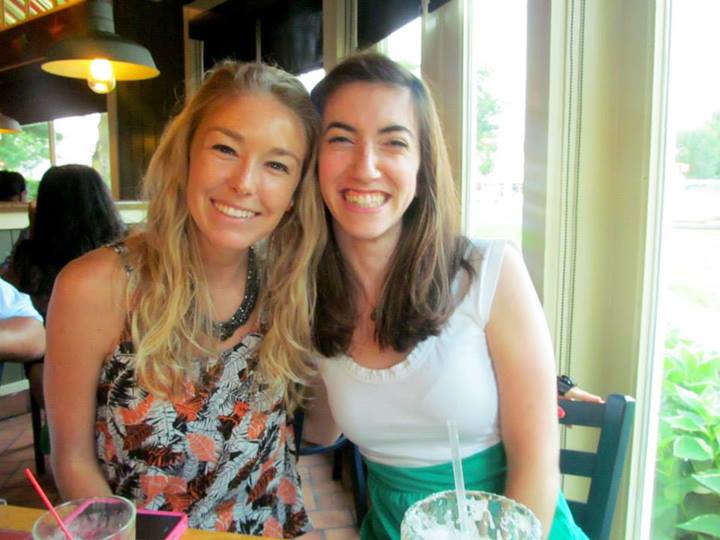 7. My mom and I watched the mid-season premier of Revenge on Monday and can I just say oh my goodness, I ADORE THIS SHOW! I know it's a total nighttime soap but hello, I am a fan of The OC, Desperate Housewives, and One Tree Hill. I just hope that Revenge never hits the same downward slope all those shows eventually hit because I am constantly turning to my mom with my mouth gaping open while we watch this show. It's so fun, and Nolan's outfits rock.
I still haven't seen this past Sunday's episode (waiting for Mom to get back from FL) and it will be killing me to wait so long to watch! But viewing with her is always fun, and she tends to have to ask me some questions to keep up with the pace, so I'll save it for her on the DVR. I'm such a golden child.
8. This Saturday night I'm going to New Haven to reunite with former coworkers and restaurant hop. I haven't done that since Labor Day weekend so I'm absolutely pumped. New Haven has SO many restaurants to choose from; I want to visit some I already know I love, but have also received some suggestions for new-to-me spots. My plan? Don't plan. Just play it by ear and see where we end up!
9. Upon Kaitlin's recommendation I read Reconstructing Amelia and I only wish I'd done so a week or two earlier so I could call this a best book of 2013. Do yourself a favor and pick this up this debut from author Kimberly McCreight. I'd call this Gone Girl meets Dare Me and upon finishing it I passed it along to my mom, who also was obsessed. We couldn't put this book down! I'm thankful to Kaitlin for the great rec.
10. Last night after spin I came home to an empty house. I showered, heated up a bowl of leftover goodness, busted out some white wine, and settled in on my couch to catch up on Homeland. I got in bed after packing my lunch, and had a snack while finishing this (another) very good book. It was all so perfect.
I think I'll end this at an even ten. Time to get on with the work day so that I can get on to my fun!
Do you prefer a fan or no fan on you when you work out?
Which TV show are you loving lately?
Read any books so far in 2014?