Let's See How Far We've Come
Happy Friday readers! I came into work late today due to a family obligation so I'm all confused about what time and day it is. Thankfully the time is afternoon and the day is Friday, so I'd say I'm in business. I wasn't sure what to blog about today or even if I was going to blog, but I can't stay away for long so here I am. I noticed a few things last night during the plans I had mentioned in yesterday's post, so I'd like to share them with you all.
I first headed to J's Crab Shack in Hartford after the bartender Kim invited me to come have a Manhattan in their new lounge (formerly was a banquet room). While there I found out that not only was Kat running late to the event, but the food there would be "snacks" from Pond House Cafe (who by the way is offering some fun reasonably priced cooking classes this year). I love Pond House food but snacks seemed ominous to me. I knew I needed to eat dinner but making a dinner out of event snacks often means making dinner out of dips, cheeses, and other not-so-light food. Instead of planning to restrict at the event (AKA drinking on an empty stomach), I made the decision to go next door to O'Porto and grab dinner – a healthy dinner I was comfortable with – at the bar.
I killed lots of birds with one stone (must've been a large stone) at this dinner. I've always wanted to go out to eat alone, so there's that. I had a delicious salad with seafood – a dinner I was comfortable with and that still left room to try some snacks at Real Art Ways. And I also forgot to ask for the salad dressing on the side! This is something I NEVER would have forgotten even a year ago, and that little slip is ACTUALLY a step forward and shows me how far I've come in recovery. As does the fact that I totally trusted myself to eat a small dinner before an event and didn't fear I'd go ham on the snacks (and avoid my body's hunger cues). Sometimes I still find myself restricting prior to an event with apps, because I want to save room "just in case" I go snack-crazy. Usually this just ends with me having to build dinner out of the snacks because I'm ravenous, and THAT leads to tons of anxiety. I felt like a normal person, opting to grab dinner before the event.
Which by the way was very fun! I enjoyed Prosecco and a few bites of the snacks but am sure glad I didn't end up trying to make a dinner out of them. I got to see lots of friends – even some I never expected to run into. I finally saw the Hartford Hot Several perform live, and I got a picture with my girl-crush (and Hartford Hot Several Garbage Can Player) Chion Wolf. The first Real Art Ways Creative Cocktail Hour of 2014 was a great success and I hope to make it to another one!
Today I'm struggling some. I will be honest – I didn't eat breakfast this morning and I definitely was hungry for it. I keep looking at some of the photos from last night and seeing my stomach sticking out. I find my mind wandering backwards to the snacking I did after the event, which wasn't too much if I go by my body's cues, but always seems like too much to me. I keep future-tripping about the rest of the weekend, and feel as if I started it "too early".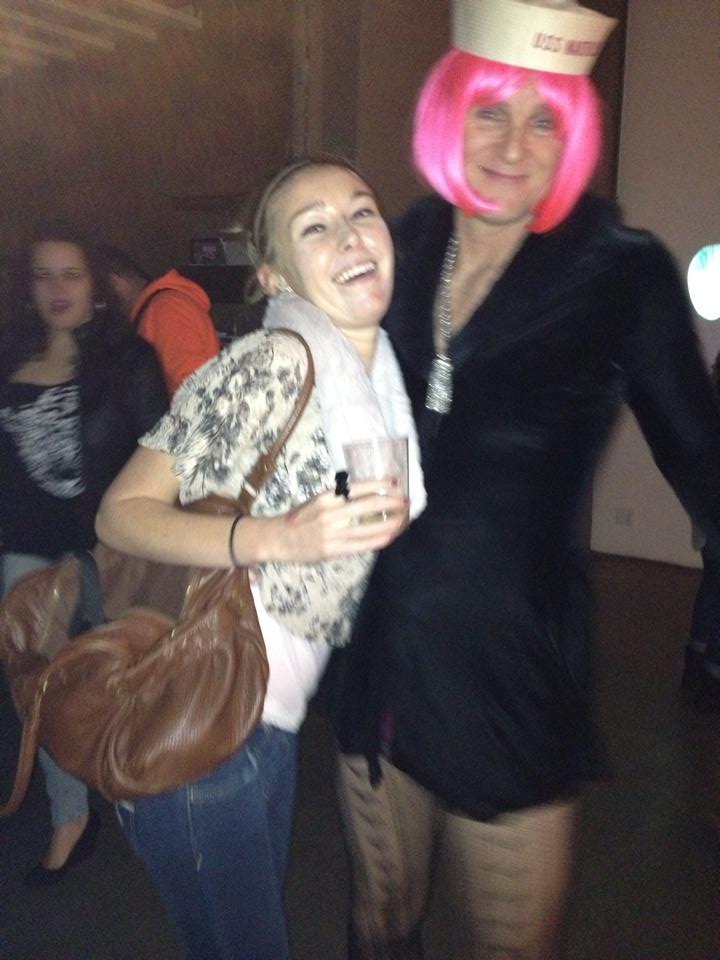 But I did all that I wanted to do in the moment and am not cancelling my plans tonight/tomorrow because of guilt. I do not plan to work out extra today – just as much as I usually would on a Friday evening gym trip. I'm going to move on. I have to! If I can't, then what fun will life be? I'm still proud of enjoying the evening, despite a shorter and cardio-less workout yesterday morning,  like a normal person. Maybe I can work toward living it up guilt-free on an evening like that on a complete rest day (which didn't go so well last time…I'll have to try again).
Are you able to recognize signs about how far you've come? About what you still have to work on?
Can you relate to finding it harder to eat prior to events where food will be present?