MIMM: I Did It!
I don't exactly feel quite as cheery as this title and its exclamation point make it seem, but I still feel a hell of a lot better than I did yesterday. I can't remember the last time I blogged on a weekend but I did yesterday, just a quick rant, because I was sitting at my laptop feeling sorry for and doubtful of myself. I set out to prove to my all-or-nothing mind that I could enjoy last night's Super Bowl eats without going overboard, without getting too full, and also without restricting. Well I proved to myself just that, so that's pretty marvelous.
In terms of beverages, I decided to start with a beer I purchased a long time ago and was saving for a beer-esque evening such as Super Bowl Sunday. Plus I thought it'd be easy to sip slowly. John Henry 3-Lick Spiker Ale was recommended to me at Yankee Spirits because I shared with the sales associate that I am a bourbon lover. This beer is aged in bourbon oak chips and I adored it! I want to try some more John Henry beers now. After the beer I switched to another special something that I was motivated to sip slowly – the last of some Johnnie Walker Blue my dad had! What a marvelous guy (my dad, not Johnnie). The evening later ended with champagne…Andres, not so marvelous, but it'll do.
Oh yes we had a lot of food, and that's not even all of it. It trickled in rather slowly as people arrived so I tried to remind myself to eat slowly. I (mostly) used veggies for dips instead of chips; celery makes a great dip boat! I also didn't focus much on the stuff I am not that into, like wings, meatballs, cocktail shrimp, chili, and hummus. Boring (to me) and I'd rather go for the marvelous stuff I don't eat often like the dips (buffalo chicken, crab, spinach & artichoke), homemade deviled eggs, two different kinds of crab rangoons, and my mom's Mexi-contributions.
I did a lot of chatting, some sitting and watching the game (too bad it wasn't more exciting), and playing hostess. I wished yesterday that the party was at someone else's house so I could pop in for a few minutes then bail, but it actually turned out to be a marvelous event to have at my own home. Cleaning up, getting people drinks, refilling chip bowls, and other duties kept me plenty distracted! As did watching the halftime show downstairs with my dad, because too many people upstairs were chatting and we couldn't hear the magic of marvelous Bruno.
At first when Molly's mom walked in with my favorite chocolate chip cookie bars and her marvelous gingerbread cookies, I felt wary. But I neglected to realize that since those were the only desserts for our entire party, I wouldn't have been able to eat a ton of them even if I'd decided to. And though I certainly didn't NEED the several bars/cookies I had, I went to bed not too full at all. Who skips dessert on Super Bowl Sunday anyway? I know if I hadn't allowed myself to have any of Mrs. Anderson's marvelous desserts, I would have just been staring at them and unable to focus on the friends and family around me. I'm glad I enjoyed them – even if I didn't really like what I saw in the mirror this morning.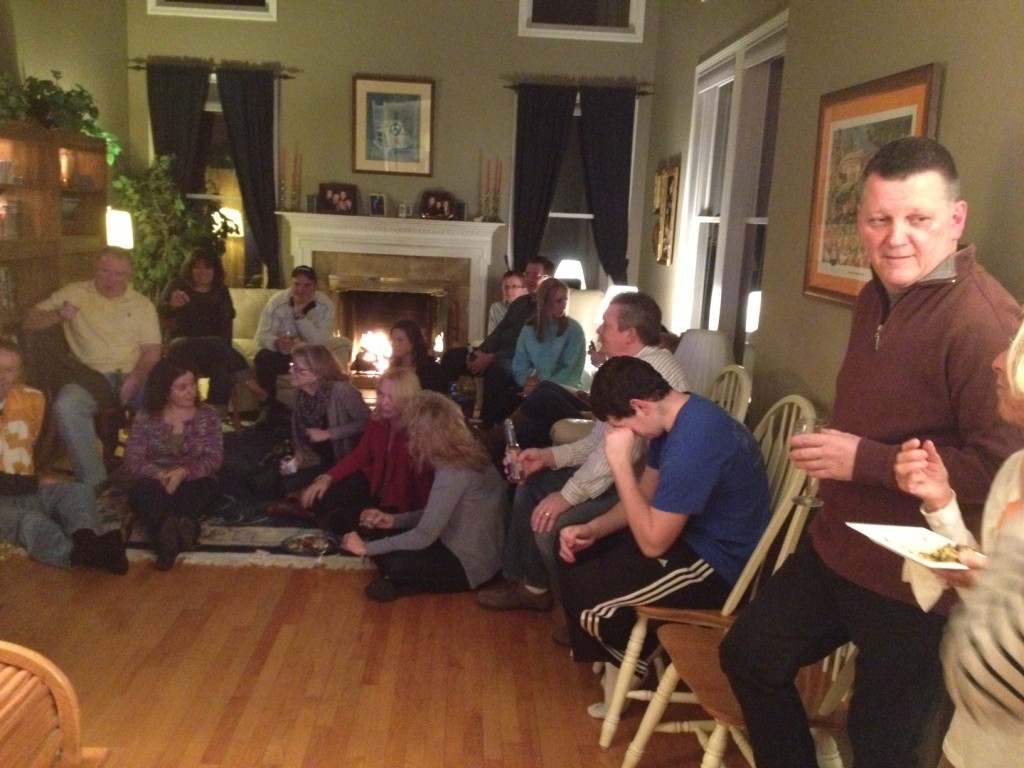 After all, look at those marvelous friends and family members! How often are that many people crowded into my living room to watch a not-so-marvelous football game? I really had a good evening and when I got into bed to listen to NPR and do some coloring (gotta wind down somehow!) I felt content. I know I'm not often not that happy with my body. There's a messed up part of my brain that wishes I'd done nothing for the Super Bowl so that I wouldn't have eaten the dips, the desserts, the drinks. But I was in the party situation and I didn't go crazy. I can trust myself and I shouldn't doubt that I can be in control. I'm too marvelous to let food define me.
How was your Super Bowl Sunday?
What did you think of the halftime show?
What was the most marvelous thing you ate this weekend?