Thinking Out Loud: Back in Boston
I'm back in Boston after my Mexico vacation and brief birthday stint back home. Coming back from vacation to a place where I've only lived a month is lovely because though I miss the warmth of Cancun, I really didn't mind returning! I'm still so excited to continue to explore Beantown and also felt anxious to get back to my job, which I'm still loving. It feels like forever since I thought out loud so I felt a link-up with Amanda was in order!

1. Getting out of the hotel gym and back to the BSC feels great! Without a Stairmaster or group fitness, it's super hard for me to get motivated to work out. Thank goodness for Danielle Dee's Monday night spin class! That hour was the cherry on top of my first day back in my routine. Especially when Danielle said, "Good job, sweetheart." to me after class. Hearing that direct "go you" from a group fitness instructor makes SUCH a difference. And it made me feel motivated to follow up the class with some core work! Tuesday night I finally tried a class I've been meaning to check out, Burn. I'd taken Step a couple of times from the instructor and he is so funny! The class was a series of tons of different exercises – not a repeated circuit, but seriously just cardio and strength exercises that were never repeated. I liked that the material was kept fresh and though it wasn't as cardio-heavy as spin, I still felt it was the perfect workout for what I was feeling that evening. Here's an example of one of the moves we did – partner push-ups.
 I'm still really digging the Wednesday night Total Body Conditioning class, which I attended yesterday. The instructor Corrie is motivating and sends us through a tough circuit three times. The circuit consists of 10-11 stations that we go through for one minute each, and between each circuit we do a little cardio. I love getting both strength AND cardio done in one hour. Here's an example of one of the stations we did last night –
2. The first show I chose to catch up on post-vacation was Grey's Anatomy.
 I had two episodes to watch and now that I'm all caught up, I have to say I'm more bummed than ever that this is Sandra Oh's last season. I think those who are also caught up will understand why, but I won't elaborate because no one likes a spoiler. I also just found out that the actors who play Leah and Ross
will not return
next season. I'm pretty sure this guarantees at least one season finale death. But what further disasters can fall upon these doctors?! I love how at this point little jokes about all the bad stuff that happens to this group are worked into the script. It's about time a show acknowledged its own ridiculous series of events.
3. The last four nights have been spent cozy in my apartment with home meals, and it's been fabulous. My mom sent back with me to Boston SO many fabulous foods that she prepared for me and then froze the week before we left for Mexico. Monday night I enjoyed her grilled chicken, and Tuesday I crumbled her meatloaf atop some broccoli, stirred it up with Gorgonzola and buffalo sauce, and microwaved it until it became a melty marvelous mess. I'm currently addicted to all things buffalo. That and all the catching up on TV (see above thought).
4. After four nights in a row of staying in, I'm so ready for GEM Girls Night Out. Tonight my coworker Jeannie and I are attending an event at Boston's GEM Italian Kitchen, Nightclub, and Lounge. We got our hair blow-dryed together almost a month ago, and are both anxious to try out the complimentary dry styling from Be Styled. As well as bubbles…always bubbles.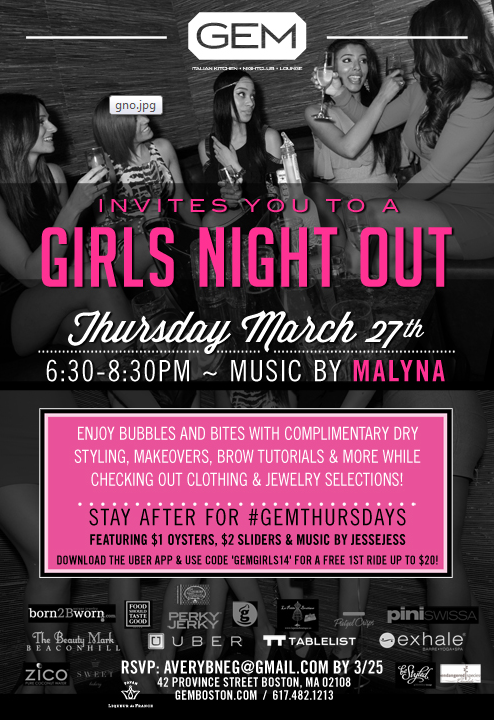 The event is indeed open to the public so I help some fellow Bostonian ladies will come out to get fabulous! We may stay after too for some music and $2 sliders.
5. Tennessee Men are in the NCAA Basketball Tourny Sweet 16! After how this season has gone for the Vols I didn't really think they'd make it that far, but thanks to Mercer upsetting Duke, we played/beat Mercer this past Sunday night to make it to tomorrow night's Sweet 16 game against Michigan! I have watched all three tourney games so far (two in Mexico with the fam, one in my apartment with Greg) so I feel pretty invested in how this turns out for UT. I've never felt that way about the men's basketball before! Honestly it will be a tough game against Michigan, but here's hoping the Vols pull through…somehow.
6. I still love my job. I already mentioned this on my blog FB page, and if you follow me on social media it's pretty obvious – my new employer is 90+ Cellars. I was going to try to keep the company on the down-low at first, but so much of my position (Director of Digital Marketing & E-Commerce) involves what I was/am doing with my blog. And I'd like to be able to share the work I'm doing with 90+ (blog posts, videos, etc) with you guys! So if anyone's noticed me suddenly becoming a master retweeter of 90+ Cellars tweets…that's why.
Speaking of work, it's time for me to begin my work day so that Jeannie and I can hit the town! I've already been to the gym this morning for a quick cardio session and I'm feeling ready to go out. Weekend is almost here!
What are your thoughts on this Thursday?
Have you experienced any new fitness classes lately?
Are you following any teams in the NCAA tournament?
Who else is watching Grey's Anatomy?