My First Marathon Monday!
This past Monday was a special day in Boston. Marathon Monday is always a holiday around here, but given the events of the 2013 Boston Marathon, this year meant more than ever to residents of the city. I only just moved here, but was immediately struck by the incredibly inspiring atmosphere and energy surrounding the event. I'd mentioned in Monday's post that I hoped to get out of work a bit early to go soak it all in, and I did indeed get out around 2PM.
I took the T to Kenmore, which is about a mile from the finish – a great spot to spectate. Security was very tight; to get through every T stop exit, and to get into any area even near the course, I had to have my bag searched. But the guys searching bags were all so friendly and polite, and seemed happy to just be there protecting the city. I saw a few girls arguing with them, complaining about having to get their bags searched "again", and it really disappointed me. Let these people search your bag, and move on! Given the events of last year, can you really blame the city of Boston for trying to make this year's event as safe as possible?
After watching the runners for a bit I ventured over to Annie's apartment to hang out on the roof with her, Greg, Kramer, and some other folks. Yes, on the roof! We could see the course from there (and the river in the other direction). The sun felt so strong and I couldn't get over what a gorgeous day the city had been given for its marathon of redemption!
I sipped amaretto on the rocks and nommed on grape tomatoes and pita with hummus – my kind of spectating snack! One of the many nice things about blends – they often have food around the house that I know I'll be comfortable eating. Thanks Annie!
I'd been tracking my coworker Jeannie via text alerts and looked for her while I was watching by Kenmore, but must have been a bit too early. While on the roof, my company's president/co-founder Kevin texted me a picture he took of her – I missed her by about 20 minutes.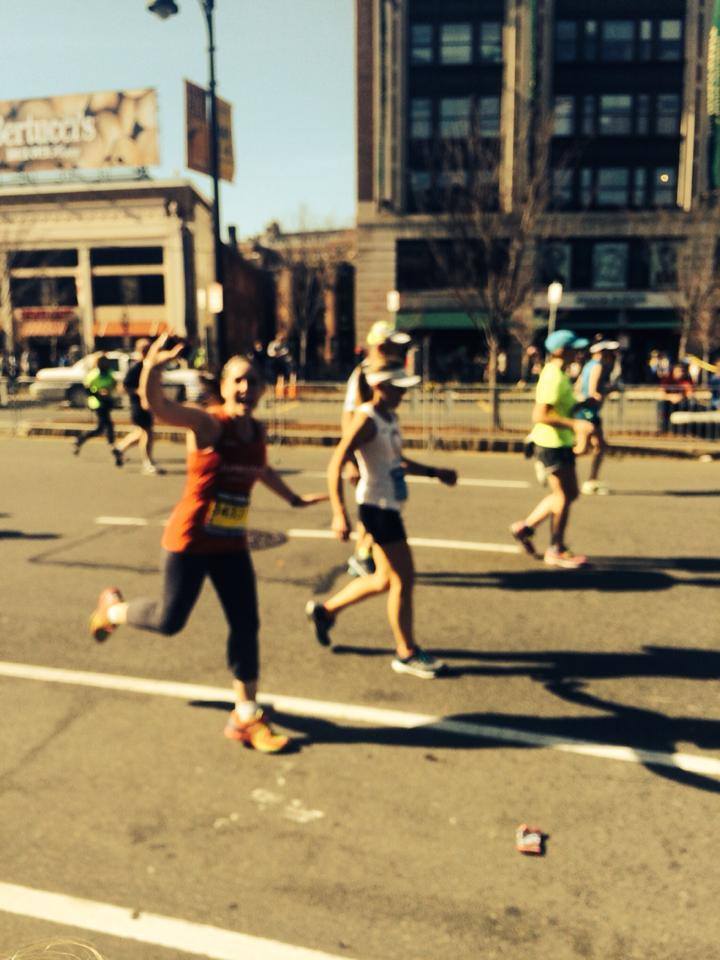 I decided to go meet Kevin and our co-worker Jason over at Eastern Standard so we could wait for Jeannie to come by for a drink, once she'd finished. Every restaurant had a line to get in but since I already knew people inside and was just one person, I barely had to wait! The first drink I ordered, the Marco Polo, was sweeter than I thought it'd be based on its description (rhubarb vermouth, aperol, pink bubbles) so I ended up trading it in for something drier. The Seelbach (bourbon, aromatic bitters, splash of bubbles) was much more up my alley.
Jeannie eventually made it to meet us and looked great! I got to meet her mom and the others in her "spectating party", and wore my sparkly headband in honor of her accomplishment. We got them during our trip to Blo back when I first moved to town, and she wore hers during the race. As you can see in the photo below, the sun got to hers and they are no longer the same color!
By this point there were only a few folks left running/walking the race – I even saw someone jog by while juggling! So I headed off the course and back toward Fenway to find Greg and Annie again. We hung out and played pool at Jillian's, and I had the IPA I'd been craving ALL day.
I originally thought I'd be energized and want to stay out a lot longer but at this point the temperature was cooling and I felt ready to go home. I took advantage of having a "late night" food craving NOT late night, and visited Garlic N Lemons, a spot near my apartment that I've been wanting to try. Whenever I crave it though, they're already closed! I got the five-item vegetarian sampler platter with Greek salad, falafel, grapeleaves, moussaka, and tabbouleh. It was so amazing and I didn't bother to take a picture of it because I just wanted to savor it and watch Mad Men. Which is what I did. And then I ate a piece of cake in bed and it was glorious.
Marathon Monday was so much fun and I'm happy that the weather ended up being ideal for many of the participants (and spectators!) It almost felt like a long weekend and though I woke up yesterday morning feeling absolutely wiped, I'm glad I took advantage of my chance to partake in the festivities. The city of Boston did an excellent job keeping everyone safe and watching Americans win the men's and the wheelchair races was especially fitting and wonderful. As Jeannie put it on Instagram: "We finally finished the race."
Did you celebrate Marathon Monday? Have you ever had the chance to be in Boston on this special day?