Five Things Friday: Marvelous!
My Taste of Nature bar giveaway ends tonight, and it has FIVE winners, so make sure you enter!
I missed the Marvelous In My Monday party this week but better late than never right? This week has been loads better than the last and I'm excited to link up with Clare today to share five marvelous things on Five Things Friday!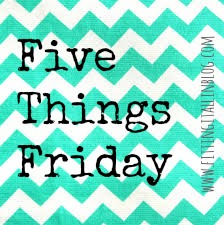 1. My workouts this week have been way better!
Thank goodness I was able to get back to my evening group fitness classes. Monday I took Danielle's amazing spin class, and I took another pretty good spin class on Tuesday evening. Wednesday night I invited Jeannie to join me for Total Body Conditioning and I'm so glad I did because I may have copped out and done a not-as-tough StepMill workout instead if I hadn't already committed to the class by inviting her! She was super curious since I am always talking about how tough the class is and yeah…it was tough. But we both felt great after and want to commit to going every week. I'm glad to have someone to motivate me to attend! Here's one of the moves we did:
2. I'm proud of how well I handled Wednesday's dinner out.
I finally made it to Island Creek Oyster Bar for dinner and the night met almost all of my expectations! The only downside was the fact that it took almost half an hour to get my first cocktail (and the rest of the service didn't speed up either). But the company was good – in fact I didn't take a single picture. But the cocktails and dessert wine were amazing, and the apps/entrees/desserts were great. Yes, apps and entrees and desserts. Yes all plural. My dining partner is actually a cook at ICOB so we were treated VERY well by the kitchen. I left totally stuffed but didn't feel too mentally terrible about it afterward! Yes I felt guilty but I did a good job of reality-checking myself. I realized that I hadn't gotten that full since my birthday (and actually I wasn't even as full as I was then) and despite the fact that it made me feel more full, I still was a good girl and drank my water, which is probably why I didn't feel hungover/gross yesterday morning. I still put on a cute outfit, went to work, had a salad for lunch, hit the gym, and had a healthy dinner (with wine of course!). And I enjoyed every second of that (okay maybe not the gym but I enjoyed how I felt after), just like I enjoyed every bite and sip of my big meal at Island Creek. Boston readers if you have not been there, GO! And I will go with you! 😛
3. This weekend is shaping up to be fabulous!
Lots of plans but I'm excited about all of them and it doesn't feel like a storm is brewing. Tonight I'm having dinner with Kelly at Seasons 52 (it's our thing) and I'm so excited since I haven't been there since March (and it feels like I haven't seen Kelly in eons!)…and I have a coupon. Saturday evening I have an invite to a deck BBQ and Sunday is the Boston Brunchers Ride 'N Dine! This will be my first Boston Brunchers event, but my second trip to Chestnut Hill Square's Soul Cycle location. The "dine" part is a brunch at Brio, and though it's a chain I'm excited to try it because I hear it's quite good. And following up a sweaty workout with a delicious meal (and cocktails!) is definitely my favorite activity pairing.
4. My readers are the best.
Seriously! Firstly I felt so relieved after receiving such support in response to Monday's post. You guys definitely made me feel a bit less nuts! And I've had two folks send me pictures after they made my Chicken Veggie Barley Bake. That's happened before with recipes I"ve posted of my mom's but never with one of my own. I am so excited!
5. So is my mom!
I checked my mail yesterday and found an envelope from my mom containing not only a no-reason check for $50, but a printed-out photo of us from her visit, and a sweet note. It really put a smile on my face and started my cozy evening in off on a wonderful note. She is coming to Boston in a few weeks to take my sister to Logan Airport and I'm so excited to see them both for a dinner!
That's all for today. I really am glad I took the time to write this post (last night!) but I need to get all my work done so that I can get to my weekend ASAP. I may even be ambitious and go to the grocery store between work and my dinner plans, so that I don't have to do it on Saturday or Sunday. But let's not get crazy now.
How have your workouts been this week?
Have you ever been able to let yourself off the hook when you get too full?
What are you up to this weekend?