Spring at Seasons 52
Before I get rolling on this post, I want to announce the FIVE winners of my Taste of Nature bar giveaway! Another huge thanks to the company for offering that many prizes – very generous! The winners are:
I will be emailing you guys to connect you with Taste of Nature so you can arrange the receipt of your bars. Congrats and thanks to all who entered!
I received the food and drinks featured in this post free of charge. I had no idea that would be happening until I finished my meal, and all opinions of my experience are my own. This is not a sponsored post.
Seasons 52 is – as the name would suggest – all about seasonal food and drink. And seasonal often means the freshest, healthiest options. This is one of my favorite chains (it doesn't even seem like a "chain") and was first introduced to me when I started reading blogs. Once I finally got the chance to visit I saw what all the hype was about and even "converted" my family into Seasons 52 lovers. Now whenever we visit anywhere with a location nearby, we all have got to go!
Once I found out Seasons 52 was moving into New England I visited the Burlington location with Kelly, and converted her too. So she was an obvious choice of companion to try out the Chestnut Hill location, inside the lovely Chestnut Hill Square. I was asked by Seasons 52 to come in and try out the new spring menu mini indulgences, but I was honestly more excited to try out the new spring apps and entrees!
Our waitress Lydia, and the entire staff, went above and beyond to ensure we had a pleasant experience. The sales manager stopped by to make some recommendations, and Lydia was kind enough to let me try tastes of a couple of wines before I decided upon a Sangiovese (a couple of photos above). Kelly ordered a nice Prosecco and with Lydia's help, we settled on sharing the above flatbread (with lamb, cucumber, tomato, feta, tzatziki sauce on the side). Lydia and I both encouraged Kelly to get one of the menu's staple entrees, the oven-roasted salmon with potatoes and a roasted veggie medley. She took our advice and was very pleased with the dish! I decided to try the new seasonal entree salad, a lump crab wedge. I'd seen a photo of it in one of the Seasons 52 email newsletters and it looked so pretty that I just had to try it.
I loved the veggies and the crab meat wasn't tossed in any creamy sauce or mayo, which kept the salad feeling nice and spring-y. I do wish it'd had less vinaigrette dressing though; its flavor overpowered the crab a bit. I'm glad I ordered something I wouldn't normally get (I tend to prefer my salads full of leafy greens!) and the portion was the perfect size, but I think next time I'm at Seasons 52 I'll stick to my standard seafood entree or less-wedgey salad.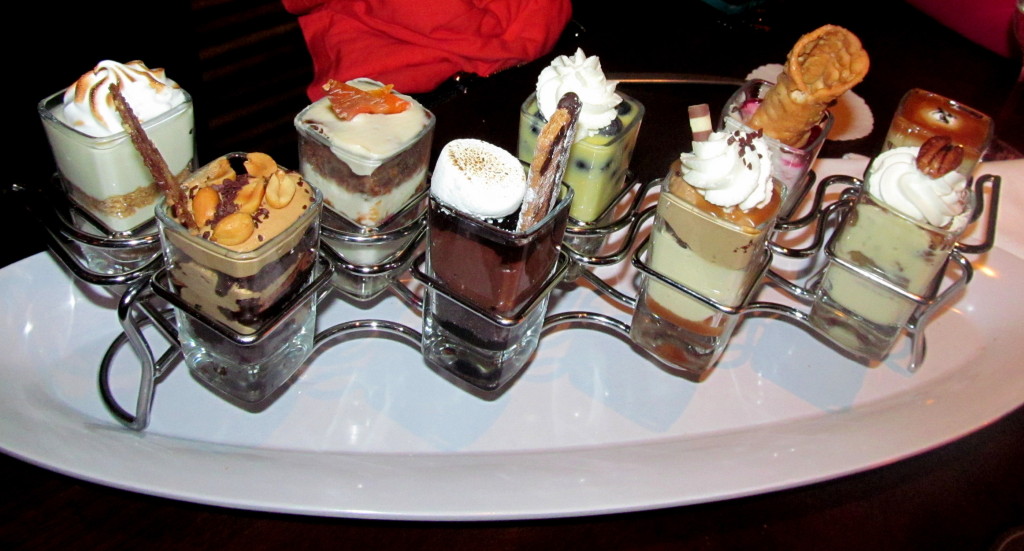 And of course the base reason behind our visit was to check out the mini indulgences! I have to admit I was going to leave that to Kelly, because I was going out after dinner and worried that eating a dessert would make me crash before I could make it out. But once I looked at the delicious display, I felt hooked. If I had turned down the dessert and then had to sit there and watch Kelly eat hers, it would've been lame and I'd have been thinking the whole time about how much I wished I was eating one.
Once we asked for the check, Lydia came over and informed us that the restaurant had taken care of the check! Kelly and I were both very (pleasantly) surprised and thankfully were able to leave a tip on a credit card. Neither of us had expected to need to bring cash for tip and Miss On-Top-Of-Things AKA me left her wallet at home :-X good thing Kelly was willing to spot me! Thanks Kelly!
I left feeling like I'd eaten the perfect amount of food and already excited for my next Seasons 52 visit. I'm psyched to now live so close to one…no more visiting only when I am on travel! And I recently obtained a free flatbread coupon at another blogger event (more on that later this week) so I will be back sooner rather than later. Thank you to Seasons 52's management, Lydia, and the talented chefs who made our evening so great!
Have you ever visited a Seasons 52? If so did you first hear about it through blog-reading, like me?
Have you ever tried to go outside your typical restaurant order, and wished you hadn't?
Visit the mini indulgences web page and tell me – which flavor would you want to try?