Marvelous Barcelona – in Brookline!
I've written many blog posts about my experiences with meals and events at Barcelona Wine Bar's West Hartford location. It's one of my favorite restaurants! So imagine how happy I was to realize that despite the fact that I was leaving Connecticut to move to Boston, I'd still be able to get my Barcelona fix, because there is a location in Brookline's Washington Square. That's a mile from my apartment! It's not every day that one of my favorite restaurants happens to also be a small-ish (but growing!) restaurant group with a location near both my old and new homes. That's pretty marvelous! (Now I just need a J. Gilbert's and Krust to show up in Boston and I'll be set.)
But there are so many restaurants in Boston, and despite the fact that I've been living here for over two months now, I still hadn't made it to Barcelona Brookline. Until this past Saturday night! My Boston blend Jen selected Barcelona as the spot to celebrate her 27th birthday, and I was psyched to finally have a night there planned. But between college graduations and Mother's Day, the place was pretty booked. Luckily GM Jason Boske was nice enough to set aside a few bar tables for us! I first met Jason back when he was GM of the West Hartford location, and I was thrilled when I found out that he now is GM at Brookline. Seeing him again was so great!
It was so warm out when we arrived but thankfully we also knew a storm was approaching so we kept our bar-side tables. Good thing because halfway through our meal, the skies opened up and dumped buckets of water on Barcelona – and some of Jen's friends who were on their way over! :-/ But the rain didn't dampen the company, the drinks, or the food. All three were stellar.
We started out with the always-fantastic locally made Barcelona bread! Each location sources the bread from a local bakery but it's generally the same type of bread across the board. I had so missed it and by the end of the evening polished off almost a whole loaf. Did I feel bad about it yes, but did I feel too full no, so moving on…
I knew I'd be all over that bread though so I kept my tapas protein and veggie heavy! I started with the golden beets which came in an incredible pesto vinaigrette. These delicious beauties inspired me to roast beets of my own for dinner the following night!
Whenever I see fiddleheads on a restaurant's menu I jump at the chance to order them because not only do few places have them, but they aren't in season for very long! The last time I had them was at Krust on a pizza, and this time I had them with mushrooms. Honestly the best mushrooms I eat are ALWAYS at Barcelona. I've been known to go there and just order every mushroom tapa on the menu. The below dish was no exception.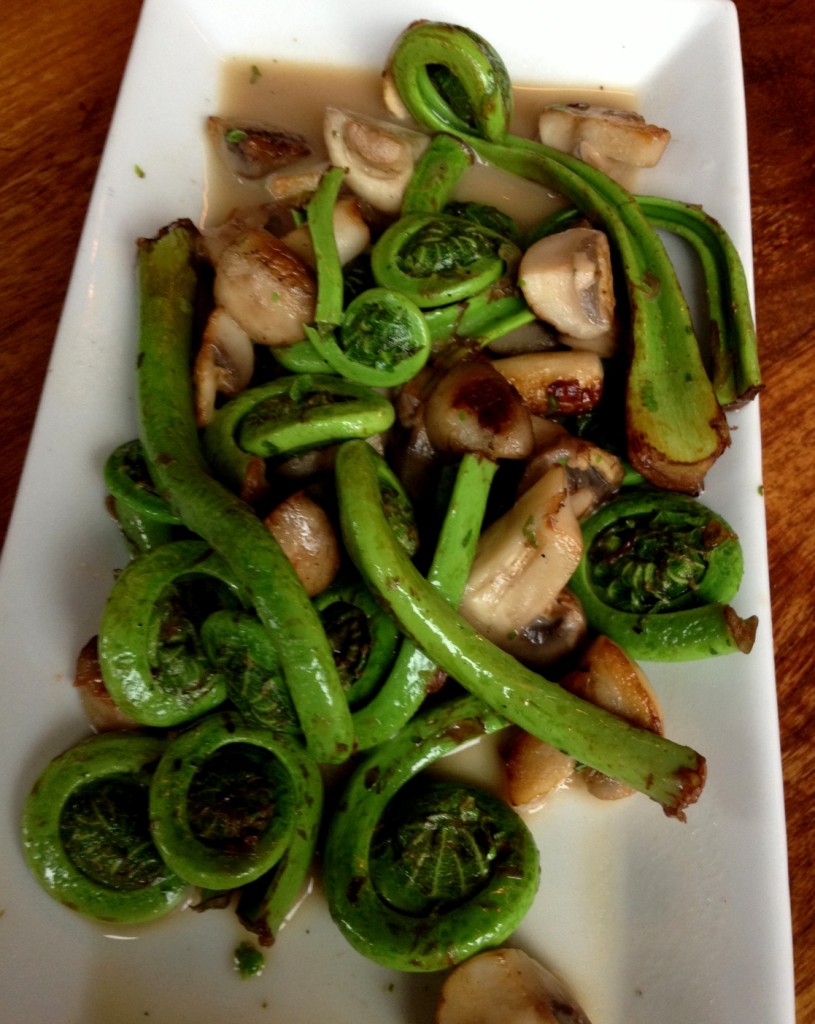 For my protein I stuck with seafood because Barcelona always does theirs so well, and the pan-seared scallops with avocado salad called to me. The avocado salad ended up just basically being guac but therefore tasted delish and the scallops were seared to perfection.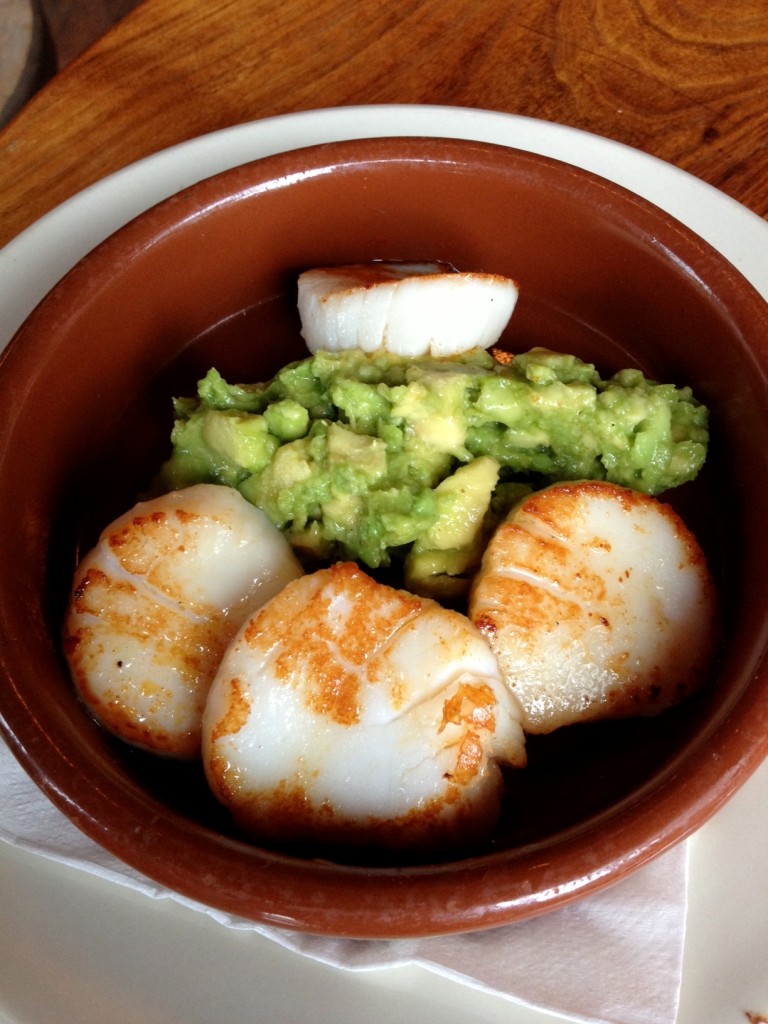 Funny enough Barcelona had been on Phantom Gourmet (a Boston-based foodie show) that very morning and on it, Jen's friend Bailey had seen the mini grilled cheese called the "Bikini". Birthday girl Jen was all over that and loved it, along with a tapa I recommended, the spicy eggplant caponata (a menu standard).
We all had a lovely time and everyone left satisfied with the food and drinks. The service was great and our waitress was so fun. Her name is escaping me right now (argh!) but she was great at recommending beverages (especially wines!) and tapas. She, our other waiter, Jason, and the talented culinary and bar team really impressed me and I left excited about re-visiting the Brookline location just like I did in West Hartford!
Have you ever visited a Barcelona location?
Do you prefer "traditional" dining or tapas-style dining?
Have you ever moved and if so, did any of your favorite restaurants "follow" you there?