Thanksgiving Leftovers Casserole!
I received complimentary products from Pacific Foods. They did not ask me to write a post, nor is this post sponsored. My (positive) opinion is my own.
Every now and then Pacific Foods sends me a variety of products to sample, and I honestly have had the Organic Vegan Mushroom Gravy they sent me in my pantry for almost a year now! But what better occasion to use gravy than right after Thanksgiving, when leftovers are abound? My mom sent me home with plenty, plus a bag of fresh Brussels sprouts. When I got back to Boston on Sunday, I could hardly wait to get this casserole prepped!
Once my casserole was in its pan I just put it in the fridge, and the next night I put it in the oven and I was ready to chow! Plus I ended up with leftovers…of these leftovers. Does that qualify as inception?
Thanksgiving Leftovers Casserole
(makes 2-3 servings)
Ingredients:
leftover Thanksgiving turkey, sliced into strips
1/2 cup of crumbled leftover stuffing
1 Tbsp of extra virgin olive oil
Rosemary & garlic salt, to taste (for the Brussels)
1lb of Brussels sprouts (or more or less, depending on how much you loooove Brussels sprouts!)
1 container of Pacific Foods Organic Vegan Mushroom Gravy (or gravy of your choice)
1/3 cup of no-sugar-added dried cranberries
Directions:
Preheat oven to 375 degrees (F).
Wash Brussels sprouts, cut off stem, and half each sprout. Toss in the olive oil, rosemary, and garlic salt, and roast until crispy.
Once Brussels are done roasting (leave the oven on!), combine them in a bowl with the turkey, stuffing, gravy, and cranberries.
Pour mixture into a casserole dish, and cook in the still-on oven until crispy on top.
Enjoy Thanksgiving all over again!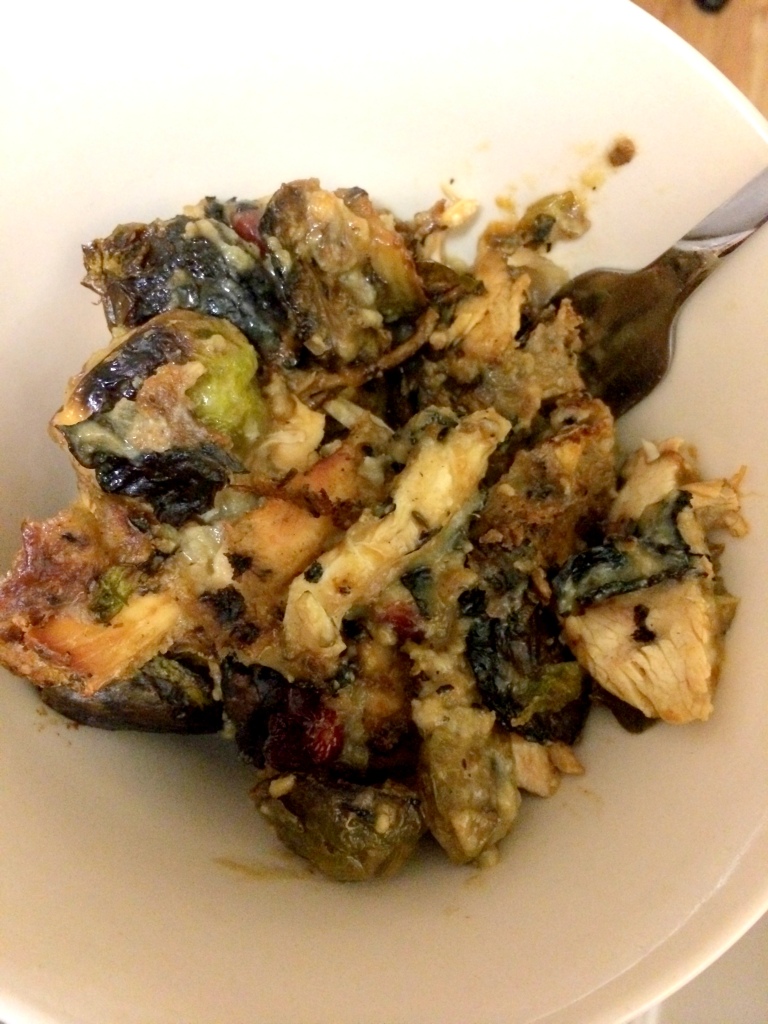 This was absolutely delicious and the dried cranberries really made it. I'm so glad I decided last minute to add them! Once again, you can use any gravy, but I really did love the mushroom version from Pacific Foods.
Happy gobbling! How do you like to eat Thanksgiving leftovers?
Have you ever tried a vegan gravy?