The Most-Needed Trip Ever
Sorry that I'm so late to the game in announcing the winner of my Tuttorosso Tomatoes giveaway! The winner of the prize pack is Amy – thank you for entering and I will be reaching out about getting you your winnings!
It's been a busy holiday season with no time to blog much…followed by a vacation during which I did not feel like blogging much. Sorry about that! Long-time readers already know that I go to Florida every Christmas season with my family. We use to split our time between my grandma and grandpa's apartment and hotels, but now we have a condo of our own in the Palm Beach Gardens area.
This year I was more thankful than ever for the trip. I have never had a more stressful few months leading up to the holidays, and truthfully have been in a very bad place when it comes to body image. I know that I've gained more weight since I last wrote about weight gain, and have been struggling to make some small changes to keep more off in a balanced way. As soon as I decide to lift heavier weights or cut out some cocktails, I suddenly find myself criticizing EVERYTHING I'm doing. I've been driving myself nuts and have had more than one tearful breakdown. I know self worth shouldn't be about how I look, but in my mind if I stop making it about my appearance then I will completely let myself go.
Despite the fact that Florida trips are filled with restaurants, day drinking, and a disrupted fitness routine, I still was so very excited to get there. I needed my family and a (semi) break from work.
I also got to spend time with lots of great friends. Greg is often in Florida for Christmas at his family's condo too, so we met up each day for movies, vegan eats, and exploration of the area's nightlife.
Kat also goes to Florida for Christmas to see her family, and my sister and I were reunited with her and her sister Helen! The four of us always have fun and it never ceases to amaze me how similar the dynamic between Hannah and I is to the dynamic between Kat and Helen.
My friend Jeannie was ALSO visiting Florida from Boston, and to reunite with some hometown friends. We went out a few times, and even visited good old Duffy's to watch the Pats vs Bills game.
And finally, I always meet up with my Floridian blends when I come to town! I saw Amy for a beer just before she headed back home to Atlanta (she went to high school around here) and did happy hour with Brittany too!
Florida Fitness
I definitely felt a great release of stress as soon as I arrived in the Sunshine State. Thanks to that, I was able to not be too bothered by what form of exercise I got each day. After all, I was exercising on vacation! Just like last year, I thought ahead and before my trip purchased a Groupon to a fitness studio near my condo so that I'd have access to some kind of workout. This time around I chose Pure Barre because barre is something not offered at my gym in Boston, and I was craving a change of pace. I'm really glad I went with that option! I took three classes over the course of the trip, each with a different instructor, and all three were great. Super motivating, awesome music, and such a wonderful leg workout. In the past I would have gone for a run or beat myself up because I felt that barre was not enough of a workout. But on this vacation I really embraced the vacation mindset, congratulated myself for even making the effort to find a Groupon to get some activity in the first place, and moved on after each class.
My mom also clued me in to a spin studio – Krank It – very close to our condo that offers its first class free, so I went there after Christmas Day since I took Christmas off (of course) and was really craving a sweat and some cardio. The class was excellent and ended with a high-rep light-weight workout that really killed my shoulders. I actually wish I'd known before I bought the PB Groupon that Krank It offers a week of unlimited classes for $39. I would have just as soon done that – a great deal, especially since that one class I took was so good.
On New Year's Day I really didn't want to do anything, but knew I'd feel good if I did, so I ran a 5K. It was tough in that humidity and that run went by veryyyy slowly, but I did it! It was the kind of run that made me wonder how I ever got through my half marathon training long runs, ha.
Finally, I found a gym called Zoo Health Club near our condo that does a three-day trial pass (no questions asked). So I took full advantage and went all three days for stairs, the elliptical, weights, and best of all a class called Muscle Pump. That class was so challenging in the best way. I got an incredible workout that left my butt sore for three days afterward and my upper body sore for a day too.
Aside from all that exercise, the vacation was filled with glorious lack of movement 😛 and it felt wonderful. I am not an active vacation person. My sister and dad went kayaking one day and I skipped it so I could stay back at the condo and sit on my butt. I am all about working out and then doing nothing the rest of the day. Some people go places so that they can hike trails and climb volcanoes. When my family went to Mexico last March, we did not see a single ruin, and were more than OK with it.
Florida Food
Food and drink are always a big part of Florida trips! I certainly ate well there. It's nice to have the condo because that means we have a full kitchen and can keep some staples around. I started each morning with banana and my plain Chobani (best fruit + Greek yogurt combo!, and did a lot of snacking on baby carrots, turkey, and cheese. I grabbed a few salads from Whole Foods, and had a couple of salad gem's from the vegan cafe Christopher's Kitchen.
Kat, Helen, Hannah and I enjoyed a deliciously perfect lunch the day after Christmas, at Paris in Town Le Bistro. They have an awesome selection of French food and also light cocktails that are perfect for day drinking 😉
Later that evening the four of us rendezvoused at that aforementioned cigar bar, where I had an awful Manhattan and a great cigar (shared with five other people). Later in the trip Helen, Hannah, and I tried to go back to the cigar bar, but alas it was closed for New Year's Day. No worries, we found a cigar shop and took our purchased cigar to a restaurant patio to share it – and a bottle of Malbec.
Hannah and I enjoyed lunch one day at La Bamba, her favorite Mexican restaurant in the area. I was proud of myself for going with her because I tend to avoid Mexican restaurants – I have a fear of the food coma that I almost always encounter after I visit. Despite the fact that we had chips on our table right away, I didn't overeat – I enjoyed, helped myself, but also paced. I had a draft beer too, because salty chips and beer go together like my Chobani and banana (ok maybe not quite exactly the same thing…). For my entree I opted for grilled chicken with black beans and plantains. YUM! I loved it, but boxed up some to take home. Overall my first venture in awhile back to a Mexican restaurant went very well and I'm not so afraid of them anymore!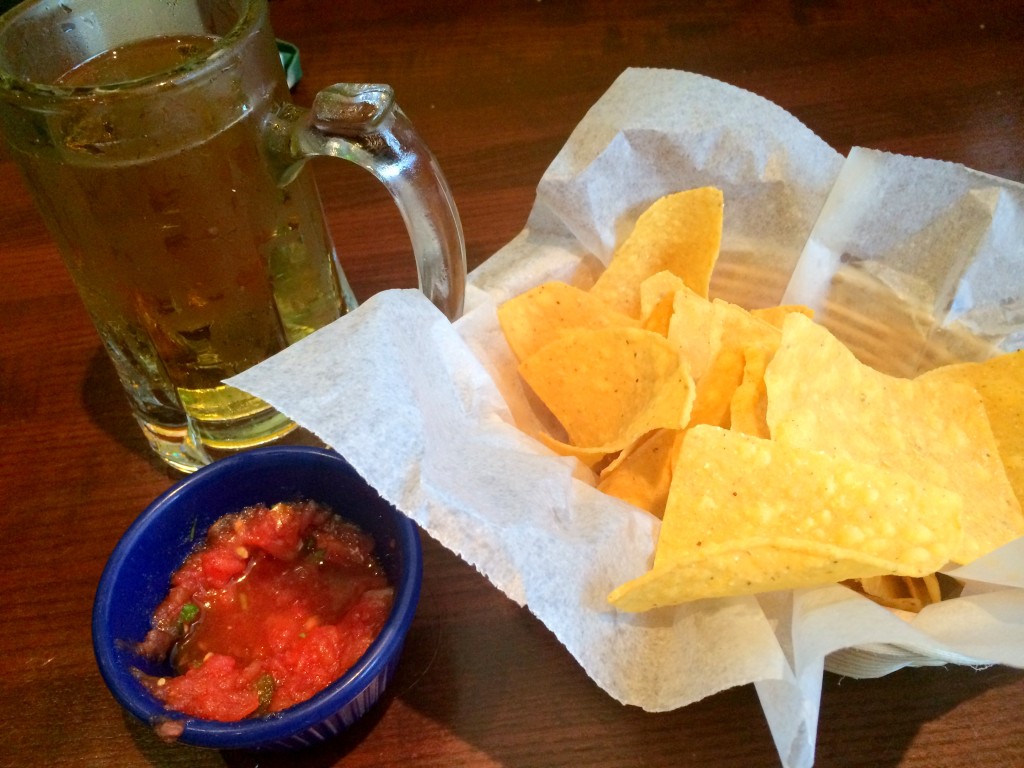 My family had dinner at Seasons 52, as we always do when we are in Florida. But this time we sat outside and it was great, despite how dark it was (my grandma had to shine a pen light on her meal so she could see it enough to eat it!)
I had a major Caesar salad craving and the one at Seasons 52 has baby kale in it, so I got that with some seafood – and Brussels sprouts of course. The Brussels at Seasons were only meh though – they were tasty of course, but not crispy enough for how charred they were, if that makes any sense. But my salad was stellar, down to the herb croutons (which I saved for last).
I had New Year's Eve dinner with Helen, Jeannie, and her friends at Spoto's Oyster Bar, one of the few area restaurants I had not yet been to. Despite a small service snafu, I'll definitely be back. I really enjoyed the ambiance of the place as well as the food. I tasted Helen's black bean soup and it was surprisingly awesome! I just wasn't expecting that from an oyster bar. She and I shared the smoked salmon dip…ooooh boy. Legendary.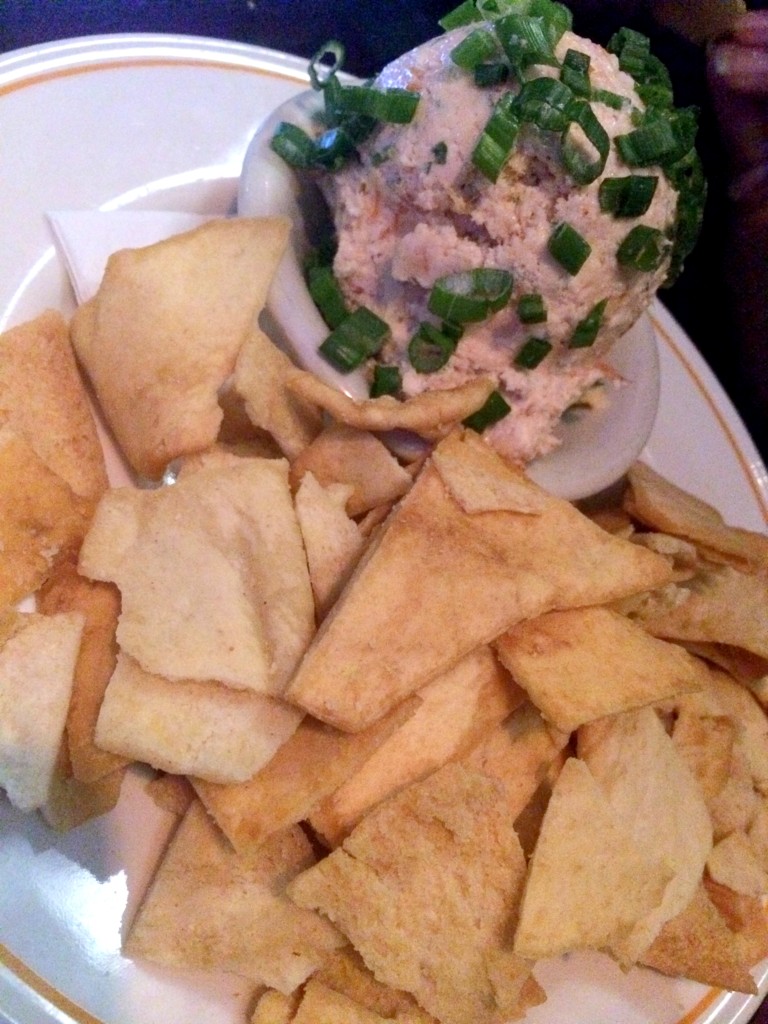 Whenever I first find a cool restaurant, all I want to do is go back and try everything! That is exactly what happened with Max Restaurant Group's first Florida establishment, The Cooper. I visited four times over the course of my trip and can 100% say that no other restaurant in the Palm Beach Gardens area is doing better cocktails! The food is damn good too, on par with other favorites of mine.
Now I will be honest, the speed of service at The Cooper is spotty, as it often is at any Palm Beach Gardens restaurant during the busy Christmas season. Everything that I and others ordered was always correct, but during some visits it took a very long time to get food and drink to us. For example, an order of Brussels sprouts took so long to come out that the restaurant comped them, which we certainly did appreciate.
Good news – happy hour deals at The Cooper are just as good as at other Max Restaurant Group locations. Craft cocktails for just $6?! Bring it on!
My first visit to The Cooper took place with Kat, which was fitting since she had already scouted it out twice before on an earlier Florida trip of her own.
We were with a few other folks which presented the perfect opportunity to try all of the things.
My family also did our own trip to The Cooper, and I was glad to go back again so that I could try a seafood entree. I selected the Porcini-Dusted Diver Scallops, which came with spaghetti squash and roasted root veggies. So delicious! I didn't quite finish it because I also started with a giant Tuscan Salad (polenta croutons and fresh mozz, yum!!!) and also polished off my mom's sweet potato fries. And a bite of my dad's bacon-wrapped meatloaf, which was ohmygod amazing.
My parents are already excited to try out The Cooper again and want to take my grandparents there once the busy season is over!
I decided on our last day to really just embrace the vacation mode. I took a bottle of limited edition Chandon Blanc de Noirs (purchased with a Whole Foods gift card I received for Christmas) to Helen's beach and we ended up drinking most of it – oops. Plus some gourmet cheeses and mini toasts for lunch – glorious.
I got back from Florida feeling not exactly better about my body, but certainly a lot less hateful toward myself. I feel pretty OK about what I ate/drank/did during my trip. Nothing was out of the ordinary from what people do on vacation – if anything, I worked out more than most people would. And I'm ready to get back to a routine that is hopefully less stressful now that work (should) slow down post-holidays.
Most people around the blogging world are doing 2015 posts – or posts reflecting on 2014. I feel like at this point if I look back on 2014, or if I try to guess what 2015 will hold, I will drive myself bonkers. So I'm not going to. I'm going to try to continue to live in the moment no matter what year it is. Plus, I barely have time to blog nowadays and this post took several days of re-visiting to write! So here's to 2015, and I hope it's whatever you want it to be, and I hope it ends up being what I want it to be too…whatever that is.
Do you work out while on vacation?
What does a typical day on vacation look like to you?