Trading into March
Remember to enter my Redpack Tomatoes prize pack giveaway – it ends tonight at 11:59PM EST!
I can hardly believe it's March. It sure doesn't feel like it! I can only hope that once I get back from the cruise my family and I are going on in a couple of weeks (my first cruise!), spring will have arrived in Boston. For now there is no sign of the weather warming up, which I'd certainly trade. But there are also a few things I wouldn't trade, so I'm here to update you guys on life via Trade Em Up Tuesday.
I would not trade…a baller spin class last night. Just had to mention that one straight off. It felt great. Thank you Danielle Dee for starting my week off with a kick-ass workout.
I would trade…my free week at CorePower Yoga ending. I got in four classes – three Sculpt (heated with weights) and one Hot Power Fusion. I decided to purchase a Groupon for a month of unlimited classes, and am going to activate it once I'm back from the cruise. I seriously am so excited about how much I have enjoyed these classes. It's been awhile since I found a workout that left me undoubtedly satisfied once completed. No question about whether or not I did enough, no consideration of going to the gym to do more. I just walk out feeling refreshed and strong. I can't wait until I've returned to Boston for a full month so that I can get back to the mat!
I would not trade…a visit from Jill on Saturday! We hadn't hung out since we both lived in Connecticut, but it was soooo awesome to reunite and feel as if no time had passed. She moved to Brooklyn close to the same time I moved to Boston, so it was just two suburban turned city girls reunited for fun and of course fabulous restaurants.
I went into the visit determined to avoid getting into any funks like I did last weekend. Thankfully I'd had a pretty low-key night out the evening prior so I woke up feeling refreshed, and started my day centered after a Hot Power Fusion yoga class at CorePower. Jill arrived just in time for a late lunch, and we made it to Regal Beagle before the brunch menu ended.
Later in the evening we made it out to a few of my favorite stops – Citizen and Eastern Standard for food and drinks, and Highball Lounge for fun and meeting up with friends like Jeannie, Allie, and Annie. Emily also came to Eastern Standard to meet up for a bit, and it was great to introduce Jill to my friends!
In the end I had a fabulous time and showed my friend my favorite places in the city. I also allowed a bartender to pour champagne straight into my mouth, because when that opportunity comes up, you don't pass it up.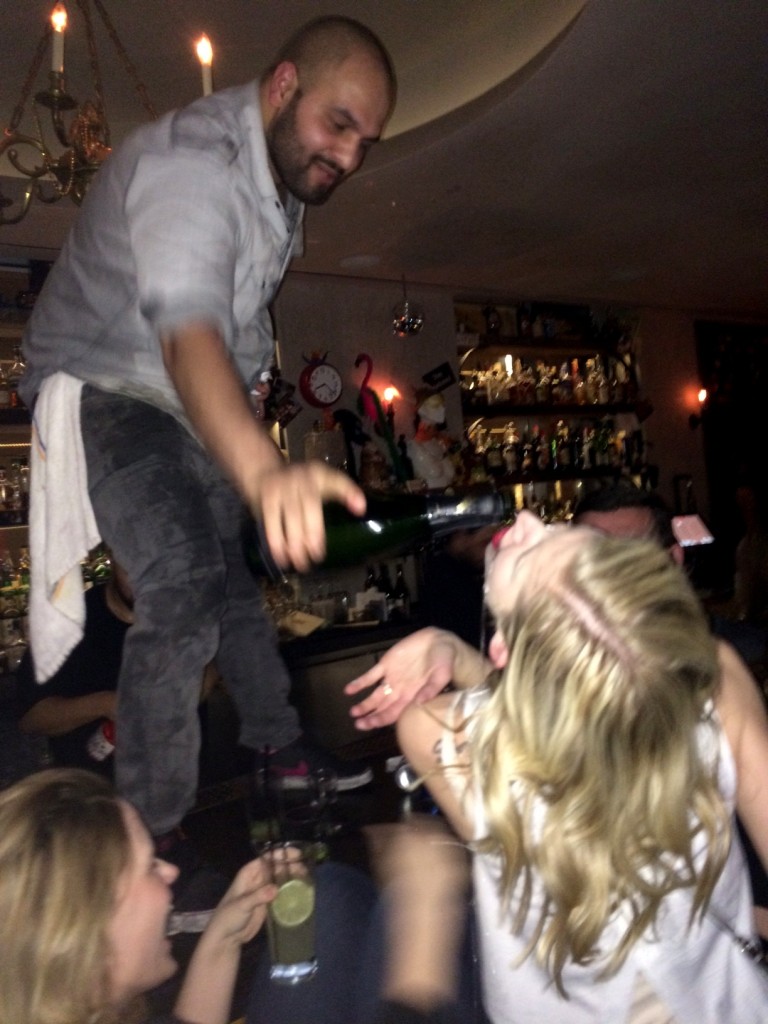 I would trade…my first cavity. Yup, it finally happened at yesterday's dental checkup, and I need to go back tomorrow to get it filled. At least this happened before my 26th birthday (in 19 days!) so that I can use my parents' insurance to take care of it.
I would not trade…Girls. Well, I found my next show to watch. I've seen the pilot before and was really turned off by Lena Dunham's character (and am not the hugest fan of Dunham herself based off of interviews and such). But I decided to watch episode two, and loved it. Despite how much Hannah still bothers me, this show is really good! I tore through a few eps that night and can't wait to watch more. Oh, and I identify FAR too much with Shoshanna.
I would trade…the dread I feel about wearing a bathing suit on my cruise. I would really like to be excited. And yes, I am excited, and grateful. But I'm also preoccupied with packing enough cover-ups so that I'll have to spend as little time in a bikini as possible.
I would not trade…going back to Connecticut this weekend. I'll be hanging with Dad on Friday, redeeming my free birthday entree at J. Gilbert's and having some quality time with my favorite guy. And Saturday I'm going to see Kaitlin to celebrate my birthday early. I can't wait to see her!
I would also not trade…yet another fantastic chickpea salad by The Simple Veganista. I'm loving her recipes that use chickpeas in place of chicken – not because I dislike chicken, but because chickpeas are way cheaper!
Off I go to eat said chickpea salad, and watch Girls. Gotta love a Monday night in.
What would you trade today? What wouldn't you trade?
Have you ever seen "Girls"?
Any new workouts you're loving lately?