Five Foodie Finds Friday
Before I get into today's post, I'd like to announce the winner of my Redpack Tomatoes prize pack giveaway! The randomly generated winning entry number is entry #12, from Lisa! Congrats, lady – I'll be reaching out to you about claiming your prize!

Hello hello, it's time for Five Things Friday. I am taking a half day at work today so that I can beat traffic when driving home to Connecticut. I can't wait for an evening of friends, family, and my good friend the J. Gilbert's barrel-aged Manhattan. He's just so dependable. Anyway, this Five Things post ended up unintentionally becoming a post about foodie products and dishes that I've enjoyed as of late. So I figured I'd theme it around just that! Let's get down to it.
1. It's been a week of recipe wins! First that fantastic chickpea salad, and then Running with Spoons pumpkin chili Mexican scramble. This tasted great freshly made as well as leftover last night.
The second night I enjoyed this dinner, I topped it with THE BEST salsa I have EVER purchased from a grocery store (I found it at Allston's Star Market). Holy crap! It tastes so fresh – even better than salsa I've had at some Mexican restaurants. Do yourself a favor and go pick up Herdez Salsa Mexicana ASAP!
2. I've also discovered my new favorite peanut butter. I picked up Trader Joe's Crunchy Salted PB with Chia & Flax Seeds on a whim a couple of weeks ago, and finally broke into the jar on Tuesday. It will NOT last long. I just love the extra crunch from the chia and flax!
3. Last Friday my coworker Madison brought Doughboy Donuts into the office. I wasn't up for a donut, but I did take one home. I'm so glad I did because on Tuesday evening, I was totally craving it. I enjoyed it in bed with my latest book, and it was perfect. I didn't restrict myself and say that the donut was 100% off limits, but instead took it home and waited for that right moment. That perfect happy medium.
4. I tried – and really enjoyed – a new-to-me restaurant on Wednesday. The Tap Trailhouse in Faneuil Hall apparently used to be a divey spot called The Tap, but it was recently re-done into a tavern-style place. I've been meaning to visit for awhile and it turned out to be a perfect central meeting spot to have mid-week dinner out with Allie. I didn't take any photos aside from my impressively well done Manhattan because I was enjoying girl time, but I shared the pretzel sticks with her and ordered a salmon entree special with a side of the restaurant's signature Boston baked beans. Plus, I had more than my fair share of Allie's burger. Everything was great and I'd absolutely recommend The Tap Trailhouse – and plan to return myself!!!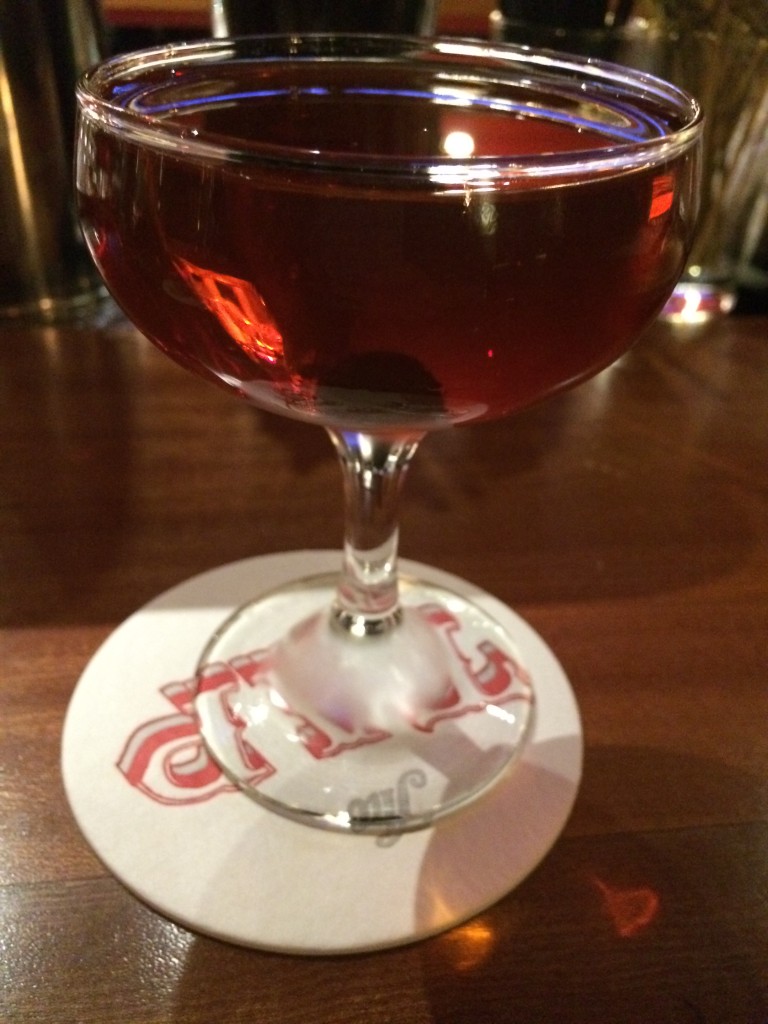 5. Rice cakes are crack. Not plain rice cakes. I've been doing it all wrong this entire time. No, I mean the flavored rice chips and cakes, most specifically from Quaker. Last week I went for the Cheddar Cheese Popped Rice Crisps, and easily finished the bag in a few evenings. SUCH an awesome snack dipped into my favorite chive cottage cheese. And this week I polished off a sleeve of the White Cheddar Rice Cakes, which I think I prefer only because they go slower 😛 next I'm all about trying the Buttered Popcorn Rice Cakes. I love snacking and something low-calorie like rice cakes are perfect for me, because when an evening snack attack hits, it's hard to resist and also sometimes hard to stop!
OK, gotta run and pack for my big weekend in CT (writing this post on Thursday evening). I hope everyone has a great weekend!
Any good foodie finds you want to share?
Any recipe wins this week?