A Kind 26th Birthday
I'm glad you guys seem to be enjoying my cruise recap! I neglected to mention the super-cool way I got to the airport – via a new-to-me car service called Blacklane! They approached me asking if I'd be interested in trying them out and sharing my experience (so full disclosure, yes it was free). For what would have been $50-something, a black Mercedes came to pick me up super-early Friday morning to take me to Logan. The driver was polite, on-time (early, in fact), and kind enough to offer me travel snacks! The car was pretty baller, and extremely clean. I don't think Blacklane is for me if I want to just get somewhere for something everyday (or night). But if I was trying to show up somewhere in style, it would be a great affordable alternative to your typical towncar service!
So I would consider my 26th birthday celebrations to have begun on Saturday 3/21, the day before my actual birthday on the 22nd. I was supposed to come back to Florida on Friday the 20th, but I woke up that morning knowing I wasn't ready quiiiite yet to go back to the still-frigid Boston temps. So I got my flight switched to the next day, and ended up travelling back on Saturday.
Some of you may have read my post about something I've been practicing – using my kind voice. I'm pleased to report that I used my kind voice during all of my birthday celebrations, and had a wonderful, no-regrets birthday because of it! I first started using it on the plane ride back, when I made a few decisions. Firstly, I decided not to have a drink on the plane, NOT because of the calories in the drink, but because I knew it'd make me drowsy for the big night out I had planned. And secondly, I decided to snack on the peanut M&Ms from the Blacklane car on the plane, because I was hungry and snacking on an airplane is just so satisfying.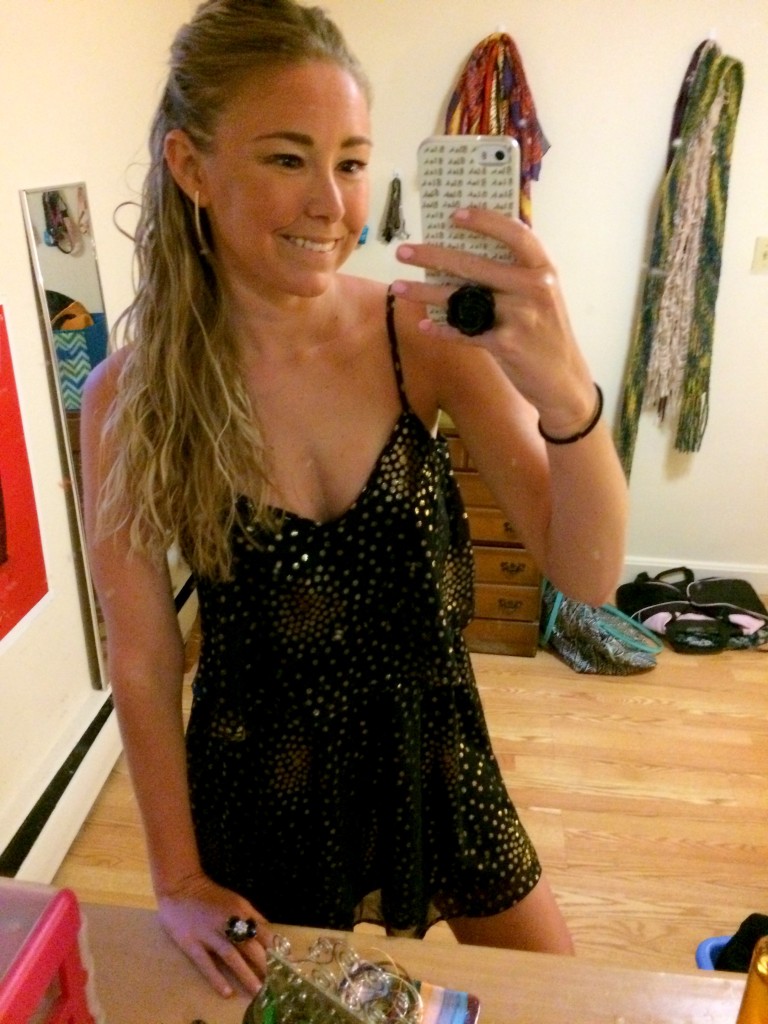 My flight was delayed so I got ready at epic speed. I decided I wanted to feel fabulous on my birthday, which meant a breezy dress and heels. Since the temps were so low, I treated myself to Ubers and cabs all night. Another kind decision, and one that enabled me to wear an outfit that made me feel confident all night.
I started the night at Citizen for one of my favorite cocktails in Boston, the Ideal Manhattan (Marker's Mark, St. Germain, Cinzano Rosso, Angostura Bitters, Grapefruit Bitters). Plus some one-on-one time with my great friend Emily. I also got to see Laura, one of the best bartenders I know (and also a friend/blogger!), and tell her about my trip!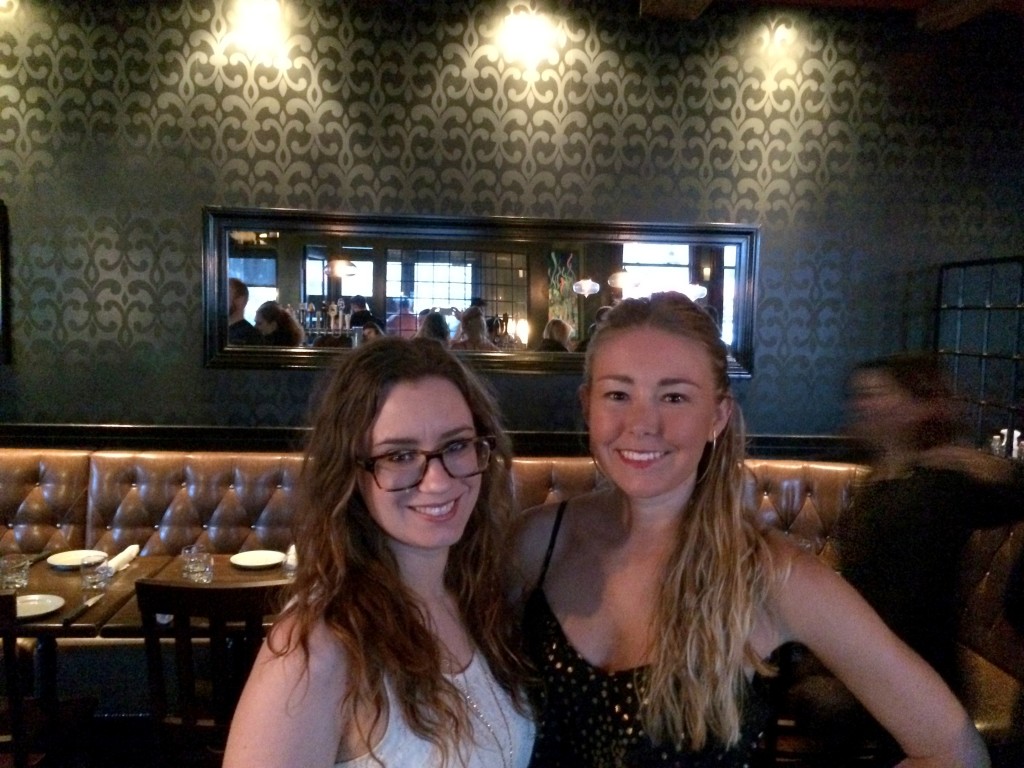 Then we went to Eastern Standard to join the rest of a big group for dinner. I'm sure it's a surprise to no one that I selected that spot! My kind voice stepped in and squashed any hesitation I had about ordering the calamari. I had been craving it for a couple of weeks, and the one time I ordered calamari on the cruise I have to say it was god-awful, so I ordered that calamari and I barely shared it with anyone. No regrets.
Some other kind decisions I made at dinner…only ordering one drink, because two Manhattan-style cocktails will make any girl feel a bit woozy and I had a long night ahead. Ordering salmon because I love it, but not finishing it all because I was totally satisfied. Enjoying a bite of bread pudding, but no more than that because again I was satisfied, and knew that if I ate any sugar, I'd get too full and I'd crash and never be able to make it out to continue that aforementioned long night. Plus I'd rather eat late night food than dessert any night (which is exactly what I did later).
Jeannie also made me feel super special by calling ahead to the restaurant and ordering a glass of bubbly for the table! The waiter greeted us with it when we arrived, and then we all had a birthday toast. That's just the kind of thing that is SO fun on a birthday and I truly appreciated the gesture from Jeannie!
Some of the group took an Uber to a place I've really been enjoying lately, Highball Lounge. The last time I went there on a Saturday night the vibe was so alive (as cheesy as that sounds) and I wanted to experience that again!
My friends and I played board games (a little), sipped Rose (a fair amount), and laughed (a ton). It was a great night out! And I didn't even drink as much as I do on other nights I go out, not because I was holding back, but because I just was having fun playing games and chatting and taking photos with my friends.
I slept fairly well, woke up on my actual birthday, and decided to lay around in bed longer than I usually do (and catch up on Revenge).  Then came time to decide – to gym or not to gym? I wasn't hungover, and decided that I'd enjoy the rest of my day a whole lot more if I went for even half an hour. So that's what I did, and I left totally satisfied. I did have some more productive things I had to do – laundry and grocery shopping – but I did them because I knew how much easier my week ahead would be if I did! And then at 4PM, the fun began.
Allie texted and invited me to do something fun for my birthday so I suggested we meet up at Drink for a cool cocktail since I hadn't been there since before I lived in Boston. It didn't disappoint!
Then we decided to go across the street and have dinner at Pastoral. The food was to die for, as was my Negroni! We feasted on Brussels sprouts, roasted cauliflower, and a life-changing sausage and ricotta stuffed roll. I also had some tasty octopus and beans.
And THEN we decided to keep the night going, because I wasn't ready to be done with my birthday despite having work the next day. So the kind decision was to allow myself to not be done, and go to our next stop, the cigar bar!
We sipped Malbec (Cigar Box, how fitting), had a great heart to heart, and accepted free drinks from various cigar bar patrons. An hour before we ended up leaving, I made the kind decision to decline offers for more free drinks, and switch to all water. And that's probably why when I woke up the next morning, I felt well rested thanks to good sleep, and not hungover either, despite being out from 4-11PM!
Overall it was a great and kind birthday that left me feeling happy, relaxed, and thankful for the people in my life here in Boston that made the weekend so fun for me. I'm happy that I let myself eat and drink exactly what I wanted, work out exactly how much I wanted, and most importantly just do what I wanted without worrying too much about…what I was doing!
What did you do to celebrate your last birthday?
Do you ever allow yourself to stay out late on a work night?