Marathon Monday 2015!
This past Monday was the most special day of the year in Boston – Marathon Monday! And despite crappy weather, this was undoubtedly the best one I've experienced (though it was only my second – read about my first here).
I got a half day at work and met up with my friends Nicole and Eric to hop the T to Kenmore, where I also spectated last year. It's a great spot because that's mile 25.2, and seeing the runners as they enter their last mile is so exciting. I saw some pick up the pace, I saw some just do their best to keep up a jog, but what I saw most of were smiles and faces full of excitement and anticipation to cross that finish line. It almost made me want to run a marathon! Almost.
Last year I missed my good friend Jeannie running by, and this time I was determined to catch her! I met up with her mom and we both tracked her via text alerts. We got the notification that she'd hit the 40K mark and knew she was almost to us. When she rounded the corner, I felt so excited! So I can only imagine how she was feeling.
We had told her we'd be around Kenmore watching, so she knew to look for us.
Jeannie ended up PRing by almost 20 minutes! She absolutely killed it in her 4th Boston Marathon – congrats, Jeannie!
Nicole and Eric had to head home after that, and Jeannie's mom went to go find her at the finish, so I ducked into Eastern Standard (of course I did), where I knew I had friends hanging out inside.
Marathon Monday is not only an inspirational event of athleticism and strength, but it is also one big party here in Boston. The Sox had played that morning and Eastern Standard was full of Sox and marathon watchers drinking and eating off a special Patriot's Day menu that included brunch items. SIGN ME UP.
The vibe in ES was just awesome and it felt like a Friday night in there! Well, minus the daylight.
I received a text letting me know that Jeannie's marathon after party was going to be held at Tavern Road, which is owned by one of her best friends, Chef Louis DiBiccari. I was psyched to continue celebrating with her and her mom, as well as her boyfriend and roomies (one of whom is my good friend Allie).
We all shared a bunch of snacks, and I ordered my own mini burger, probably one of the best I've ever had thanks to the small batch bacon adhered expertly by smoked cheddar to the meat.
It wasn't long though before Jeannie's feat caught up with her, and it was her bedtime. Not for Dan, Allie, and I though. We ran no race, and decided to head to the cigar bar to keep the party going.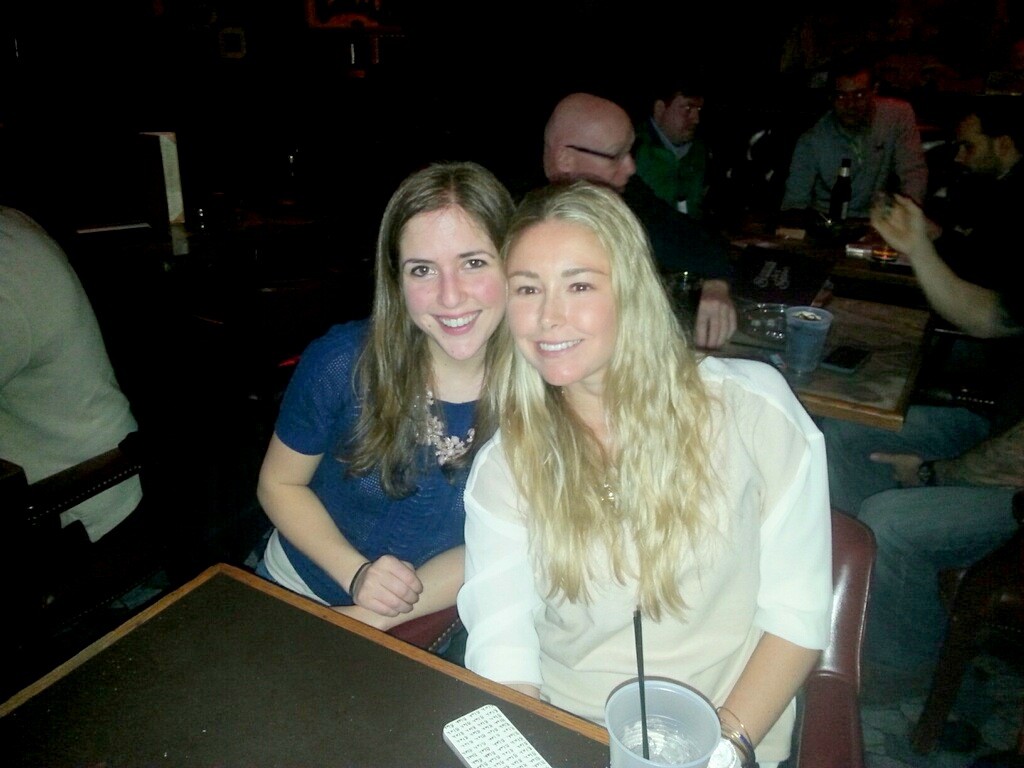 I got home, took a shower (my second of the day, but much-needed post-cigar bar), nommed on veggie chips and sipped water, and watched Parks & Rec…or about half an episode, because I fell asleep. I guess I finally got tired!
I really enjoyed this Marathon Monday for a couple of reasons. Firstly, I was still riding high off my spontaneous and fun weekend, and wanted to keep that relaxed vibe going. I tried not to think too much about what I consumed, or if the 35 minute workout I'd done before work that morning was enough to give me the right to enjoy any of it. Instead I focused on the sparks in the air and the celebratory mood of the city and my friends.
Secondly, I'm so glad I got to see Jeannie pass by this year.  She just did so great and I'm glad I got to witness her 20 minute PR in action!
And finally, when I think back to last year, I realize that I wasn't exactly at home yet in Boston. This year I had more friends to see, more places to go, and just felt overall more connected to the city. I don't think I will live here forever, but when I compare this Marathon Monday to 2014, I see that I am so much more comfortable with living here, and with myself as well. There's nothing like a yearly milestone to bring these realizations to the surface!
Did you celebrate Marathon Monday?
What kind of milestones make you stop and reflect?