Dr. Praeger's Veggie Burger Zucchini Boats (GIVEAWAY!)
Thank you all for your awesome feedback on yesterday's post! The advice I received definitely helped remind me last night at an event to stick to a couple of glasses of wine and just Go. Home. once I was done. As a result the event did not exhaust me and I'm also happy about the fact that I have no plans the next three nights! Maybe something will come up, maybe it won't, but I know that tonight I'm staying in and making meatloaf. Party! And now, on to today's post, and a necessary disclaimer…
I received veggie burgers free of charge from Dr. Praeger's. This is not a compensated post and all opinions are my own.
I'm no vegetarian, but I love plant-based products, including veggie burgers! Dr. Praeger's recently reached out to me to see if I'd like to try out their new Super Greens burgers, made with teff, hemp, collard greens, kale, swiss chard, and quinoa. Yes please! I love having veggie burgers on hand in the freezer to either use in recipes or eat by themselves.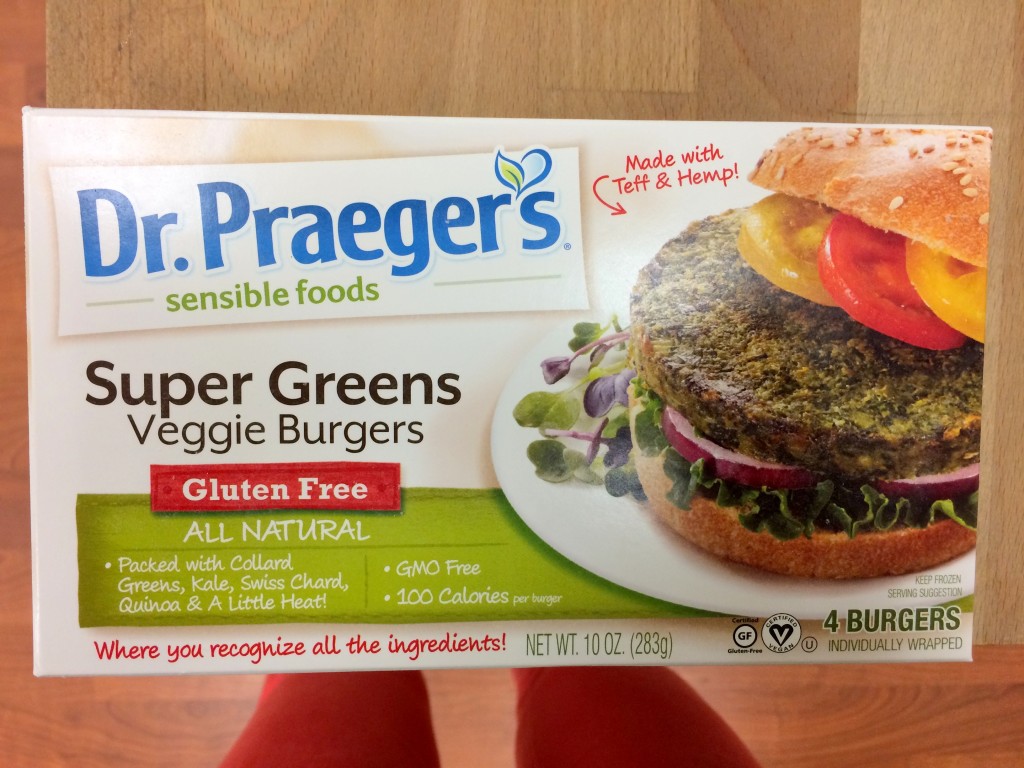 I'd been meaning for awhile to make zucchini boats and decided to just alter my original plan to use ground turkey. I could easily sub in the veggie burgers!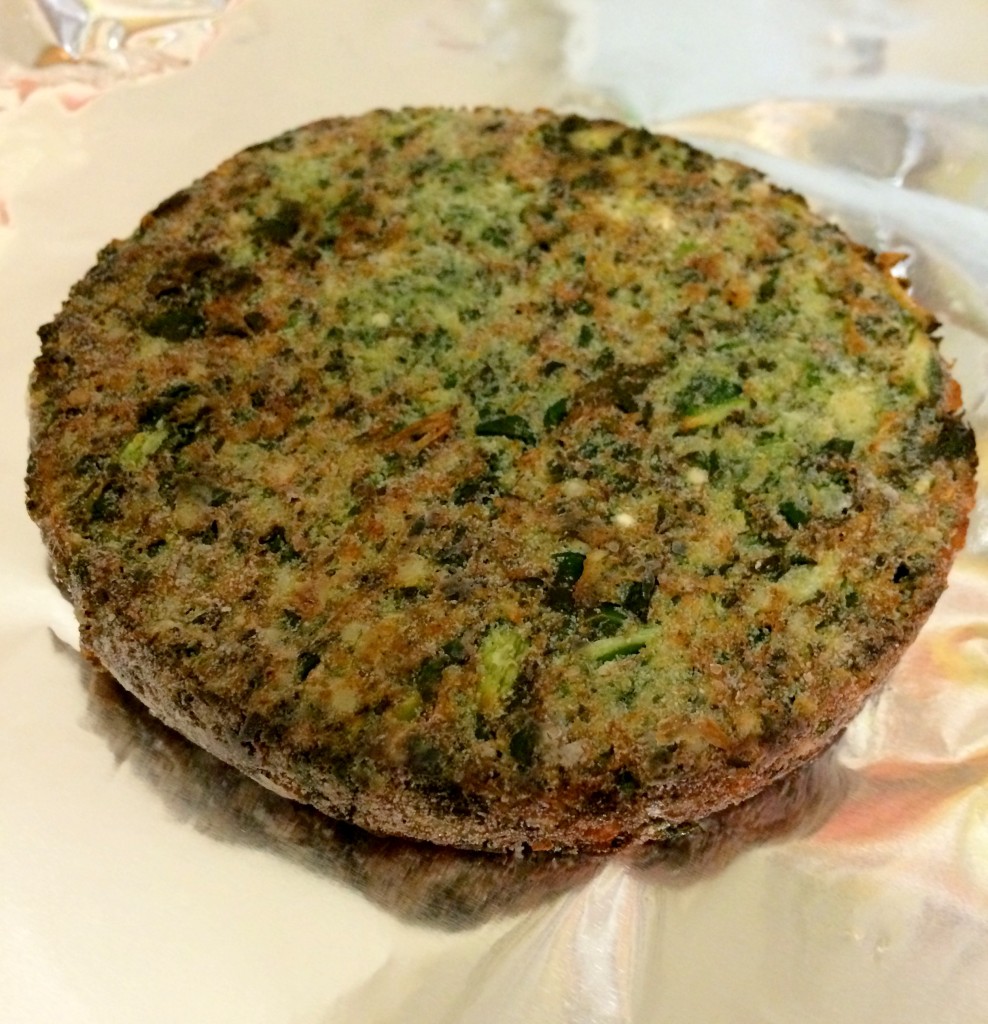 At first I was a little put off by the green appearance of the burgers, but as soon as I heated them in the microwave, a delicious smell filled my apartment and my doubts were replaced by excitement! And they tasted as good as they smelled. I'm so glad I have more to use in another recipe in the future!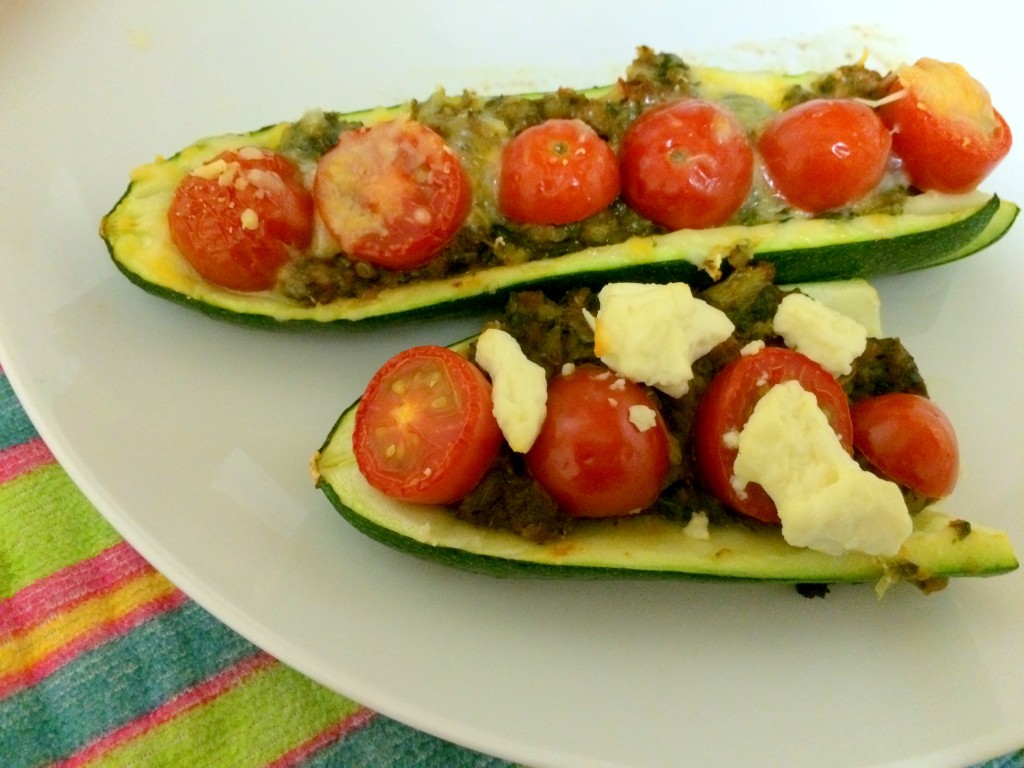 Veggie Burger Zucchini Boats
(or as the funny folks who run the @DrPraegers Twitter account called them, Zucchini Yachts!)
Ingredients:
2 Zucchini (or 1 for every 2 boats you want to make)
Grape tomatoes (chopped in halves or thirds)
2 Dr. Praeger's Super Greens veggie burgers
Pasta sauce
Cheese to sprinkle on top (any kind – I used a mixture of shredded Mexican blend and feta, because I ran out of the former and wanted moaaaar cheese)
Salt and pepper (to taste)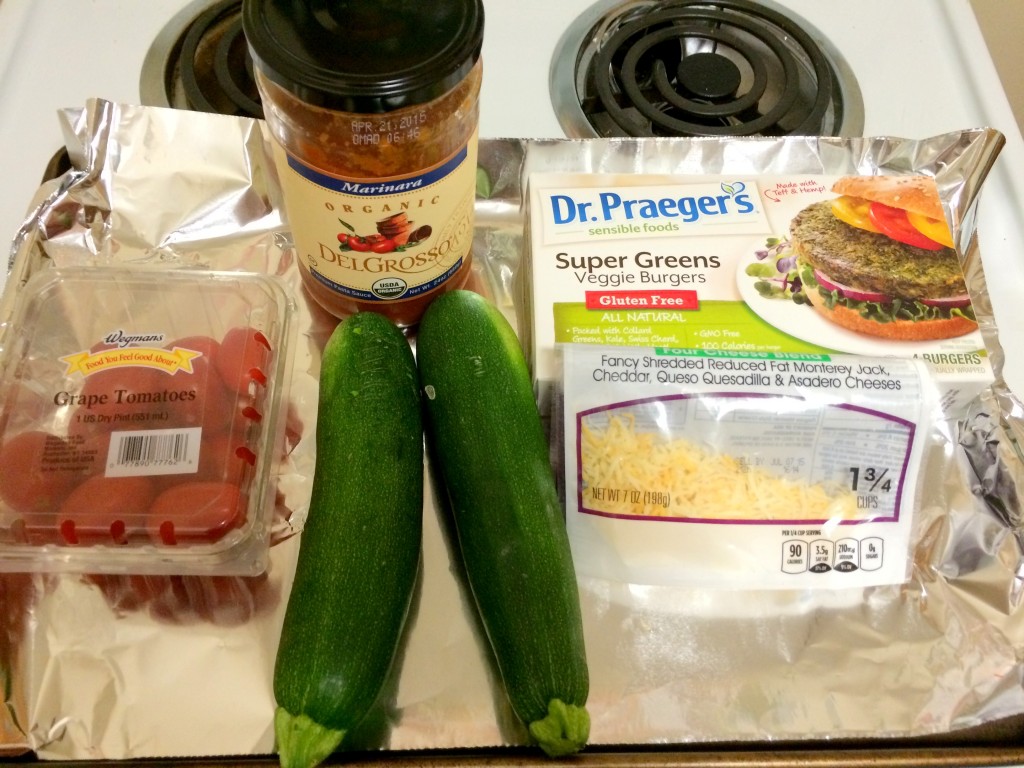 Directions:
Preheat oven to 350 degrees (F).
Wash each zucchini and then cut in half. Making the boats wasn't my strong suit (as you will see from the fact that one kinda fell apart and the right hand side of the pan is filled with zucchini that never made it to boat-hood) but the method I used was to cut out the middle best I could with a knife and then use a spoon to scoop out any extra.
Heat the veggie burgers in the microwave. The box's instructions said to heat them for a certain amount of time and then flip over, but I didn't find that I needed to do the flipping.
In a bowl, use a fork to mash up the heated veggie burgers. Add the pasta sauce and salt/pepper
Lay boats out on a sprayed pan (or top your pan with foil and spray that, as I always do…saves a dish to wash!) and carefully fill each with the veggie burger and pasta sauce mixture. I tried using the fork I used for mashing but in the end, using my fingers worked best.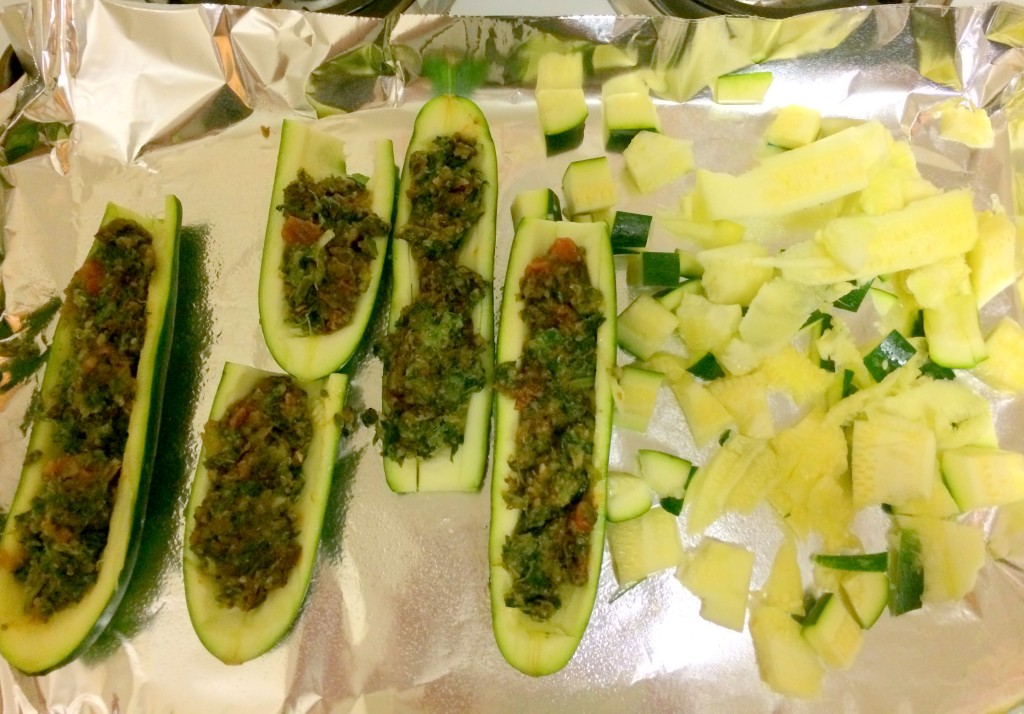 Carefully top each boat with sliced grape tomatoes and cheese.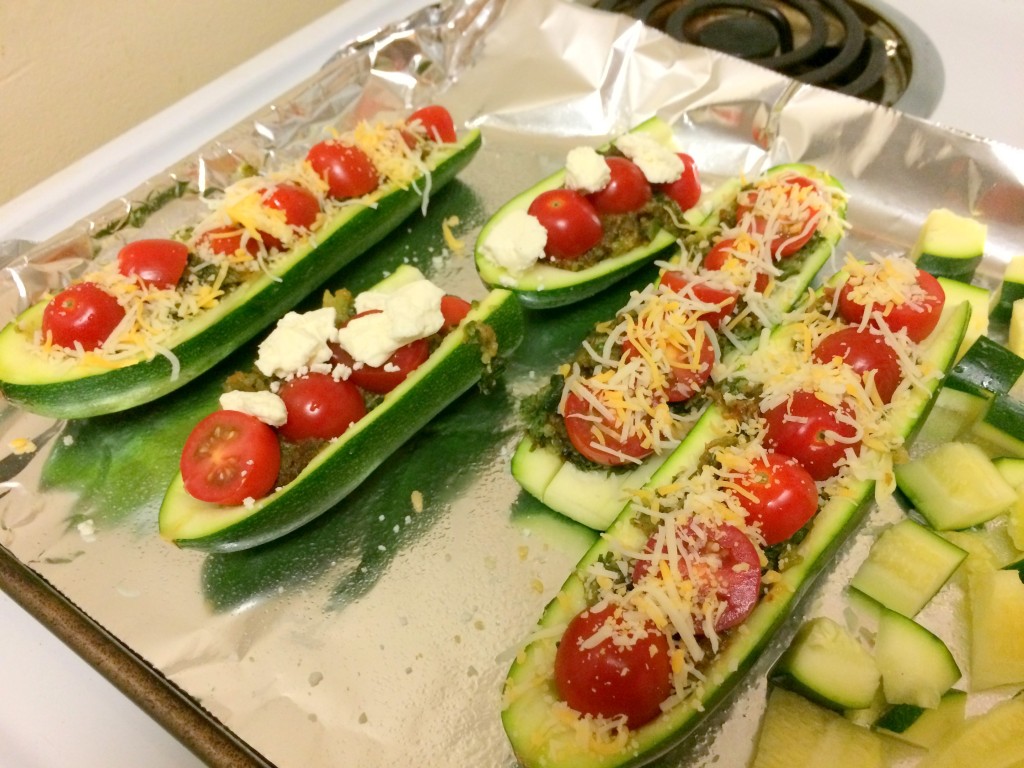 Bake for about 30 minutes, or longer if you want your boats more "done". Then grab a plate and set sail!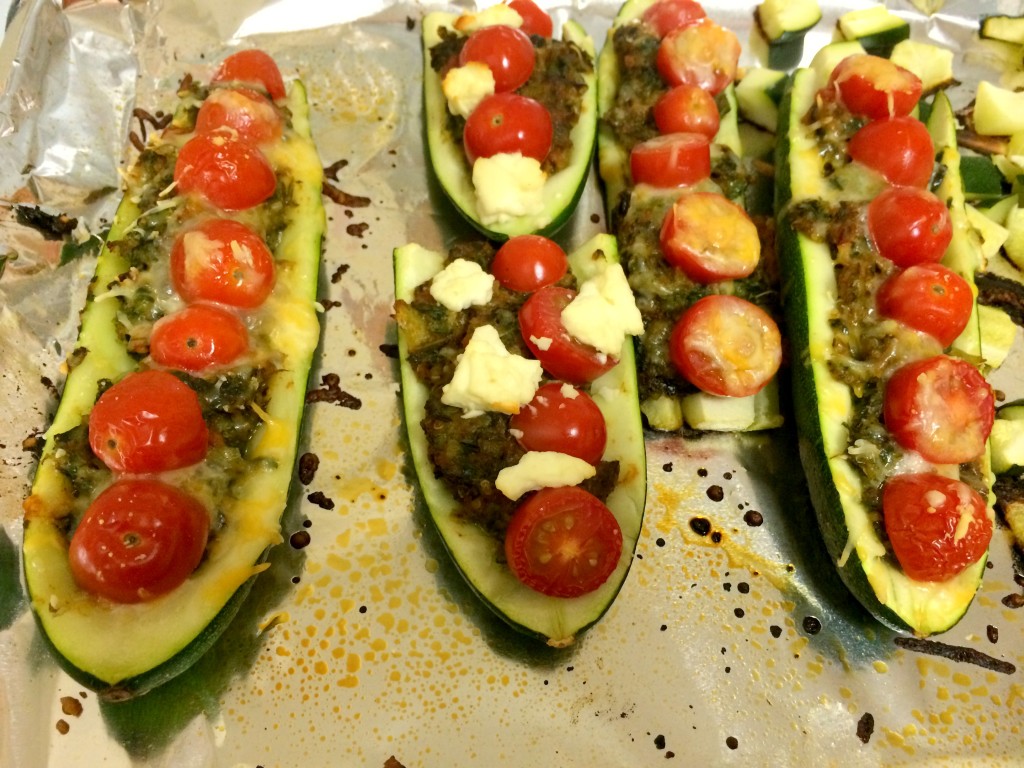 I did not intend to eat every boat that I made, but I ended up doing just that! This meal was super easy to make and is the perfect dinner to prepare when you're short on time but don't want to fall into the takeout trap. The veggie burgers really tasted wonderful – and FYI greens-averse folks, you cannot taste the greens at all.
GIVEAWAY!
Dr. Praeger's is giving one of my readers the chance to win FIVE free Dr. Praeger's product coupons! I will randomly choose a winner, and entries close on Thursday 5/14 at 11:59PM. There is no purchase necessary to enter, and there are a few different entry methods. Be sure to leave a comment for each one, or multiple entries will not count! To enter you can:
Leave a comment telling me your favorite ingredients to find in a veggie burger. (mandatory)
Visit my Instagram of the zucchini boats, like it, and comment here to tell me you did.
Tweet "I entered to win Dr. Praeger's veggie products from Cait Plus Ate! http://caitplusate.com/?p=13984" and comment with the link to the tweet.
Thank you to Dr. Praeger's for the chance to try the Super Greens veggie burgers, and for giving a reader the chance to try them too. Good luck, all!