Two Islands, One 4th
I hope you all had a great 4th of July weekend! I first want to start by thanking any readers who gave me positive feedback in response to my recent #TransformationTuesday Instagram. I've definitely been feeling some self doubt since getting back from four days in one of my favorite places – Newport, RI. But this summer has been so much fun so far and I'm glad that I've embraced every opportunity I've been given to enjoy myself…especially given the winter we had.
My family has been going to Newport every summer since we moved to New England. And as of a few years ago, I've started taking my own trips with friends, because one Newport visit per summer is not enough. Here are some previous Newport posts from this blog:
Recently my parents got a timeshare for the 4th of July week, right in the city's downtown. It's awesome to be able to arrive, park the car, and not move it for the entirety of our stay! Newport is the largest city on Aquidneck Island in Narragansett Bay. And on Sunday, my family took the high-speed ferry to Block Island for the day. Hence the title of this post – two islands.
I got into Newport on Friday afternoon, before my family even had arrived. But that was all well and good because one of my friends from Boston, Sean, was actually hanging out at the fabulous Forty 1 North (right by our timeshare). So I jetted over there to grab some lunch and drink copious amounts of the delicious Whispering Angel Rose.
Later that day after my family arrived, I took my Nana Connie back over to Forty 1 North to show her the awesome views and have a snack. I stuck with the rose, she had Prosecco, and I fed my current calamari addiction.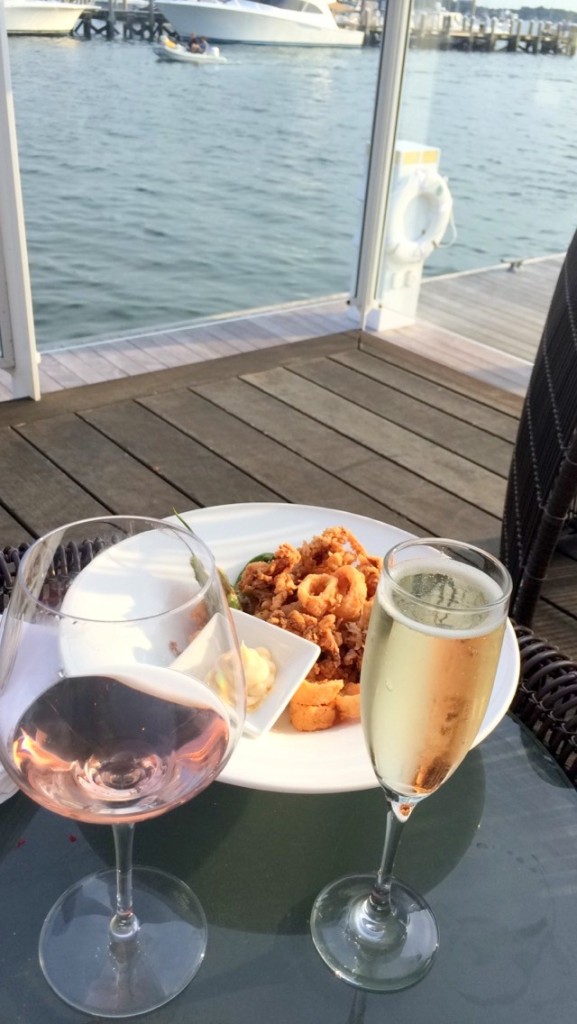 Unfortunately my next visit to Forty 1 North, on the evening of the 4th, was not so satisfying. I headed over with my parents to check out the DJ and ordered a glass of rose. A few girls asked me to take a photo of them, so I set my 50% full glass down for what I'd say was about a minute. When I looked back, it had already been swiped by a bus boy! I headed to the bar and stood there for about 15 minutes waiting to ask for another glass, but a bartender wouldn't give me the time of day. When I went to the manager and explained my situation, he was very unsympathetic. My parents wanted to leave, so I asked if I could come back the next day for a rain-check glass. He said that "wasn't really how it worked" but took down my name, number, and email address and said he'd call me to arrange another time for me to come in. But I never heard back. I'm sure that what I spent there over the weekend was chump change compared to the hundreds of dollars that people spend on bottles of expensive champagne and lobster, but the experience left me with a bad taste in my mouth and I'm not sure if I'll ever return during future Newport visits.
Every other restaurant I visited, however, was awesome! I tried out some new places and saw old favorites too. The family was into staying on our deck to grill and drink, but I just have to explore and experience as much as I can when I am in Newport, so I took a couple of solo dining trips. My first was a return to Stoneacre Pantry, where I sat at the bar and had the same amazing salad I had last year, the kale salad with miso-Caesar dressing, chicken confit, and lemon zest. Plus a really cool cocktail of half dry, half sweet vermouth.
My second solo trip was to a newer restaurant I'd never been to before, Revolving Door. The concept is really cool – guest chefs rotate through the kitchen. And the current chef just so happened to be from Max Downtown! I visited the restaurant on my last night in Newport. My family was going to grill out but I wanted to stop by for a fun cocktail and a snack. I got just that – a fantastic fresh tomato salad with burrata – as well as a really well made Vieux Carre. Plus I finally started the new Sarah Dessen book…now I just have to find time to get beyond the first two chapters.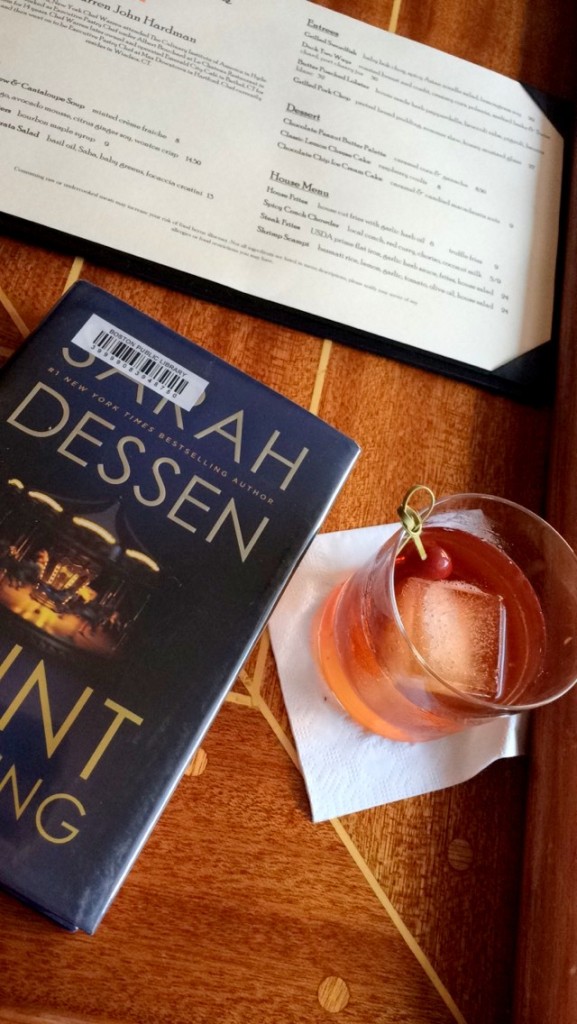 I didn't take a ton of photos on this trip because I was too busy enjoying myself, and truthfully wasn't sure if I'd end up even writing a post on the weekend. But other restaurant visits that went undocumented included dinner at Diego's (my favorite restaurant in Newport) on the 4th, lunch at The Landing that day as well, dinner at The Red Parrot (brother's choice) on the night we arrived, and "last lunch" at O'Brien's on my last day in town (sister's choice). My family doesn't like going out to eat as much as I do so when restaurants are my priority, I must compromise with choices sometimes!
Now onto the trip to Block Island. I was a brat about this trip once I heard about it. I have only been to Block Island a couple of times and the second trip was just an awful experience. I couldn't understand why my family wanted to leave amazing Newport to spend a day there. Well, I was totally proven wrong. The ferry ride was super easy (left from a dock within walking distance of our timeshare), spending the day with my family was simply awesome, the beach was so fun, and we had what was probably my favorite meal of the trip simply because the company at lunch was so great. Plus I left the island with a new Lilly Pulitzer dress, so that doesn't hurt either! Hannah, if you're reading this…you win.
Oh yeah, exercise in Newport. Meh. I took a spin class the morning of my departure from Boston, and I'm so glad I did, because I did NOT feel like working out during this trip. The morning of the 4th I set out to run about 4 miles and ended up cutting it to 3. I took Sunday off because we had to wake up pretty early to catch the Block Island ferry and I was beat when I got back. I did some walk/running on Monday. I had time to work out more, but ugh, I just really did NOT want to. At least I got some running in and am starting to get my body used to that form of exercise again…more on that later.
I had such a wonderful weekend in Newport and was so happy to have my entire family, including my Nana Connie, there with me. And this coming weekend Nana is coming to Boston to visit before she heads back home – I can't wait!
Did you travel for the 4th of July weekend, or stay put?
Do you ever take solo dining trips?
Have you ever had a bad restaurant or bar experience, and how did the establishment handle it?