A Florida Birthday
March 22nd was my 27th birthday and I truly felt like the celebrations lasted for days and days. Jeff took me out for a great birthday dinner in Boston the Friday before, and I also visited one of my favorite bars with a ton of friends for an epic night out on Saturday. But I spent my actual birthday in Orlando, Florida with my family and Jeff.
No Florida birthday is complete without Publix cake, or a heavy dose of Lilly Pulitzer. My brother and sister gifted me a Lilly wine tote and stemless wine glasses, and my family gifted me my favorite white cake with white icing.
The Lilly glasses were perfect poolside, since no glass was allowed. And I obviously had 90+ Cellars Rose shipped to the hotel prior to my arrival, so that I'd have guaranteed-good wine for my trip. (I seriously think our rose is amazing. Not just saying it.)
Speaking of pool, you may be wondering why we vacationed in Orlando, and probably assume a theme park or two had something to do with it. Well, not for me.  I am not a fan of theme parks at all. Too many kids, the lines are too long, and everything is too expensive. But we have a timeshare at the Sheraton Vistana Villages, so that's often a destination for us. Orlando traffic is awful and the timeshare provides a welcome haven from the packed roads outside the gates. Restaurant…pool…room with a deck and kitchen…what more could we need?
But we did venture out a few times from the timeshare grounds – mostly for food. Most notably on my birthday, Jeff and I were treated to lunch by the very generous Seasons 52. The new spring menu happened to launch on that exact day, and Orlando is the home of the chain's original location, so I couldn't think of a better place to go.
Jeff ordered a drink new to the cocktail menu, a Lime Gin Rickey, and I had to get one of my own. It was the perfect warm weather day drinking cocktail…refreshing, light, and not-as-obviously-dehydrating. I only wish it came by the pitcher.
I love the thin and crunchy crusts of the Seasons 52 flatbreads and am always excited to see the new ones they roll out. The asparagus and prosciutto offering did not disappoint. Jeff and I both marveled at the rich, creamy cheese which paired perfectly with the other toppings.
Seeing as it was a birthday, we decided to go all out with a few rounds of food. After the pizza Jeff got a bowl of turkey chili, and one bite immediately gave me food envy.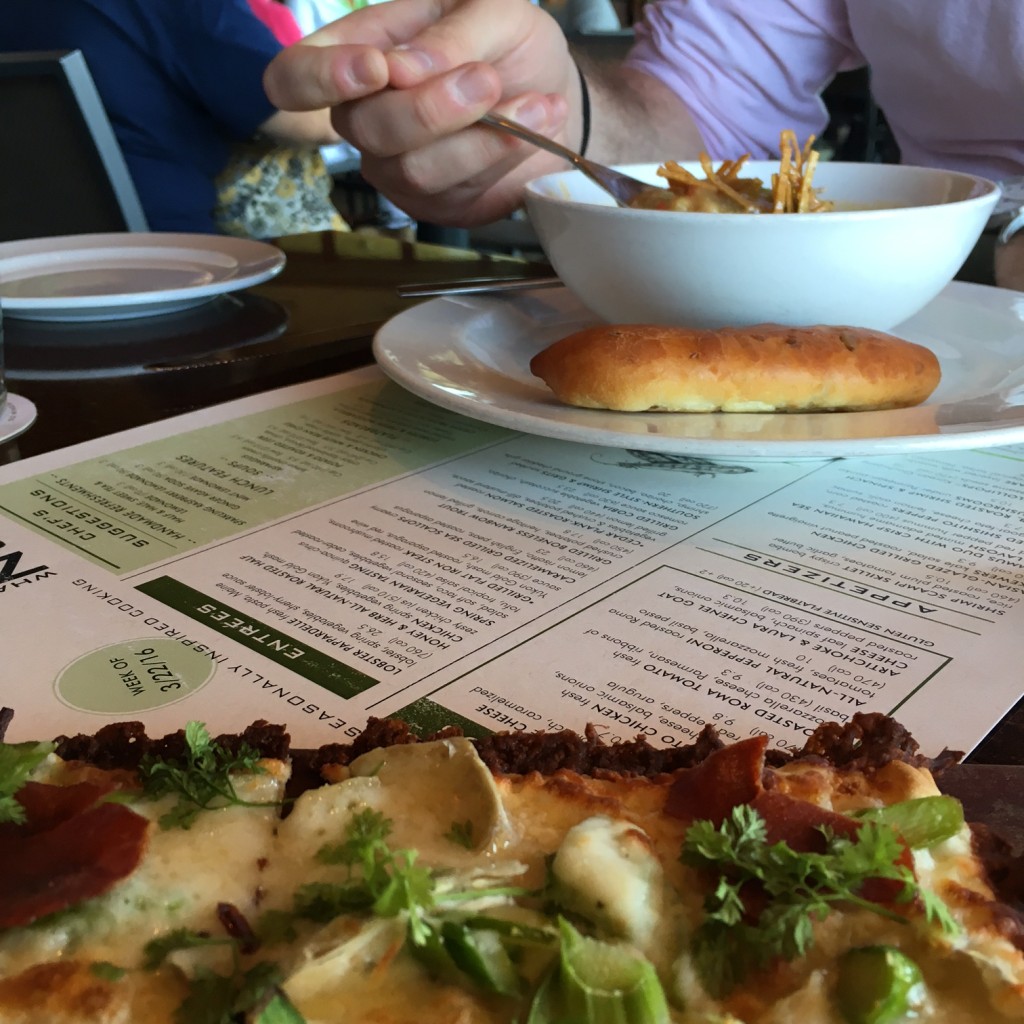 I opted for the shaved kale with a sweet Thai dressing and peanuts. Sometimes raw kale is too much for me chewing-wise but the shaved version is always easier to work with. I loved the mason jar presentation and while I don't normally go for Asian-style seasonings and flavors, I couldn't deny how well the sweet dressing paired with what would normally bitter kale. They balanced each other out very well.
I had major menu decision anxiety and attempted to alleviate that by ordering two smaller plates, the blistered-tomato & mozz and the crab cake.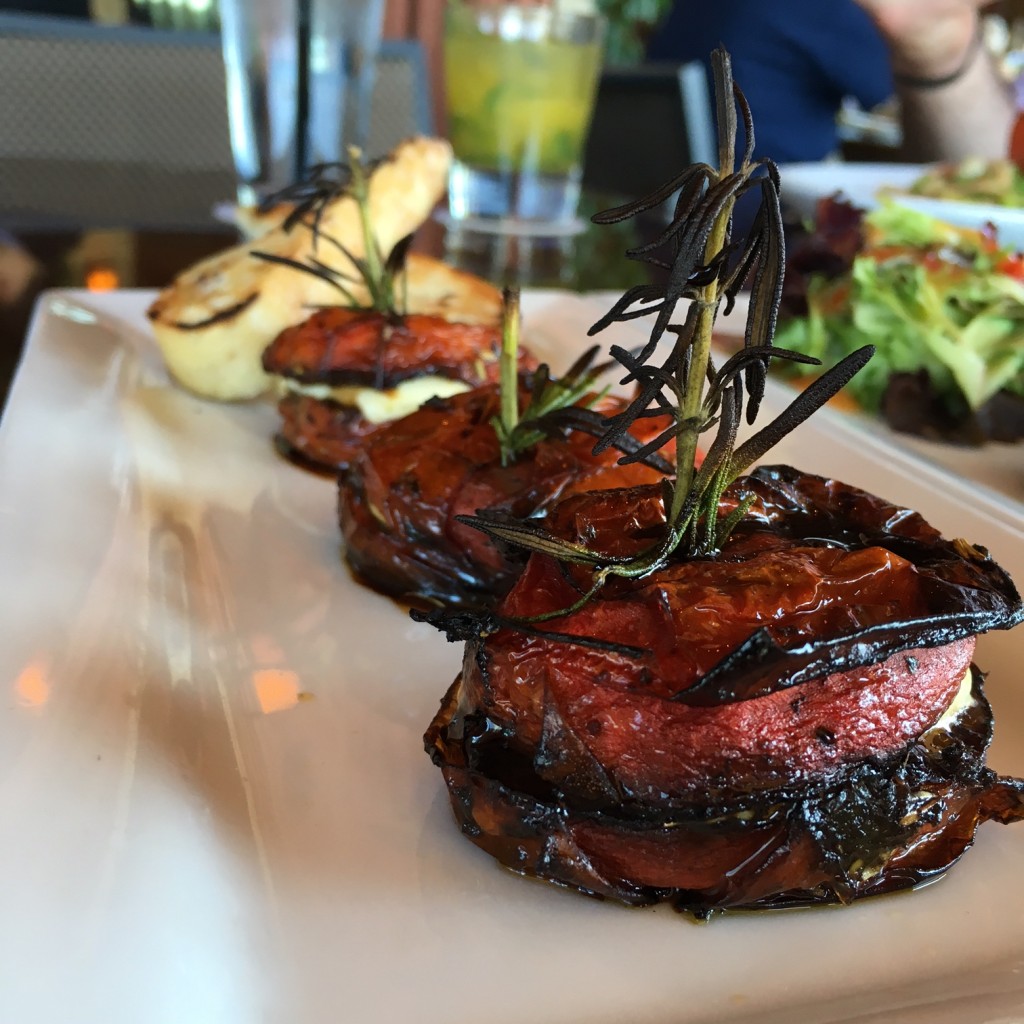 I loved the tomato & mozz presentation, as well as the balsamic drizzled grilled bread that came with the dish, but wasn't quite sure how to go about eating it. I started with a fork and knife but ended up taking each "sandwich" apart and using the tomato and cheese to adorn the bread, almost like mini pizzas or bruschetta.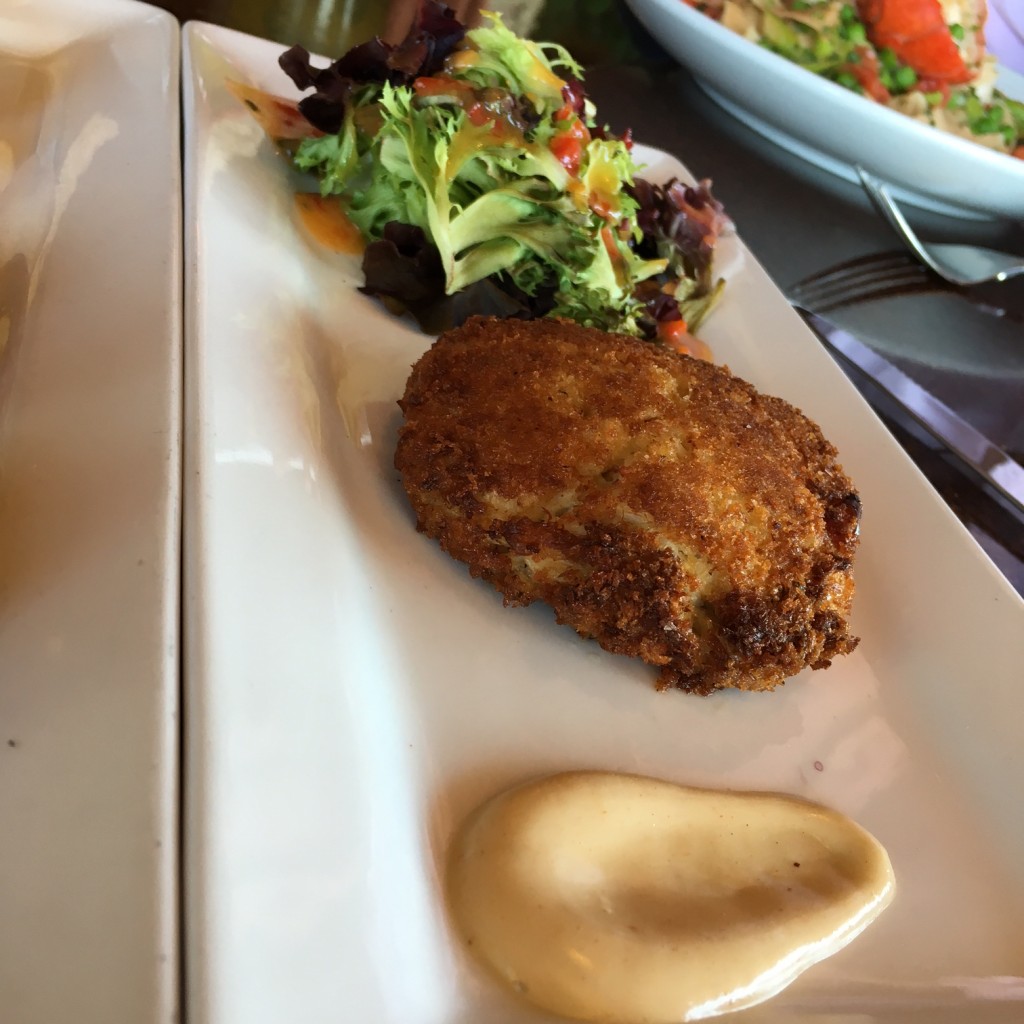 I wish I had taken a photo of the inside of the crab cake, which was full of fresh crab and barely any filler. The crispy exterior almost makes it look like there wasn't a lot of crab in there, but trust me, there was! The side salad went well with it too.
Jeff ordered a lobster pasta dish and was pleasantly surprised to find an entire lobster tail sitting on top! I myself was a fan of all the green in there – asparagus and peas. This dish definitely screamed spring.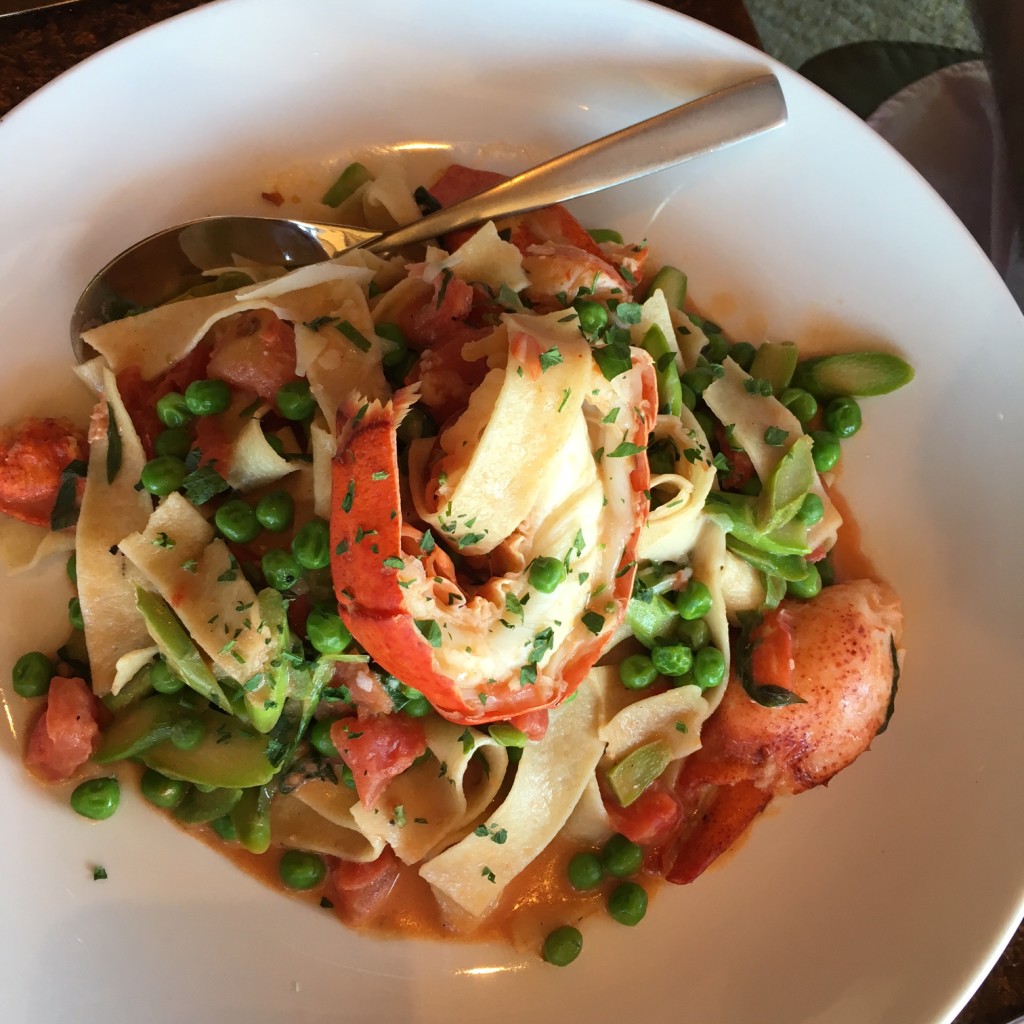 No visit to Seasons 52 is complete without a mini indulgence (or three), especially on a birthday. I opted for the brand new one, in the spirit of keeping the spring menu sampling rolling. That would be almond cake complete with a little shot of Disaronno! This reminded me of pound cake, which I used to LOVE as a kid, so it really took me back.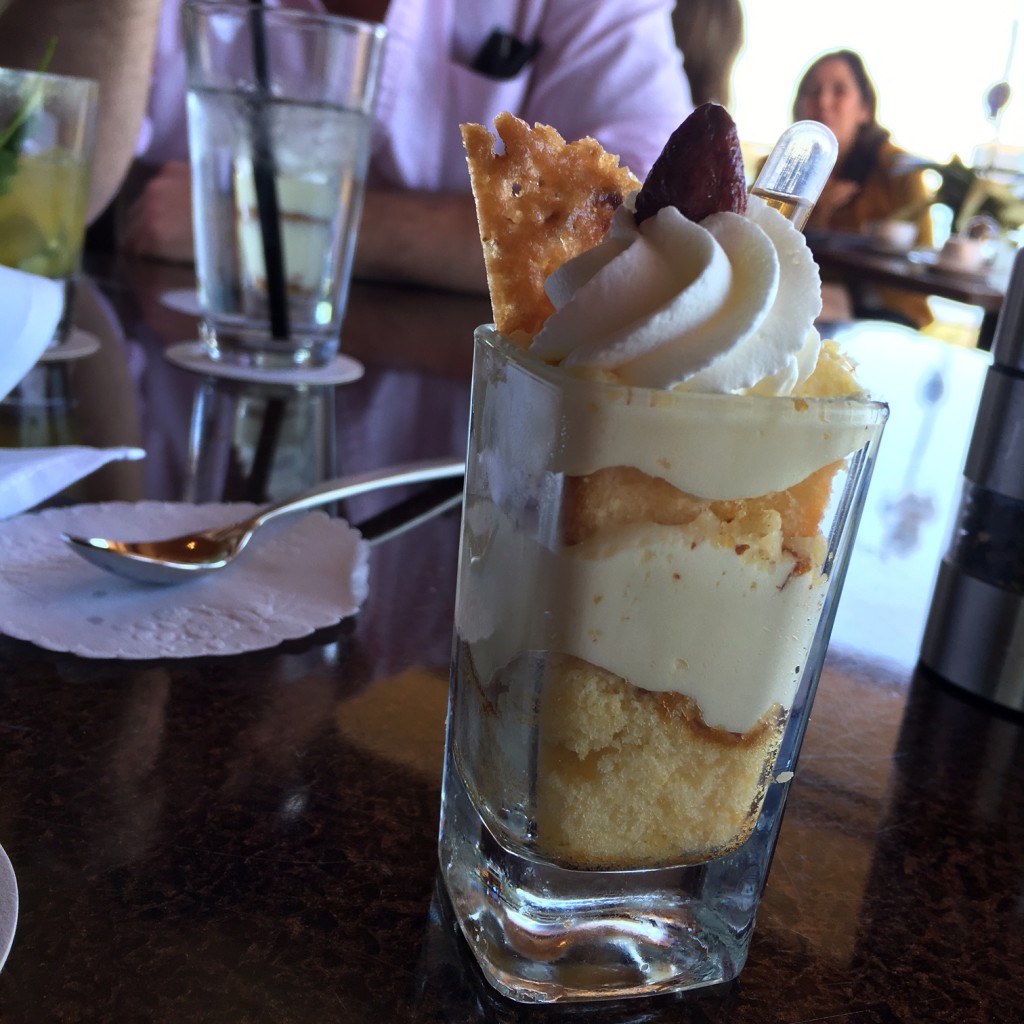 Jeff and I had a few great meals in Florida, but I would definitely one of the most delicious was Seasons 52. The new spring menu is awesome, and old favorites are still there as always. I will always recommend this restaurant if you can find a location near you!
I received a complimentary lunch at Seasons 52 on my birthday, but all opinions are my own. I've loved this place for awhile now!
Have you ever spent a birthday away from home?
Do you tend to go with familiar restaurants you love while travelling, new restaurants, or a mix?