Cooking Classes at Tavern Road
Though I received this experience free of charge, all opinions are my own.
Though I haven't been writing too much lately thanks to an issue with my comments (they all disappeared and I'm not sure where they went…has this ever happened to anyone else?), that doesn't mean I haven't had anything to write about. I've got a few upcoming posts planned, sharing both fun events I've been to and some cool stuff I've got coming up. This post falls into the former category. Last month, I got the chance to try one of Tavern Road's new cooking classes with my friends Matt, Georgina, and Jeannie. Not a bad way to spend a Tuesday night!
Tavern Road is located in Boston's Fort Point, between the Seaport and Southie. The food, drink, and decor of the restaurant mirror the creativity and innovation often found in the neighborhood (there seems to be public art around every corner). The bar program, headed up by Insta-celeb Tenzin Samdo, is a go-to of mine for both funky and classic cocktails. Chef Louis DiBiccari's menu of "street food" is mostly small-plates, influenced by global cuisine while composed of an impressive amount of local ingredients. Personal favorites include the burger, anything involving bluefish pate, and all of the tacos.
Though Tavern Road has hosted wine and guest chef dinners for awhile now, Chef Louis recently started teaching these weekly cooking classes with a focus on using ingredients purchased from the farmers market as recently as that afternoon. Each Tuesday at 6:30PM, students gather for hands-on learning – and eating. And let's be honest, if there's eating involved, I'm very likely to say, "I'm in!" So, I did.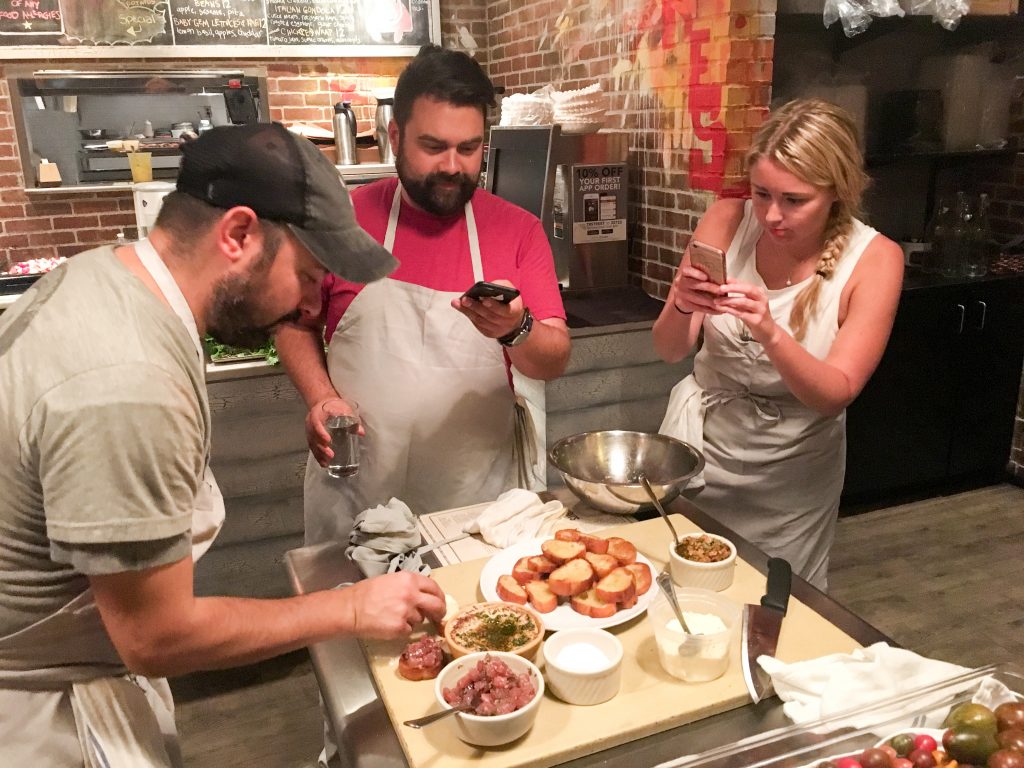 Louis' method of teaching was perfect for this kind of setting. He demonstrated, let us do hands-on work, and also knew exactly when to step back while students had conversations with each other. I've taken cooking classes before that felt too much like a class. This felt like a fun night out, during which we learned some tips and tricks while also getting to hang out with friends, eat awesome food, and drink fabulous libations.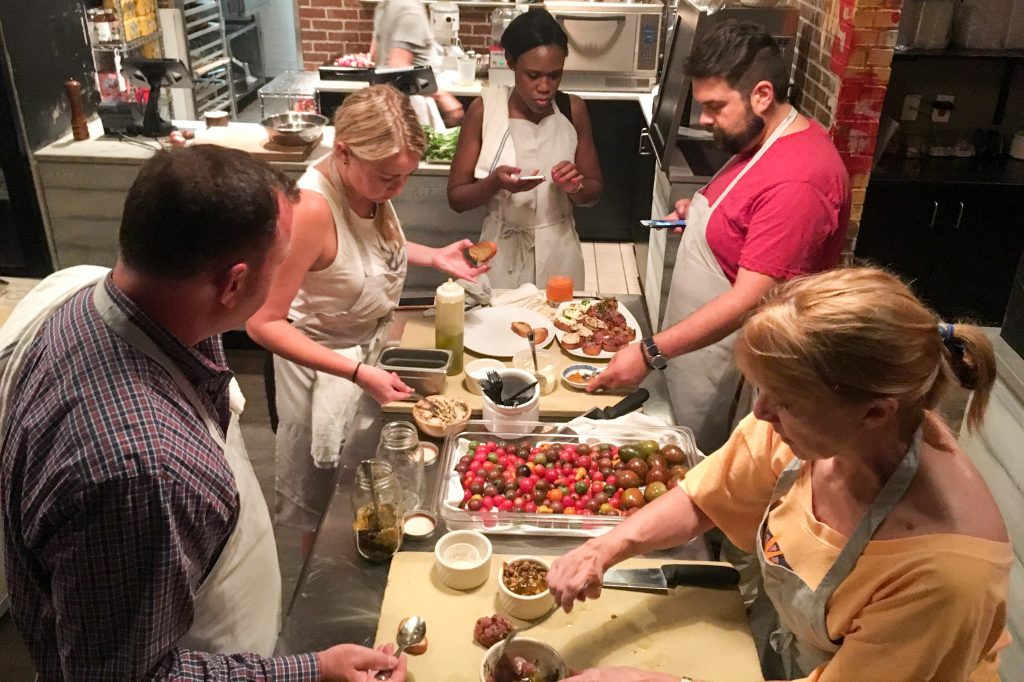 The first course utilized Tavern Road's delicious crostini (another favorite of mine). We used a variety of toppings – hummus, tuna, eggplant, and feta – to create quite an impressive spread. Though I always enjoy Tavern Road's hummus, the whipped feta came out on top for me. I had never tasted another cheese quite like it. That's what you find at a farmers market!
The next course consisted of an expertly prepared steak served over some of the best tasting vegetables I've ever eaten. Again…farmers market! Louis used his go-to seasoning for the meat, cooked it to perfection, and finished it off with a chimichurri sauce.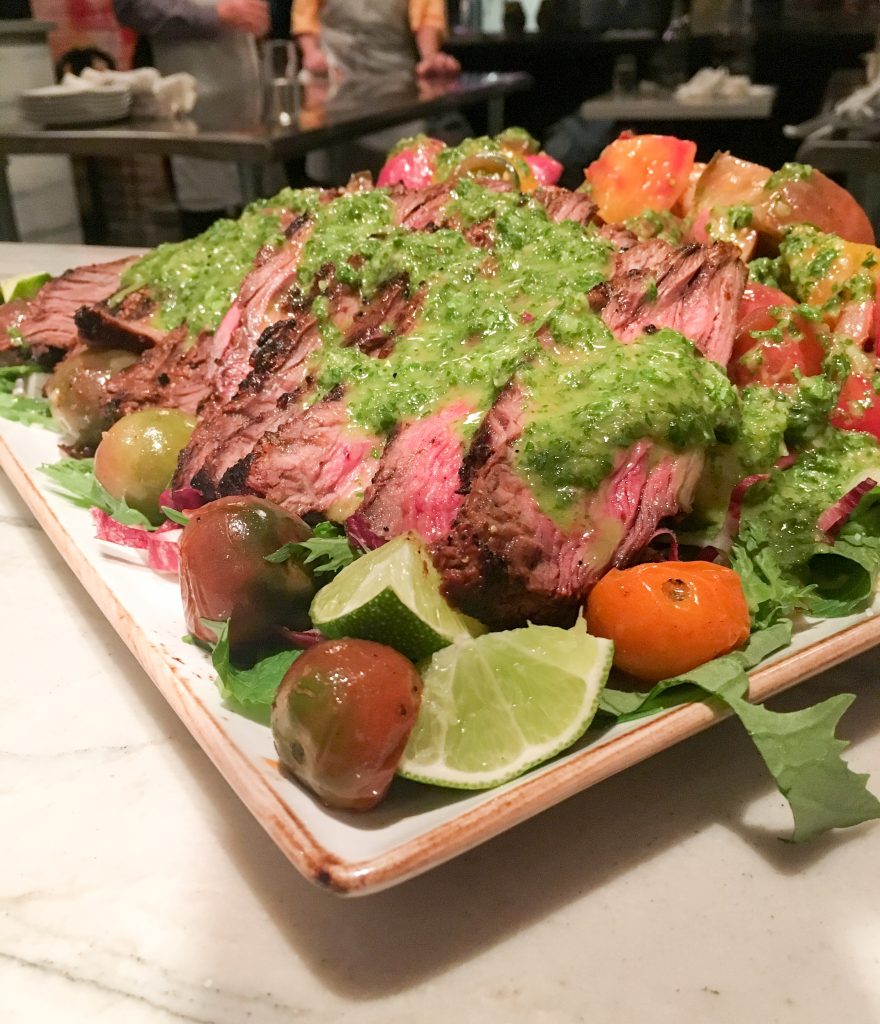 Finally, we rang in fall (the class took place last month) with some apple cobbler and pistachio ice cream. This third course was actually prepped at the very start of the class, due to the time the cobbler needed in the oven. I wasn't sure how I'd feel about the pistachio flavor of the ice cream, but this was a perfect example of "don't knock it til you try it".
I briefly mentioned drinks, but to go into detail, I enjoyed a vodka martini to start and a glass of Malbec with my steak. Because isn't cooking always made better with drinks?! We had a waiter coming by periodically to take drink orders, so that made it easy to focus on veggie chopping and crostini spreading without worrying about running to the bar.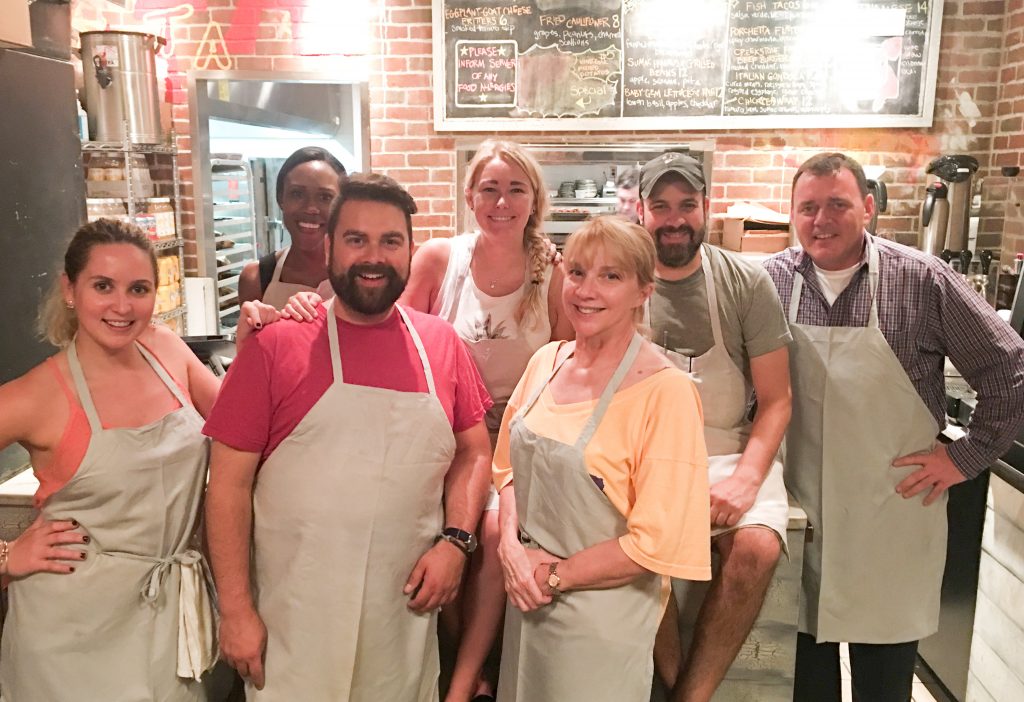 I would absolutely recommend Tavern Road's cooking classes to couples, groups of friends, or even a fun outing with mom or dad. Be sure to check the schedule so you can sign up for the theme you're most interested in. I already see classes on tacos, pasta, and social media food photography that have totally caught my eye!
Have you ever taken a cooking class? How about one at a restaurant?
Do you cook frequently with local ingredients?