The Restaurant To-Do List
People who know me or just follow me on social media know that lately there hasn't been much variety to where I go out to eat. I spend a ton of time at Eastern Standard. Ward 8 is a great local spot. Bar Mezzana in the South End is incredible. Other than that? Up until recently, I was drawing a blank.
Jeff shared my thoughts on this "rut" of sorts, so we decided to make a Restaurant To-Do List, divided up by Boston neighborhood. Since making the list we have made a conscious effort to cross places off. Instead of going to a default spot when we're deciding where to eat, we consult the list. So far it seems we're adding a few restaurants for every one we make it to, but I'm sure this comes with the list still being new. And so far, said list has been a great success!
The Automatic
We enjoyed our first stop so much that we have already been back a second time. The Automatic opened about a month ago in Cambridge's Kendall Square and I can't recommend it enough. The bartenders are incredibly knowledgeable (they were able to make me an espresso martini that tasted exactly as such even though they don't have espresso, only coffee). Jeff claims they have the best burger in Boston, and I am very close to agreeing, especially since it's only $7. And every member of the staff we've met so far is friendly and welcoming. The Automatic isn't too crowded (yet) so I suggest you get there soon before the word gets out about what a gem it is.
Bronwyn
I don't have any photos from this trip which is too bad, because Jeff and I both enjoyed trying this German restaurant in Somerville's Union Square (and I was surprised by how much I did since German food isn't something I eat often). Bronwyn is located conveniently next to a few other spots, making it a great pick for hopping around. We actually started at Backbar, which is in the same building (also recommend).
After a couple of cocktails we headed to Bronwyn and grabbed two seats at the bar. Our bartender was really friendly and didn't hesitate to offer both beer and wine recommendations to pair with our food. I actually tried a red from Austria that I loved and, as Jeff said, "guzzled the fastest he's ever seen". To start we shared the pretzel, which came with the best mustard I've ever tasted. We also had German potato salad and while it wasn't my thing, that was in no way indicative of it being a bad dish; I just wasn't a fan of the texture. For my main course I opted for the spatzle. The kale and aged cheddar in the dish were both perfection. Bronwyn's brunch menu looks incredible and we can't wait to try that next. Plus Union Square is so close to our apartment in Charlestown! The location couldn't be any more convenient (well it could but you get what I mean).
Night Market
We've been intrigued by Night Market since attending an event at Parsnip, where we learned that the two Harvard Square restaurants are part of the same restaurant group. Located on the garden level of a building on Winthrop Street, this spot serves Asian street food in a very artistic setting. The walls are covered in murals and and the sign, menus, and chalk art are all neon and brightly colored. That "vibe" honestly intrigued me more than the menu, as I don't normally go for Asian cuisine and am not a huge sake drinker (the drink list is beer, wine, and sake only). However, I left Night Market pleasantly surprised by how much I enjoyed my meal, particularly the Filipino fried rice (the "dealer's choice" fried rice of the day).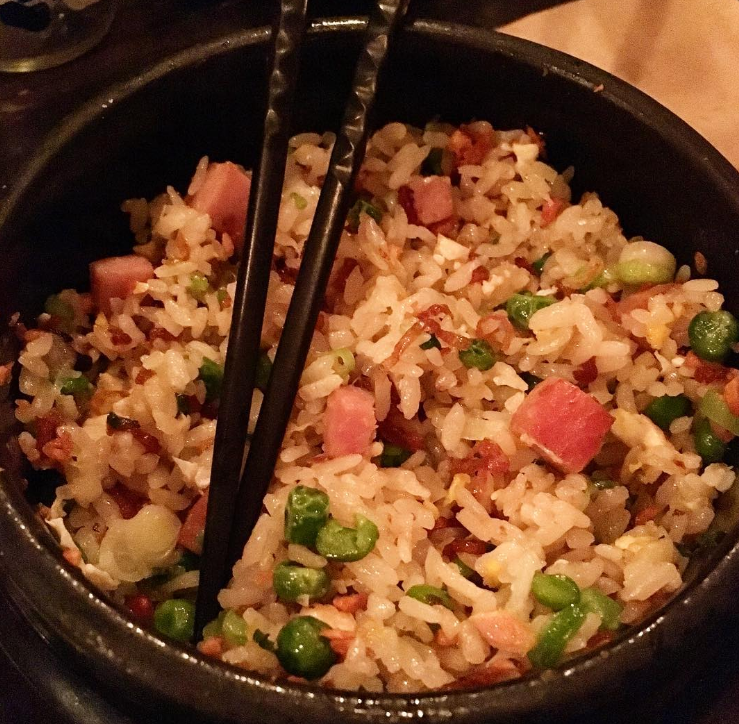 Yelp reviews of this restaurant frequently talk about having to spend too much money because of how small the "small plates" are, and how "heavy on the ice" the bartenders go with the sake cocktails. I disagree with all of this. We actually couldn't believe how affordable our meal was, considering we left full and had 2-3 drinks per person. I had an excellent Rioja at just $8/glass, and Jeff enjoyed a delicious sake slushie that looked plenty big to me. I ordered the meatball skewer and yes it came with just three tiny meatballs, but guess what? It was THREE DOLLARS. What do you expect? This is why I try not to listen to Yelp reviews and I'm really, really glad I didn't. I'm excited to head back to Night Market and check out the next "dealer's choice" fried rice…and they offer other daily specials too.
I'm not sure where we'll go next on our list, but I'm already happy with the results of this little experiment and the fact that we've loved everywhere we've tried so far!
Do you ever get stuck in restaurant "ruts"? How do you overcome them?
Are you usually pleased when you try a new restaurant?