I (unexpectedly) received the food and drinks in this post free of charge. All opinions of the experience are my own.
Next month (on Thursday 10/17), the Connecticut chapter of March of Dimes will host the 75th Anniversary Signature Chefs Auction Gala at The Riverview in Simsbury in celebration of 75 years of the organization fighting for stronger, healthier babies. Guests will have the opportunity to dine on food prepared by the chefs of some of the area's best (and some of my favorite) restaurants such as Barcelona Wine Bar, Pond House Grille, Rizzuto's, and more. Locally produced libations will be poured by Jonathan Edwards Winery, Peel, and Olde Burnside Brewing. One of the hosts, Scot Haney, is definitely someone I'd consider a CT celeb!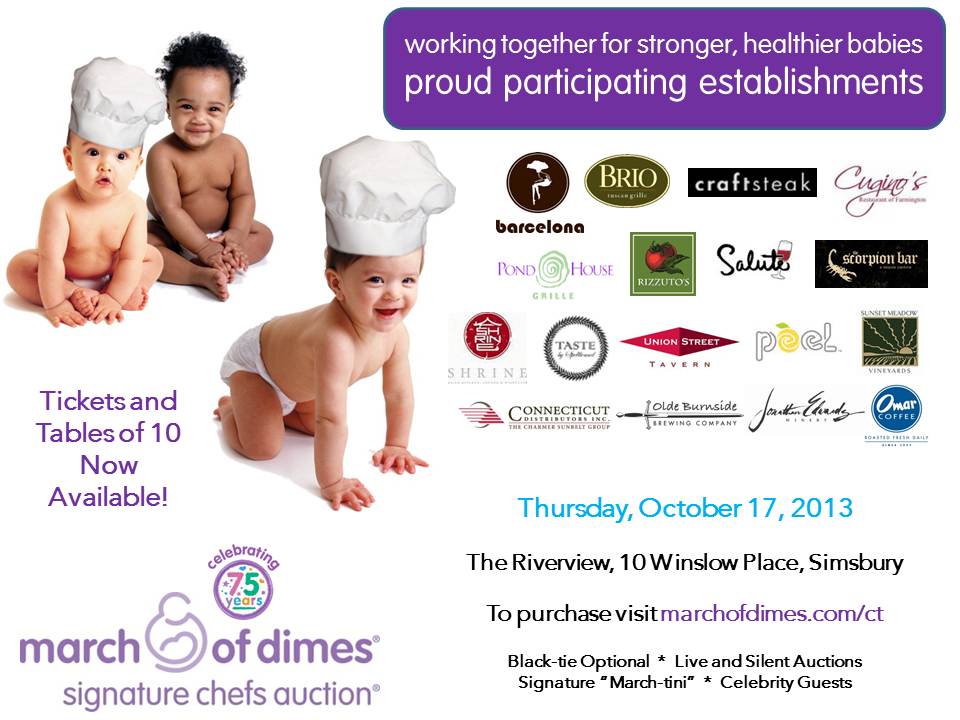 Individual tickets are $175 each and tables of 10 are up for grabs at $1,750. Though the price may seem steep and perhaps is not realistic for some, those who are able to spend the funds can be assured that a) they won't walk away hungry and b) their money is going to a great cause. The money raised by the gala will benefit research and programs like CenteringPregnancy, Healthy Babies Are Worth The Wait, and NICU Family Support. 1 in 10 babies born in CT are born premature, and the March of Dimes needs fundraisers like these to take steps to both improve that number and support affected preemies and their families. If you can't make it to the event but are able to make a donation, I highly encourage you to visit the event page and do so. Attendees will also have the chance to contribute outside of ticket costs, via both live and silent auctions featuring fabulous items.