Once again, I am extremely guilty of going MIA from this blog for way too long. I've simply been lacking in both both time and inspiration to blog. But today I hope to make it up to you with a fun post about the awesome food and drink I experienced when I visited Charleston, South Carolina for a wedding over Labor Day weekend with my family!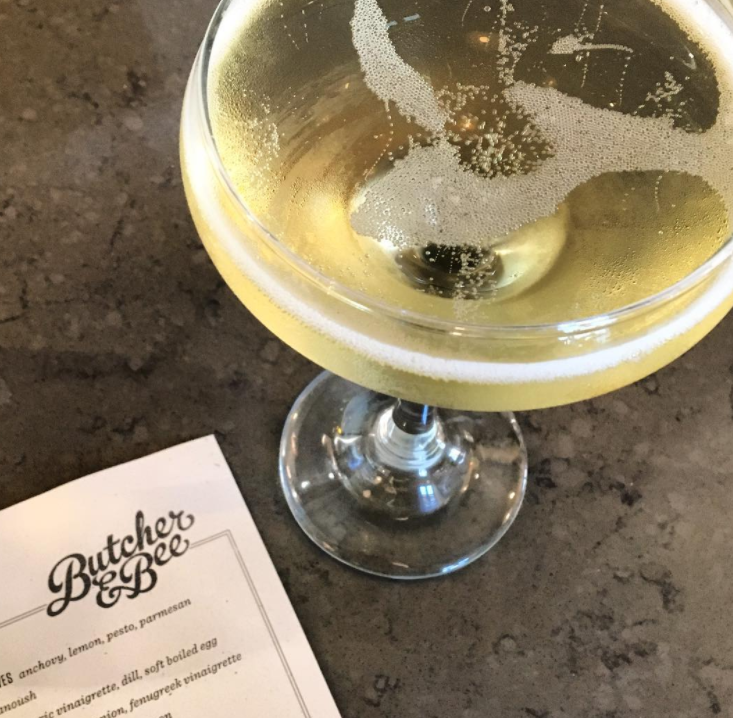 I arrived first out of the five of us, but kept myself plenty entertained by heading to a solo lunch at Butcher & Bee. My coworker went to college in Charleston, so she had sent me a long list of recommendations that I knew I could trust…and this place was on the list. I was sure it was a solid spot the second they served my sparkling wine in a coupe glass – my favorite way to drink bubbles.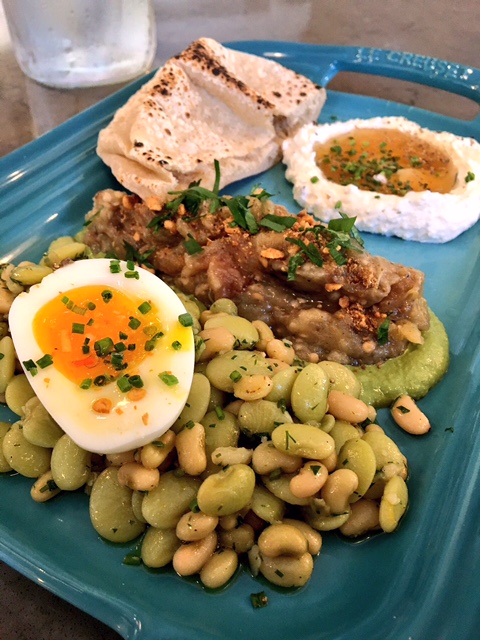 I loved that the lunch menu featured an option to try three of their many mezze dishes. I picked the heirloom beans with soft boiled egg, eggplant with olives and green tahini, and whipped feta with fermented honey and cracked black pepper. Everything was absolutely scrumptious!
After my family arrived and got settled into our Airbnb, we called an Uber to King Street, Charleston's bustling downtown area. There we stopped into The Cocktail Club, a place on my must-visit list. My boyfriend Jeff's good friend and former coworker Tyler is actually a bartender there, so it was great to meet him and try some of his cocktails. My mom and sister were over the moon happy with their Cosmopolitans, my mom calling it the best she'd ever had. My dad and I both went with vodka martinis. We all had a great time chatting with Tyler and taking in the bar scene. I even bought a cigar…yes, they sell them in the restaurant!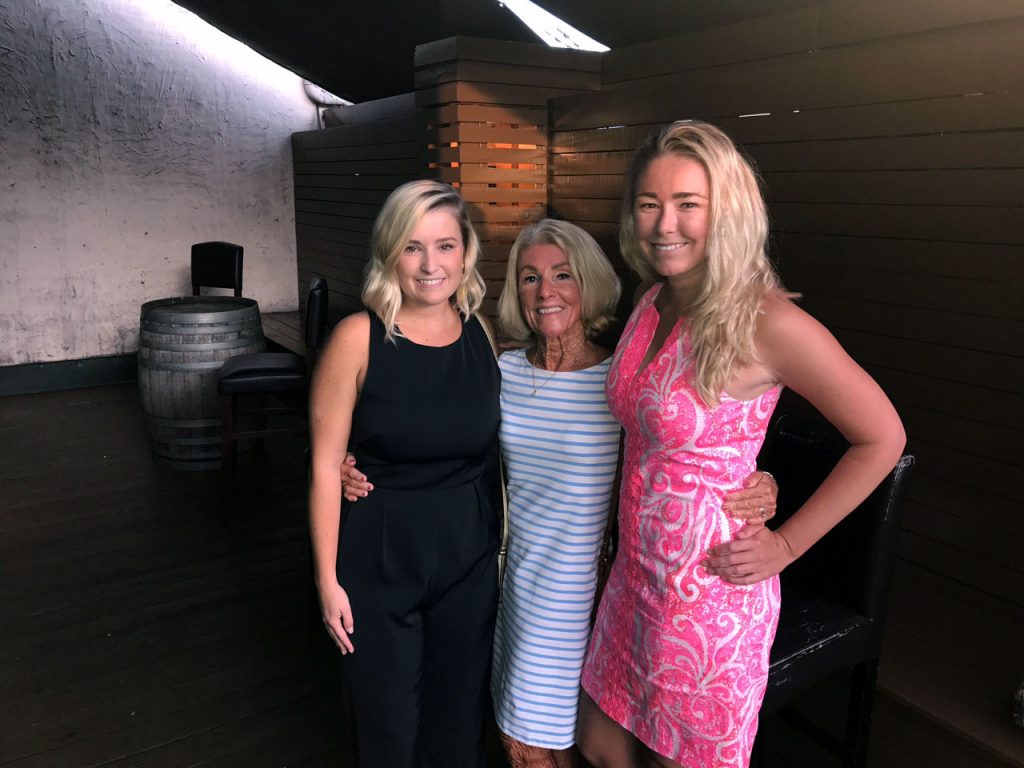 After our drinks were gone (long gone), we headed out to The Cocktail Club's roof deck area to take some pictures before running off to the next stop, a welcome reception for the wedding.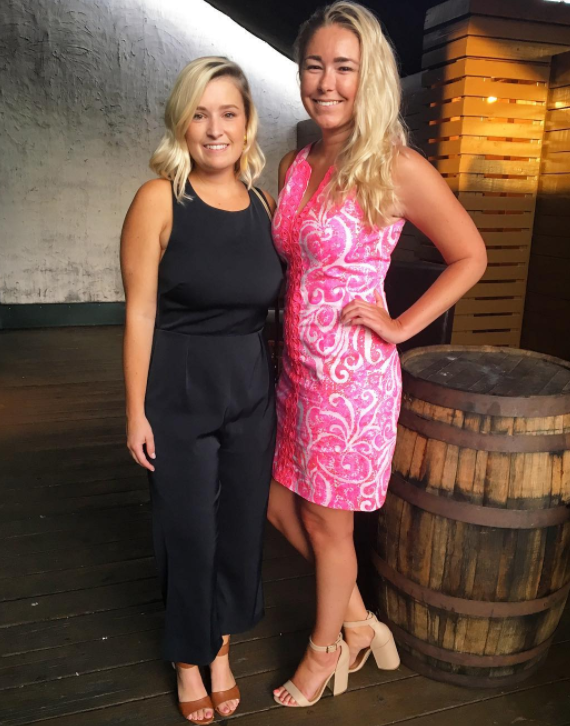 The welcome reception was fun but wine-filled, which left us VERY hungry. Thank goodness for Domino's. Ordering pizza from there while in Charleston, land of amazing restaurants, may have been a faux pas…but it was also a necessity. And really, it was so nice to hang out with my family and eat pizza while watching Netflix and drinking red wine. Talk about relaxing!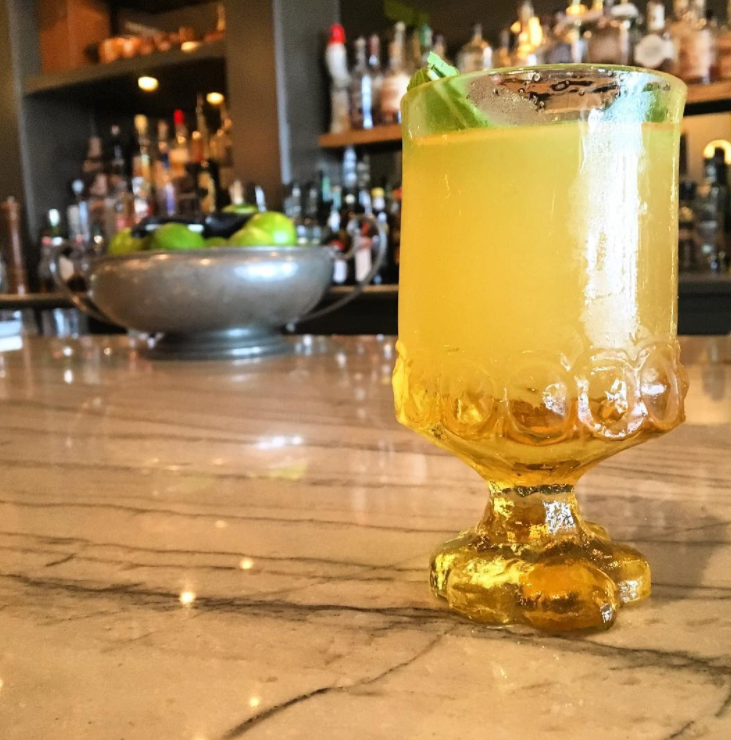 I was right back on the restaurant grind the next morning, though. After swinging by Pure Barre for a really good class, I met my family for brunch at The Rarebit, another spot recommended by my coworker. She said they had the best Moscow Mules in the city, but I'm not a mule girl, so I went with a Southside. This is a refreshing gin cocktail and Rarebit's version was absolutely the best one I've ever had! For my meal I selected a dish on special, a shrimp cake Benedict. I really wish I'd taken a picture of it because it was stellar, but alas, I was too busy hamming it up with the fam to do so. We were all beyond impressed by both the quality and price of the food, though!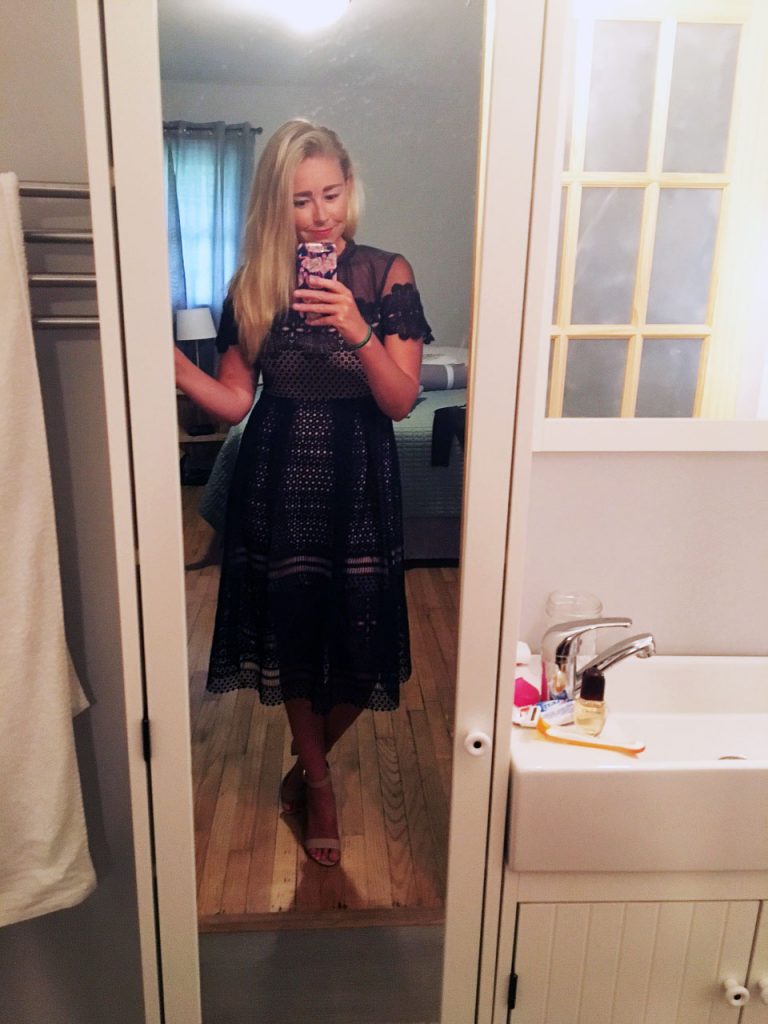 Later that night it was wedding time. I once again had an amazing experience using Boston's in-store dress rental service, Best Dressed. I can't recommend them enough, and paid for this rental in full (no #sponsored situation here). I know this post is about food and drink, but I had to throw them a shout-out. I will say, though, that the Southern food at the wedding was the best wedding food I've ever had, by far. The open bar was also rather enjoyable.
The day after the wedding, the whole family was moving a little slowly. My parents and sister opted to spend the day at the beach, but my brother and I both had flights to catch back to New England. (Am I the only one who prefers to leave a "gap day" between a trip and going back to work? I wanted to fly back on Sunday so I'd have Monday to relax at home.) I really wanted to squeeze in one more restaurant though, so I took myself and my book to brunch at another place on King Street, called Prohibition.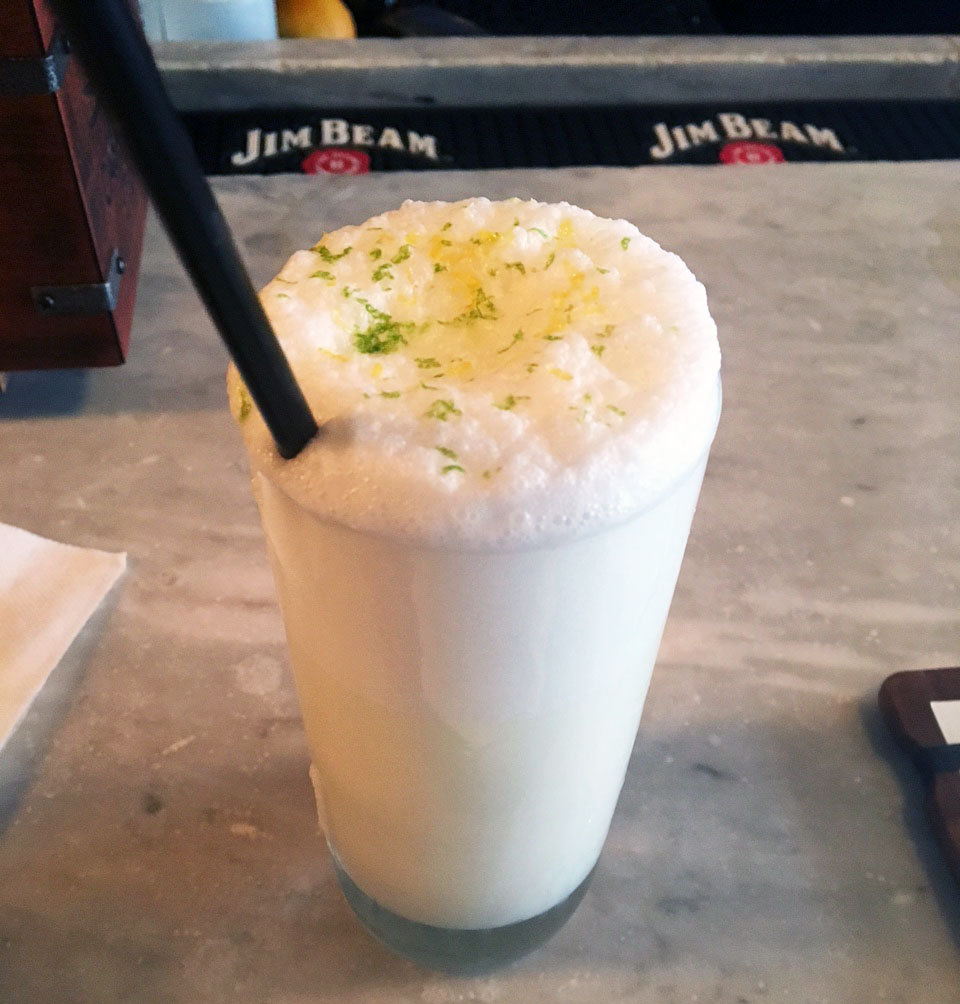 I rarely ever order the same drink twice in a row, but the above pictured Charleston Fizz was so good that I had to do just that. It contained Brugal Extra Dry Rum, Tito's Vodka, lime, cream, egg white, lemon bitters, and seltzer. The cream makes it sound heavy, but it really wasn't. It was like drinking a key lime cloud.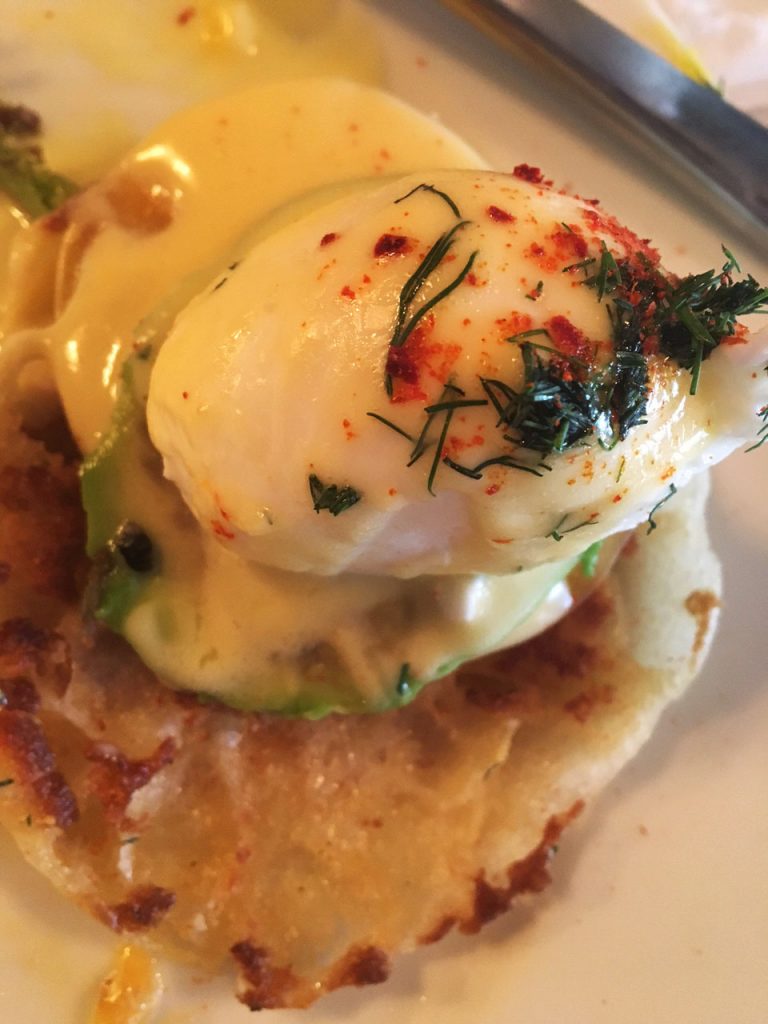 For brunch I went with the avocado benedict, which consisted of avocado and heirloom tomato on english muffin, topped with a poached egg and dill hollandaise sauce. I wanted to go with something a bit lighter so I wouldn't be dragging on my flight. I was overall really pleased with my last choice of restaurant to visit while in Charleston, but am also already itching to go back and try MORE places…as well as return to some of these.
Oh, and of course my dinner on the plane ride home consisted of cheese and meat with Stacy's Pita chips and bad red wine…because, travel.
Have you ever been to Charleston? What are some of your favorite spots?
Did you travel for Labor Day weekend, lay low at home, or a mix of both?